Planet Computers Gemini hands-on: Nostalgia's Android reboot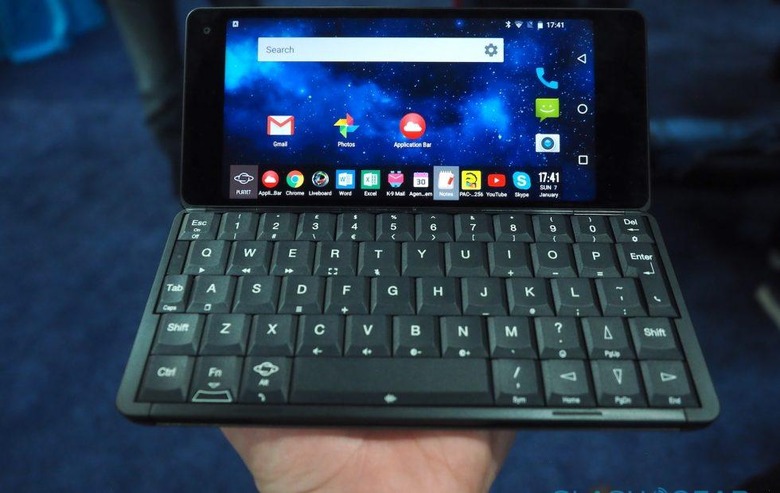 For geeks of a certain generation, there's something uncontrollably appealing about the Planet Computers Gemini. Fond memories of the classic Psion Series 5 are to blame, of course, and the Android-powered clamshell taps into that nostalgia with pitch-perfect accuracy. Having spent some time pecking at its keys, I have to say I'm swayed.
The 5.99-inch 18:9 aspect display runs at 2160 x 1080 resolution, and held up to the CES 2018 show floor lights surprisingly well. Android, happily, no longer looks quite so awkward as it once did on a landscape-orientation screen, and Planet Computers have made a few customizations to better suit the form factor. There's an accelerometer, but turning the Gemini doesn't auto-rotate the screen, not that you'e probably want it to.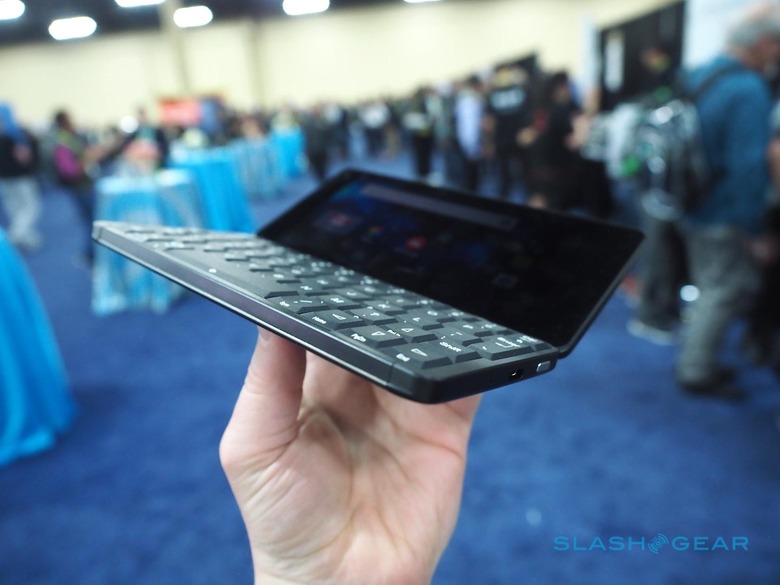 The real magic is in the keyboard, of course. Devotees of Psion's Series 5 still maintain that it's the best hardware 'board to have graced a mobile device, with its fiendishly clever multi-articulated hinge and surprising degree of travel. The Gemini doesn't go quite so far, though it does have a pop-out stand that helps support it some on a table. Closed, it's phablet-sized, 15.1mm thick, and tips the scales at around 320 grams.
The true Psion faithful may notice a few differences, mind. The Gemini's keys are a little less concave than those of its forebear, and their angle at the front is slightly different too. The layout, though, is all the same, including the shallower number row.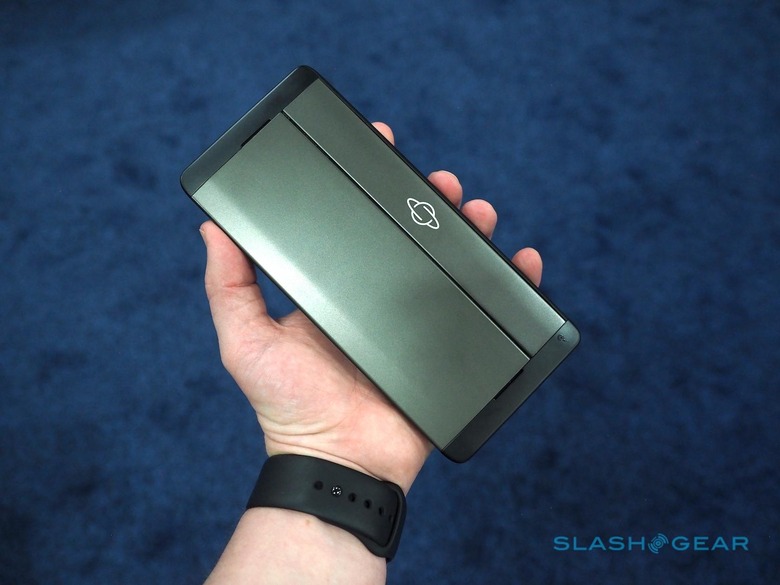 Still, as physical keyboards on anything vaguely pocket-friendly go, the Gemini is astonishingly spacious. In the relatively short amount of time I had to peck at it myself I didn't build up a particular head of steam – there's also a slight haptic buzz as you strike each key which takes a little getting used to – but I suspect that, given some familiarization time, you could quickly start using at least two or three fingers on each hand.
The downside is that it can be something of a stretch to reach your thumbs across while holding the Gemini and tying to type at the same time. It definitely benefits from having a table to rest it on. Still, the keys have given Planet Computers some keyboard shortcuts to play with, making adjusting volume and brightness easy without having to reach up and swipe down the Android notification bar.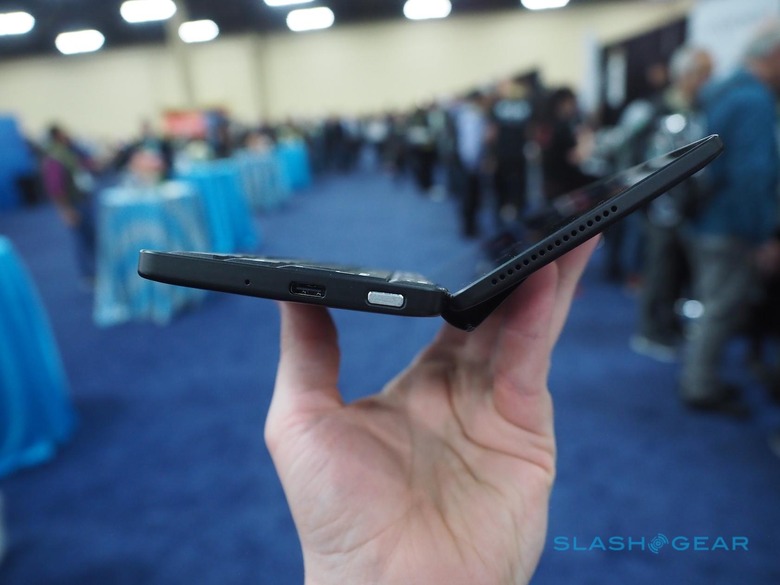 A button on the side summons the Google Assistant, meanwhile – even when the clamshell is closed – in another neat touch. There's no external display which means that, since the 4G LTE version also supports voice calls, incoming calls don't get any visible caller ID. Instead you get a row of multicolor LEDs embedded in the front, which can be programmed into different patterns and hues to signal who is calling. You're not going to want to configure one for every entry in your contacts, but it's enough to flag when it's your boss or your spouse.
If you're particularly geeky, you might be excited by the fact that the Gemini can dual-boot into Linux as well as Android. Honestly, I suspect that Android is sufficient for what most people will want to do – Planet Computers has even given it a little launcher bar that pops up at the bottom of the screen, a little like macOS – though if you were a dedicated systems administrator who refused to be more than a few feet away from a Linux prompt at any time, this could be your salvation from a regular notebook.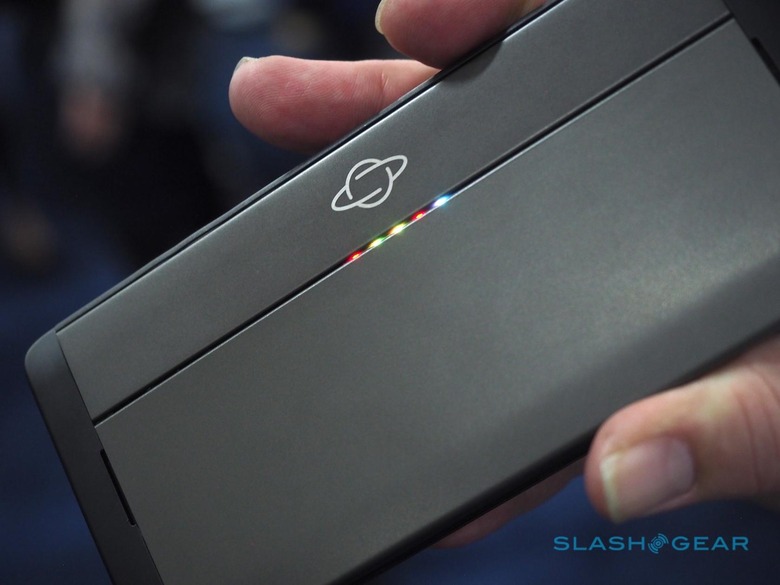 It has ports akin to a regular notebook, two. A pair of USB-C – more, indeed, than a MacBook gives you – and there's WiFi 802.11ac and Bluetooth 4.0 by default. The 4G LTE version will be offered unlocked for you to drop your choice of SIM in. The heart is a MediaTek Helio X27 processor with 4GB of RAM, and the battery is a particularly large 4,220 mAh li-ion. Storage is 64GB, with a microSD card slot to expand it, while RAM is 4GB.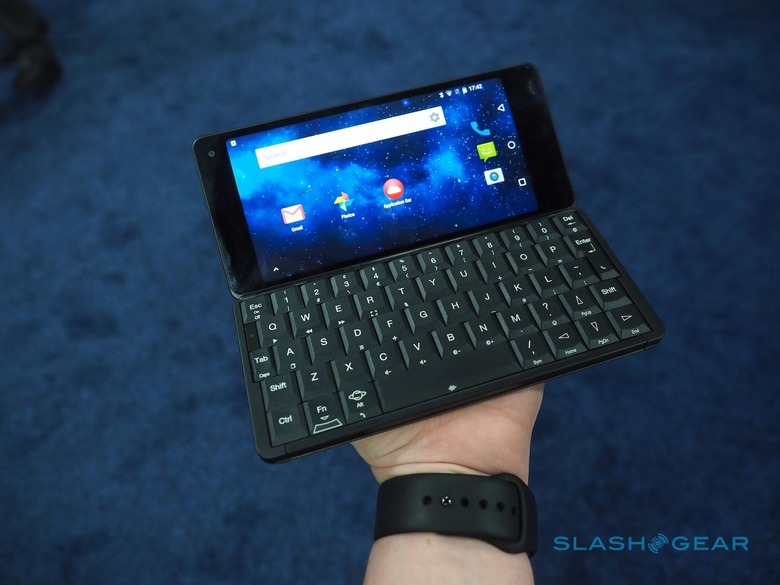 Is there a market for the Gemini? Nostalgia alone has built the project – currently underway on Indiegogo – a head of steam, though as plenty of other projects have discovered, tapping into rose-tinted memories of tech's halcyon early days often isn't sufficient to build a long-lasting business. The $299 WiFi-only price helps, though that'll rise by a not-inconsiderable $200 after the crowdfunding campaign finishes; figure on an extra $100 for 4G too. Planet Computers already has almost three times its original goal amount; now it just needs to ship to backers and focus on convincing more than early enthusiasts that the Gemini is worth a spot in their pockets.
MORE Planet Computers