The Pixelbook Go hides its design charms on the bottom, which seems a pretty strange place at first glance, but then you have to think about how Google's new Chromebook is actually going to be used. The textured base is at odds with what's otherwise a fairly sober, sensible design, but it has some advantages beyond just looking distinctive.
Most laptops have a few rubber pads or strips to make sure they grip on the table, desk, or whatever surface you're using. The Pixelbook Go makes the whole base more readily gripped, in contrast, and as a result I suspect it'll be much happy being used in those impromptu moments you need a laptop but worry about dropping it. Perched on a car dashboard, propped on a railing, or just in the crook of your arm. Even just holding it feels more secure, and that's by design.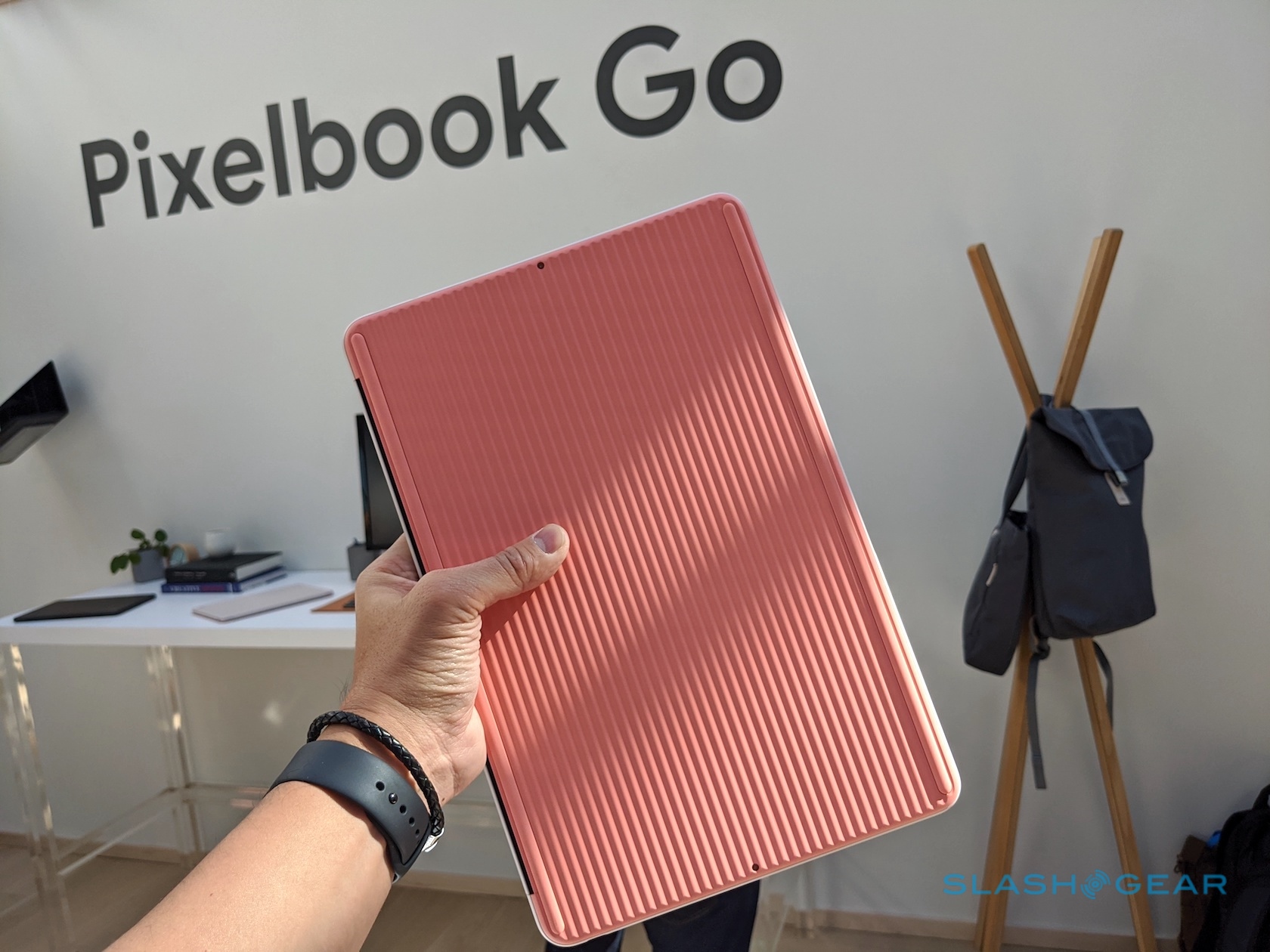 "Across Google's hardware family we like to add design flourishes that allow people to both visually and tactilely tell that it's a Google product," Ben Janofsky, Senior Product Manager on the Pixelbook team, explained to me in the aftermath of Google's big NYC event today. "At the same time we like it to be functional again … It also serves a function for the on-the-go user, they can much more easily grip the device."
That's not to say the rest of the Pixelbook Go is dull. Maybe "targeted" is a better descriptor: the $649 starting price came with some demands on what, exactly, Google could include from the existing Pixelbook.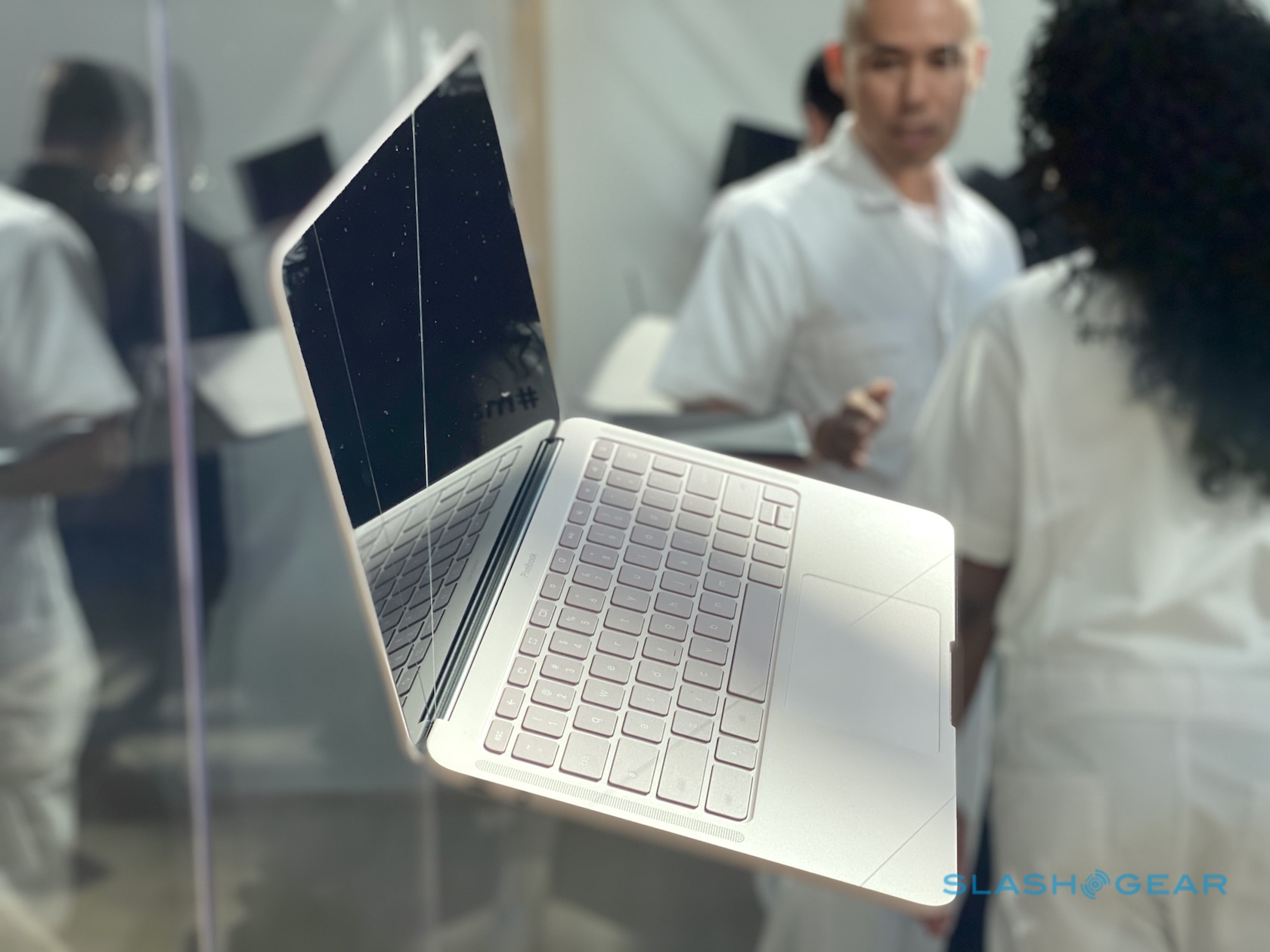 "We focused on the on-the-go user and the on-the-go use-case, and what that really allowed us to do was make choices on features," Janofsky says. "So we know, for example, that while the 360 hinge on the original Pixelbook is great … if you're trying to build something that you need to deliver at a lower price point, it's one of those features that ultimately makes sense to put in a higher-end product and not in this more entry-premium product."
Even with those decisions, of course, it's not like the Pixelbook Go is cheap, exactly. For a laptop, it's relatively affordable; for a Chromebook, though, it's actually still at the premium end of the scale. Affordable is only in comparison to the $999 starting price of the regular Pixelbook.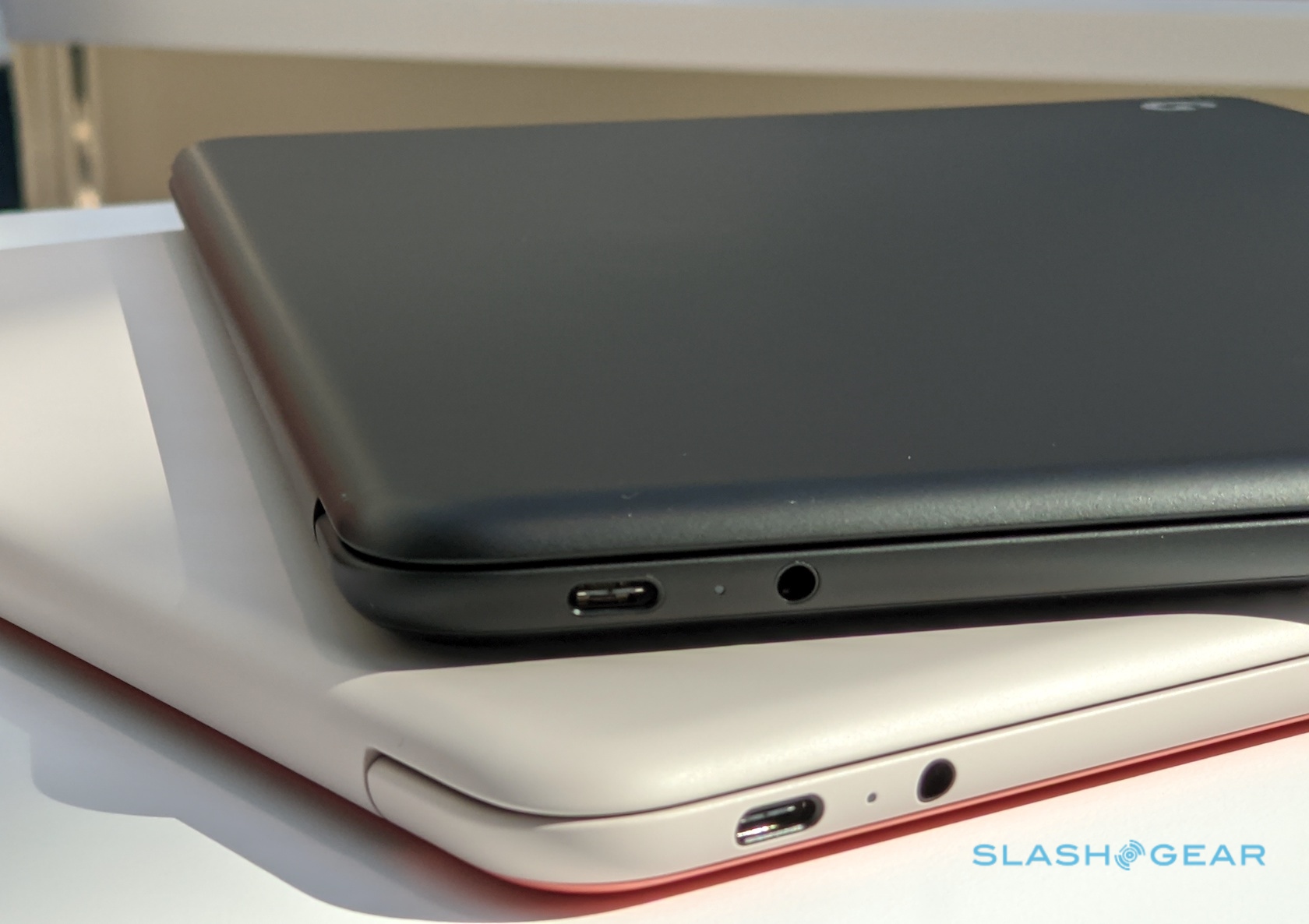 Could Google have gone cheaper? Yes, though I'm not sure it would have been a good idea. "Pixelbook Go is not about just throwing everything out and make this thing cheap," Janofsky concurs. "The goal here was not to build the lowest-cost Chromebook possible – in fact the vast majority of Chromebook are sold at lower prices. The goal was to deliver something that we can proudly say is a Pixelbook, delivers a Pixelbook-quality experience, high-performance, great design, feels great, lasts, but do it as an affordable price as possible."
So, you lose the 360-degree hinges, and the brushed-metal chassis – the Pixelbook Go finishes its magnesium body in Just Black or Not Pink paint – but you keep Intel Core processors and a minimum of 8GB of RAM. You also get a keyboard that feels a whole lot like the Pixelbook keyboard that many – myself included – have been a big fan of.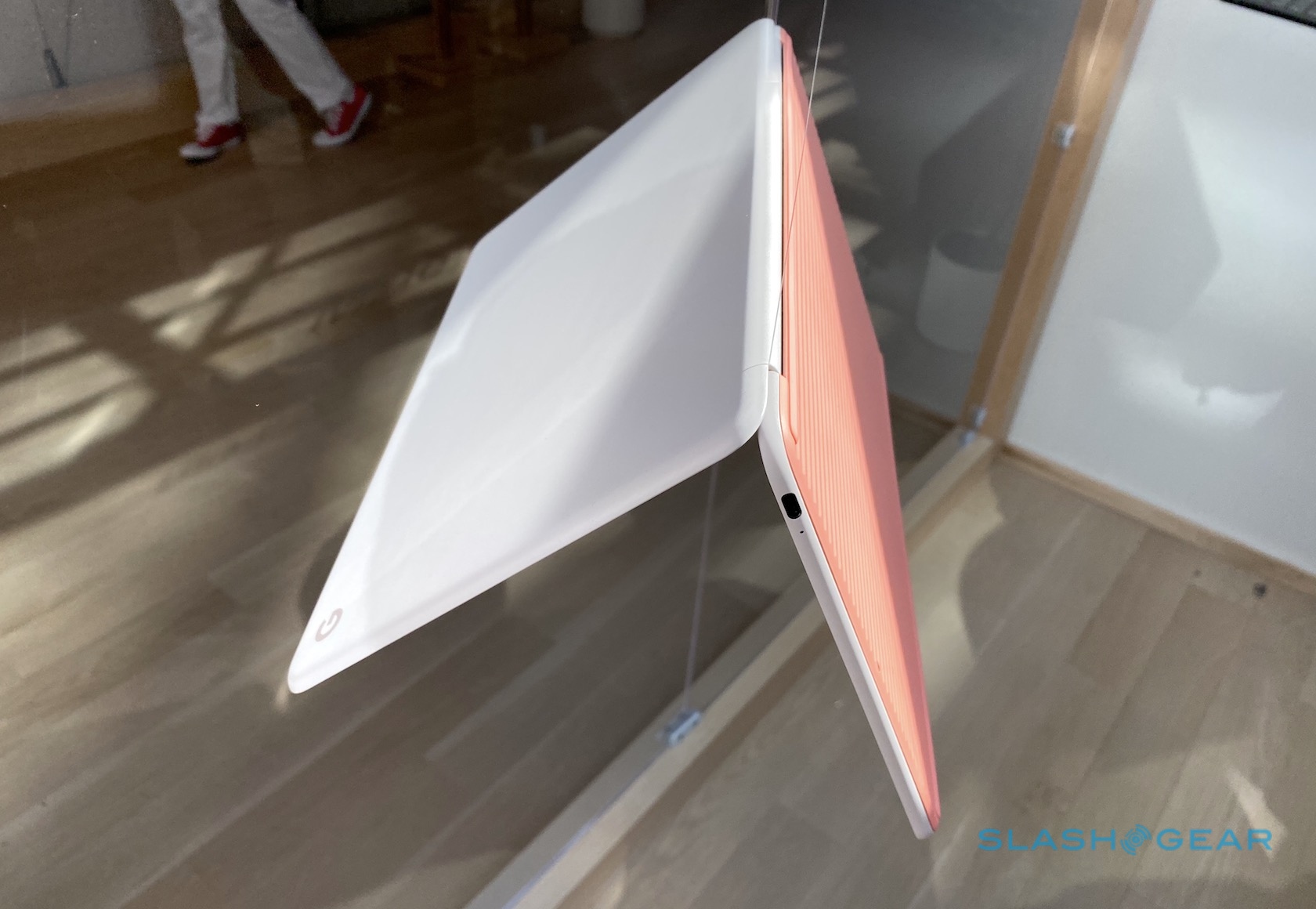 "The original Pixelbook keyboard, people loved," Janofsky says. "They liked how quiet it was, they liked how good it felt. What we did with this product is instead of starting over with the keyboard, we said let's take what we've got, which is a winner, and make it even better. We made it even quieter, we made it feel even better – it has a better force-to-fire, a better click-feel to it – and maybe as importantly, we made it more efficient to manufacture, so it actually fits from a cost-perspective into that lower price-point device."
I haven't spent enough time typing on it to come to a full conclusion, but even after a short while it's clear that Google has done great work with the Pixelbook Go's 'board. Crisp and punchy, but without the clackity-clack of a mechanical keyboard, it's nicely spaced and feels pleasantly balanced. Considering one of the joys of a Chromebook remains just opening it up, loading a blank Google Docs document, and having a brain-dump onto the page, the Pixelbook Go looks frankly perfect for that.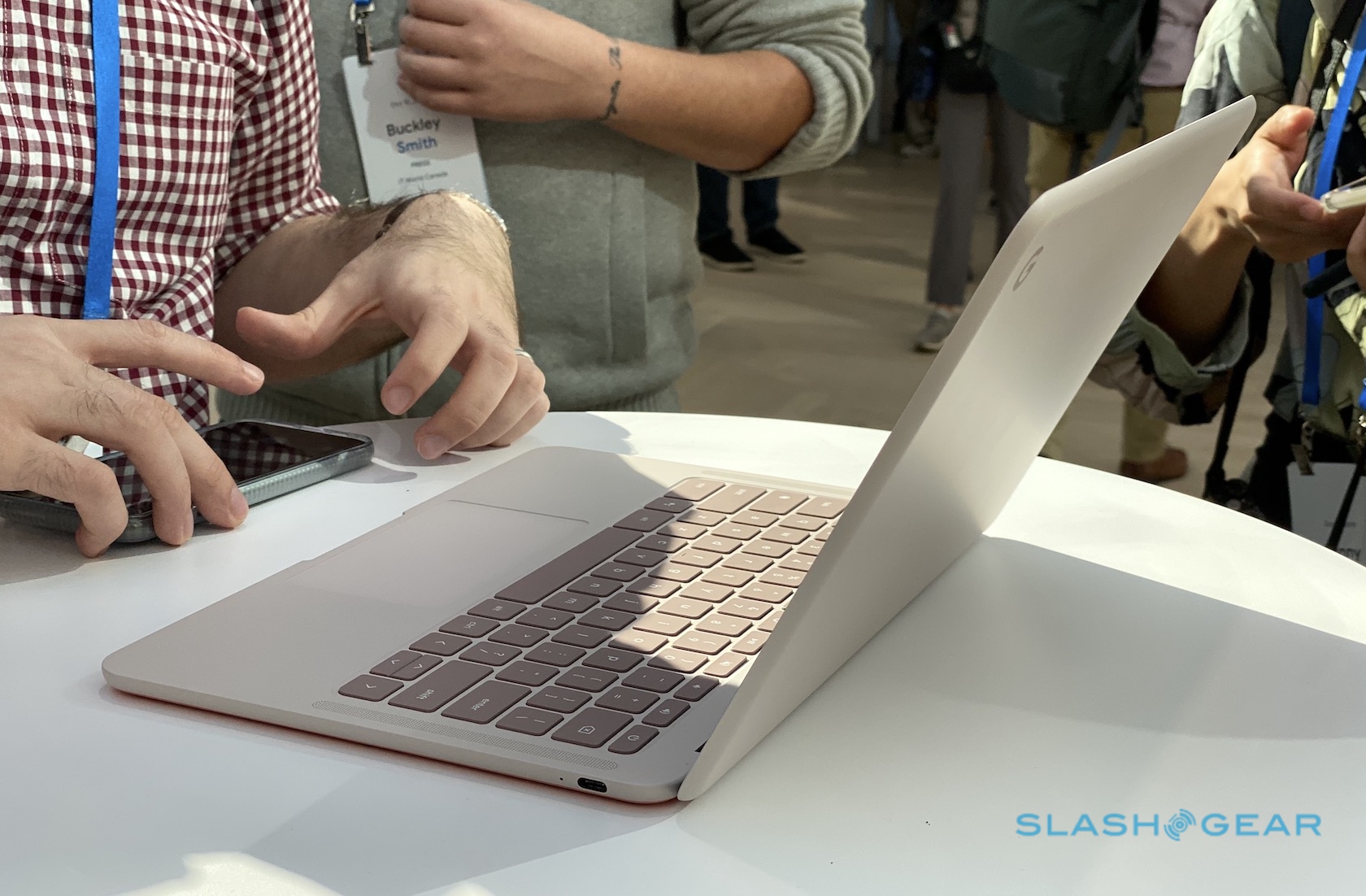 You can certainly quibble with some of Google's decisions. You can also point to the fact that, while $649 may be the starting price, things rapidly get more expensive as you click through the options available. Want a Core i5 processor rather than a Core m3? That'll add $200 to the sticker, though you do at least double the storage to 128GB in the process. A Core i5 with 16GB of RAM takes you to $999, while a top-spec Core i7 with 16GB of RAM and 256GB of storage is $1,399.
It's only at that top-tier version that you get a 4K Ultra HD touchscreen, too, the other models making do with a Full HD panel. There's no Pixelbook Pen support, either. Indeed if resolution is your main concern, the $999 entry-level Pixelbook might be a better option. That matches the $999 Pixelbook Go on processor and storage, but with half the RAM and a Quad HD touchscreen.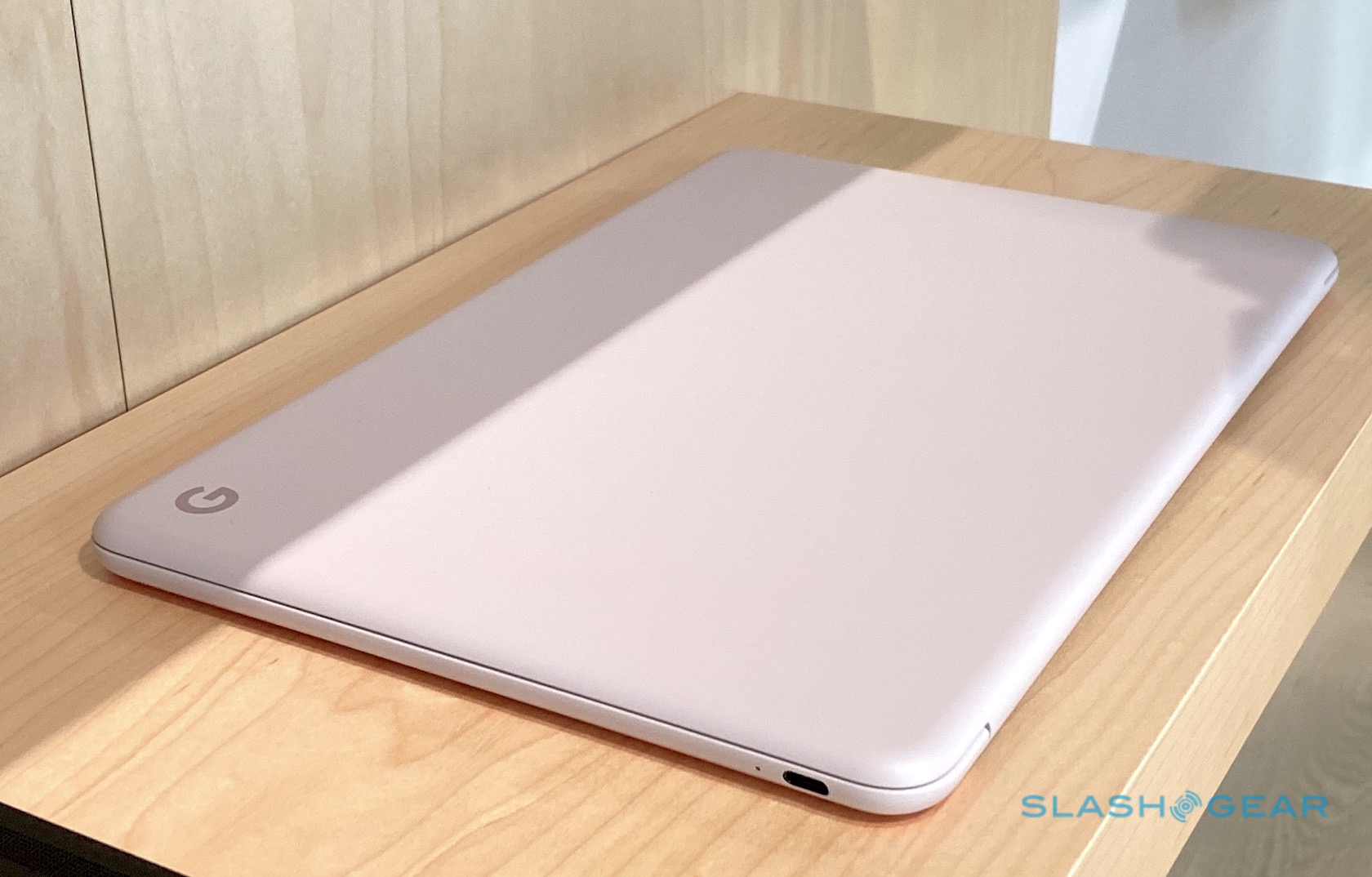 "We're not trying to address every user," Janofsky concludes of the Chromebook. "I think that we are trying to say that we think there is a population that wants a Pixelbook and a Pixelbook-quality experience that doesn't have a thousand dollars to spend on a laptop."
I agree that's certainly a market for Google, particularly as other Chromebook-makers focus on the sub-$500 segment. Just how well it may sell could depend on how many people get their fingers onto the Pixelbook Go's keyboard, since that's the place that this new notebook really shines. Stay tuned for our full review.