Google Pixelbook Review: Chrome OS plays hardball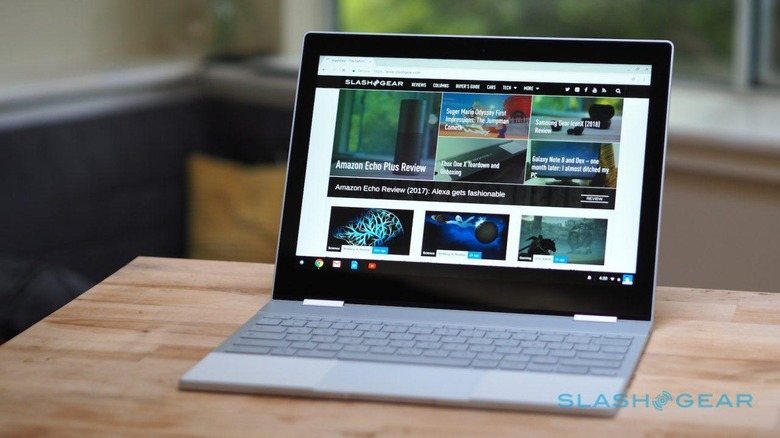 With the Google Pixelbook, you could say the Chromebook market has come full circle. Almost five years ago, Google's Chromebook Pixel forced us to consider whether $1,299 was ridiculous or reasonable for a pared-back notebook that ran web apps. Today, with Chrome OS having chomped through a big chunk of the education market and making increasing inroads with both consumers and the enterprise, Google is back with another high-end option. Get ready for some deja-vu.
Like its predecessor, the Google Pixelbook flies in the face of some common Chromebook trends. For the most part, manufacturers using Chrome OS have pushed for lower price-points, undercutting Windows-based machines. In the process, they've doubled-down on the idea of Google's cloud-centric system being "computing lite": a pared-back experience for those who have relatively straightforward, humble expectations from their laptop.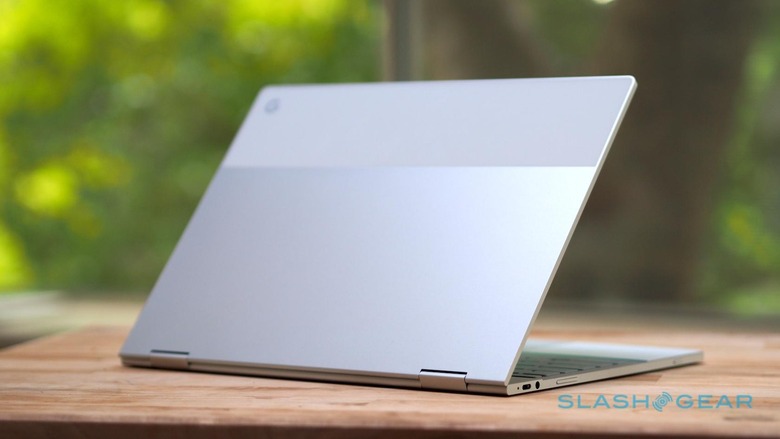 The Pixelbook makes an altogether different pitch. Rather than apologizing for Chrome OS' "limitations" it reframes them as obvious positives compared to Windows or macOS. It wears its $999 starting price with confidence. This isn't the notebook you buy because you don't have enough cash for a traditional computer, the Pixelbook proclaims, you choose it because you recognize the world has gone beyond such old-school hardware.
It's difficult not the be beguiled by the hardware. Google has excelled itself with the Pixelbook, two slim slices of aluminum joined by simple double-hinges, that come together to make a mere 10.3mm thick notebook or, reversed, tablet. The 12.3-inch Quad HD 2,400 x 1,600 LCD touchscreen is beautifully colorful and bright, with excellent viewing angles. Only the chunky bezels make it feel a little passé compared to some rivals.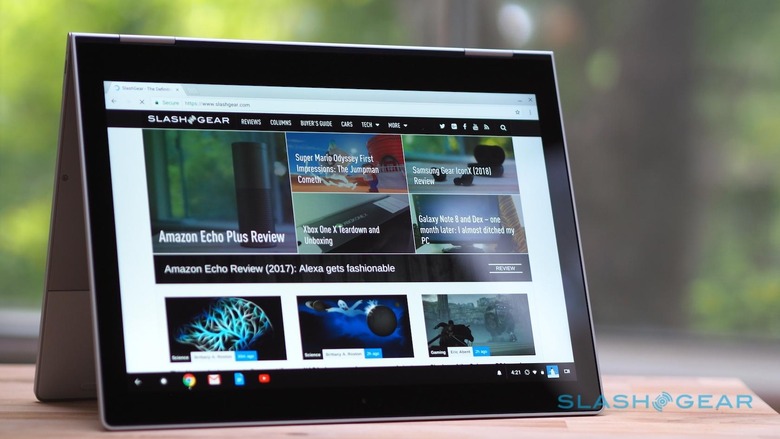 Beneath it, there's one of the best keyboards on the market today. Indeed, I suspect that many who have bemoaned Apple's recent MacBook keys would find the Pixelbook's 'board the perfect example for Cupertino of what would feel better. There's more travel, even with the relatively shallow key-tray, and a crisp little click for just the right amount of tactile feedback.
Google has covered the palm-rests with slabs of white rubber, and though I suspect they'll pick up wrist grime over time, they feel great. Between them there's a large, glass-topped trackpad that's smooth and responsive. Alternatively, of course, you can just reach out and touch the screen, or cough up a further $99 for the Pixelbook Pen, which runs for about a year on a AAAA battery.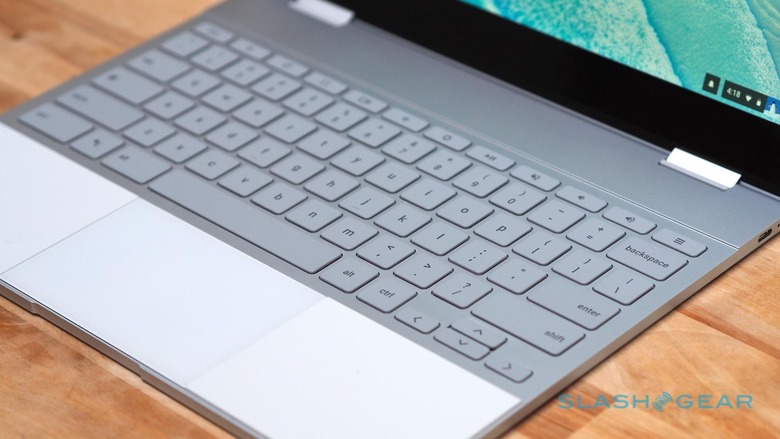 Given the dimensions, ports are limited. Indeed, there's a USB-C on either side, plus a 3.5mm headphone jack, and that's your lot. I suspect it's going to be less of a headache than, say, the MacBook's single USB-C, or the entry-level MacBook Pro's two such ports, but it's worth bearing in mind if you have accessories or external displays you're hoping to use. Happily, for an ecosystem that leans so heavily on the web, there's speedy 802.11ac 2X2 MIMO WiFi and Bluetooth 4.2 inside.
There's also a surprisingly potent choice of processors, albeit within the context of Google's design limitations. The Pixelbook is fanless and thus completely silent, but it still gets 7th Gen Intel Core i5 or i7 chips. They just happen to be the low-voltage versions, since they're the only ones that can do without active cooling.
While the early Chromebook models may have tried to suggest otherwise, plenty of RAM is still important if you want swift performance. Google doesn't stint there, throwing in either 8GB or 16GB. Local storage, too, flies in the face of lingering assumptions that everything must reside in the cloud, with 128GB, 256GB, and 512GB SSDs on the options sheet.
The result is a system which does far better at bridging the local and the cloud than most would-be Chromebook buyers might fear. With plenty of RAM, handling Chrome tabs in the dozens is no problem whatsoever. All that fast storage means plenty of space for both apps and media. On the flip side, Google throws in 100GB of Google Drive storage for two years, so backups and file sharing shouldn't be an issue either.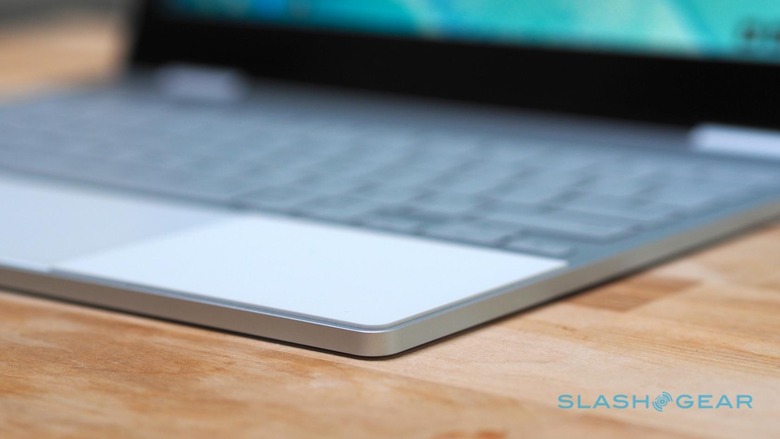 Just as the Pixel 2 and Pixel 2 XL are Google's attempt to lead Android phone-makers down the path it envisages for handsets, so the Pixelbook has a few headline features that are clearly calls for more widespread adoption. On the keyboard, for instance, there's now a dedicated Google Assistant button: hitting that not only brings up a search window, but starts pulling up results based on what's currently on-screen.
Alternatively, you can say "Ok, Google" though, while the four microphones are excellent for video calls and picking up Assistant instructions, they're designed for a nearby user rather than the cross-room abilities that a Google Home brings. If you've got the Pixelbook Pen, clicking its side button and then circling something on-screen does an instant Assistant search for that. As I found on the Pixel 2, results vary depending on what Google's word or image recognition can find, though in theory it's getting better all the time as the AI's responsible improve.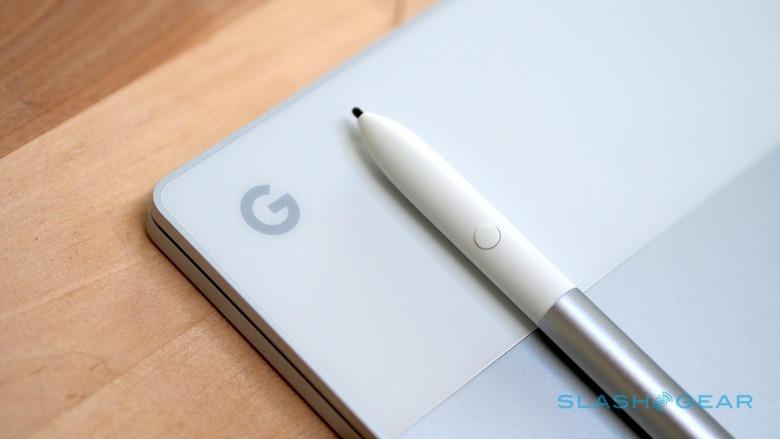 The pen is also used for sketching, taking handwritten notes, and general navigation. Digital ink flows well, with the 60 degree angle tracking and over 2,000 levels of pressure sensitivity allowing for some flexibility in both art and note-taking. Annoyingly, there's nowhere to actually store the stylus: no silo in the Pixelbook itself, no magnets to have it cling to the side as per a Surface Book 2, and not even a clip to hang it from your pocket or bag.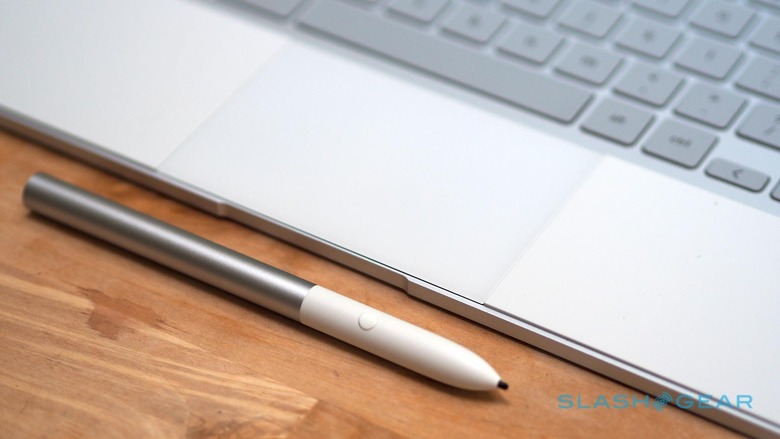 It's not my only frustration. Ink isn't quite as ubiquitous as it is in Windows 10, with Google Docs the most notable hold-out. If you're in the habit of marking up Microsoft Office documents with handwritten comments, you won't be able to do the same with the Pixelbook Pen. Meanwhile, the Pixelbook's speakers are hidden beneath the keyboard and are fairly mediocre. It will likely come as little surprise that they favor trebles and mids, falling off sharply before the bass frequencies arrive.
Better is Chrome OS itself. Far from the web-dependent days of its early releases, Google's operating system is still focused on the cloud but doesn't sacrifice standalone functionality in the process. There are plenty of web apps now, including complex art packages and more, while you can access the Google Play store for Android apps. They don't always look ideal on the 12.3-inch display, but there's no shortage of them, and with many you can treat them like moveable, resizable windows rather than dedicating the whole screen to them.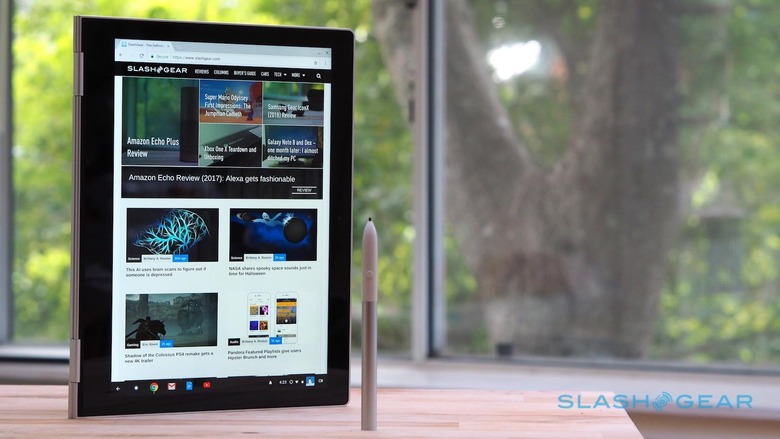 Google quotes 10 hours of battery life from a full charge. In my mixed use, I saw about eight hours, typically. The fast-charging support – which uses the bundled 45W USB-C adapter that will also work with Pixel phones – promises a healthy 2hrs of use after just 15 minutes plugged in, to 7.5hrs in on an hour's charge. It's fairly transformative to be able to so quickly go from a battery warning to multiple hours of work again.
Wrap-up
On a couple of occasions, I found myself looking wistfully at the Pixelbook and thinking "I wish it ran macOS." Google's excellent hardware not only makes this a king among Chromebooks, but it answers some of the increasingly vocal demands Apple fans have been voicing. The more time I spent using it, the more I found myself imagining an Apple 2-in-1 convertible that slots in-between the MacBook and the 13-inch MacBook Pro.
Apple, of course, would say that's territory catered for by the iPad Pro, and in many ways the Pixelbook is that tablet's natural competitor. The iPad Pro has some great apps and the Pencil is usable in more places than the Pixelbook Pen; in contrast, the Pixelbook's keyboard is far superior to any keyboard accessory, official or otherwise, I've tried for the iPad Pro.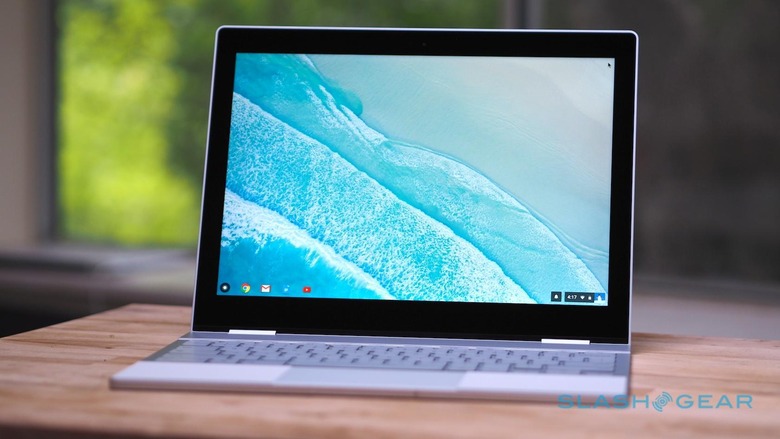 My reluctance around Chrome OS was always the feeling that 10- to 20-percent of what I needed to do on a daily basis was either difficult or impossible with Google's system. Just as I've found with the latest iPad Pro, the Pixelbook proves that those numbers are much smaller now: the list of things that are tricky to do on a Chromebook is significantly shorter. That makes it increasingly relevant to plenty of people out there.
Still, the $999+ price tag is hard to get past, especially for a platform which continues to demand such compromises. What the Google Pixelbook does, however, is leave me actively wanting to be able to make the switch: the hardware, design, and performance are all so beguiling. It might not be the notebook for me today, but it means I'll be watching Chrome OS even more closely to make that jump when the feature delta finally closes.