Pixel Qi 3Qi Vs Amazon Kindle; Mary Lou Jepson Q&A [Video]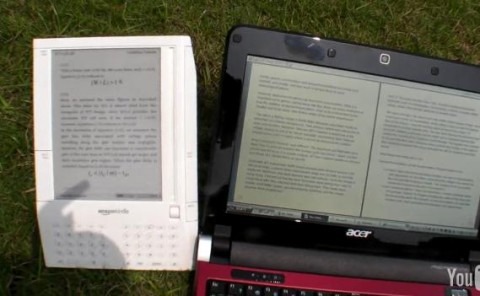 Pixel Qi's recent demonstrations of their clever 3Qi LCD display have prompted multiple questions from would-be users keen to stretch more battery life out of their notebooks and netbooks, and the company's CTO (and 3Qi creator) Mary Lou Jepsen has stepped up to answer them.  Among the most anticipated questions, Jepsen addresses price: according to her, the rumored $200 tag is not for the display itself but an estimated cost for an entire netbook using the indoor/outdoor 3Qi screen.
Video Q&A and 3Qi vs Kindle demo after the cut
Contrary to popular belief, the 3Qi doesn't use e-ink at all, just a "clever design" of LCD.  In fact, while it may look monochrome in direct sunlight, it's still displaying colors; they're just far less visible.  In the first video below, the Pixel Qi prototype is compared to Amazon's Kindle, a Toshiba R600 with a transflective LCD and a standard LCD touchscreen, with and without the backlight, indoors and out.
Despite the prototype being an adapter Acer Aspire One netbook, there's actually no hardware partner settled on – the AAO was just the first netbook to hand when the Pixel Qi team went down to Radio Shack for a donor device.  Still, mass production is expected to begin in the fall.
Pixel Qi 3Qi vs Kindle vs Toshiba R600 vs regular LCD:
Mary Lou Jepson answers 3Qi questions: