Pixel 4 XL renders have some surprises in store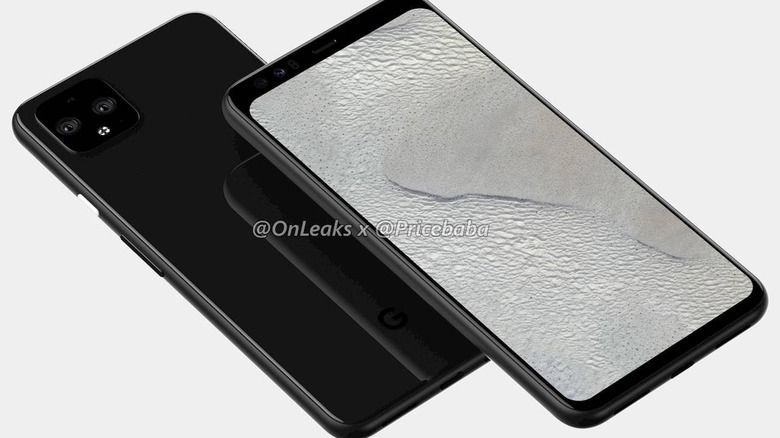 Almost a month ago to the day, we got an early look at what we expect the Pixel 4 to look like thanks to a set of renders. Though those renders were based on leaked schematics and not CAD files like we're used to, they still turned out to be fairly accurate, as Google teased a very similar looking device shortly afterward. Today, it's the Pixel 4 XL's turn to get a set of renders, and there are definitely a couple of surprises to be found among these new images.
Just like that original set of Pixel 4 renders, these Pixel 4 XL renders are coming from OnLeaks on behalf of Pricebaba. Just like before, these are based on leaked schematics and not CAD images, so that could potentially mean a lower level of accuracy. Given how much those original Pixel 4 renders seemed to resemble the teaser image Google shared, though, we've got pretty high hopes for these renders as well.
Well, since there seems to be some interest, 1 month after delivering your very first glimpse at the #Pixel4, here comes your very first full look at the #Pixel4XL! 360° video + gorgeous 5K renders + dimensions, on behalf of my Friends @Pricebaba again -> https://t.co/mCQCOp5Pp1 pic.twitter.com/MeAIID0FDz

— Steve H.McFly (@OnLeaks) July 8, 2019
In any case, one thing that's immediately obvious in these renders is the fact that the Pixel 4 XL doesn't appear to have a notch of any kind. The bezel is back, but given the reaction to the Pixel 3 XL's rather large notch, perhaps that shouldn't be surprising. Along with the earpiece, that top bezel houses a dual camera and two accompanying sensors, with OnLeaks estimating that the display will measure in at 6.25 inches.
Around the back, we see a square camera array like the one that's on the back of the standard Pixel 4, only the Pixel 4 XL is said to come with three camera lenses instead of just two. At this stage, we don't know what those cameras will be, but it seems like we can at least expect a telephoto lens on top of the regular main shooter.
Another thing that might come as a shock to Pixel veterans is the fact that these renders feature dual speakers, but they're on the bottom of device instead of being forward facing. Those front-facing speakers have always been a draw of the Pixel devices, so now that they've moved to the bottom, a fair number of prospective buyers might be a little disappointed. There's no headphone jack either, which is par for the course given the Pixel 4 XL's predecessors.
As always, take what you see and read here with a grain of salt, because nothing is set and stone until Google confirms it. Being that we're still a few months out from release, the finer details about this device could still change by the time we arrive at Google's reveal. Here's hoping Google releases a teaser image for the Pixel 4 XL now that these renders are out in the open, because we'd certainly be interested in seeing those.