Photoshop Express rolled out in the Windows Store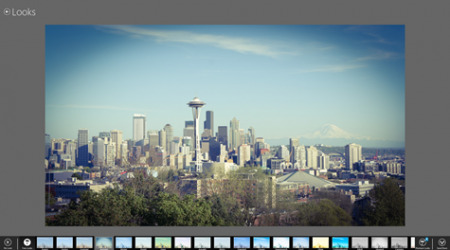 Tablets can be handy little photo-editing devices, particularly for photographers or media workers who need to tweak an image on-the-go without pulling out a laptop. For that reason, Adobe launched an app version of Photoshop for Android and iOS users called Photoshop Express, which offers some of the editing capabilities found in the regular desktop variety of the software. It has been available for most mobile users for awhile now, but starting today it is also available for Windows users.
The app is available now from the Windows Store, and can be used by both Windows 8 and Windows RT users, meaning it can be used on both a Windows 8 PC and a tablet. For those who don't require the full expanse of Adobe Photoshop, Photoshop Express is a free alternative that offers a variety of photo-editing tools, such as the basics like cropping and red-eye correction, as well as color-adjustment tools and "Looks" photo filters.
Back on January 25, the company rolled out an update to its Express app for iPad, adding support for Retina displays, as well as some other needed features, such as multi-tasking and using the on-board camera. That last feature is now available across the latest version of the software for all devices, including PCs with an attached or integrated webcam.
In case you missed it, earlier this month Adobe rolled out Photoshop CC with integrated collaboration, Behance instant sharing, and more. Such is part of their Creative Cloud online storage, which is a subscription-based service for Adobe users available at a monthly fee. Tools, syncing, and more are offered.
It was also revealed earlier this month that Adobe is working on a Lightroom app for iOS users, an offering that will provide support for editing RAW images. This app will appeal more to the professional market, as well as those who currently use Lightroom. While not exactly the same, the app will be similar to the desktop version of the software, and will allow users to transfer their work to a computer for finalization.
SOURCE: Windows