PhotoFast GM2 SFV1 256GB SSD Upgrade Kit For 11.6" MacBook Air Outed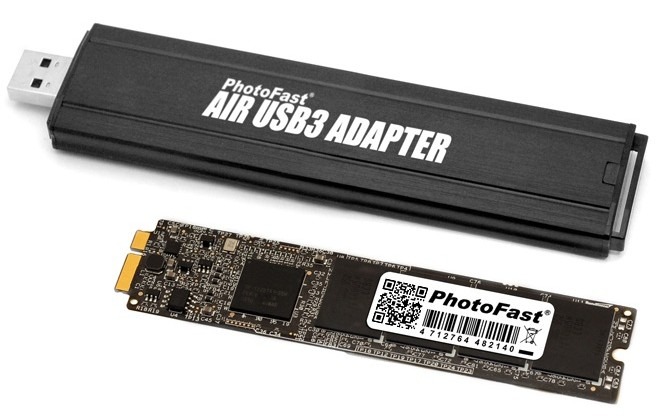 iFixit weren't exactly impressed with the new MacBook Air's upgrade potential, with Apple soldering the RAM into place and using a non-standard SSD, but that hasn't stopped PhotoFast from coming out with a new accessory.  The GM2 SFV1 offers 256GB for your 11.6-inch Air (for which Apple only offers a 128GB option), as well as bundling a USB 3.0 adapter to make the most of the SSD you've removed.
The kit takes the gum-like SSD from your new Air and slots it into a USB 3.0 adapter, turning it into a long USB memory stick.  Not the most graceful of portable storage, perhaps, but considering you'll have at least 64GB of storage from the new Apple ultraportable, it's definitely capacious.
PhotoFast reckons its replacement 256GB SSD is 30-percent faster than the original drive in the MacBook Air, boasting sequential read speeds of 250MB/s and random speeds of 50MB/s.  Meanwhile write speeds are 250MB/s sequential and 30MB/s random.  No word on pricing at this stage.