Philips Luminaire Chandelier OLED concept video demo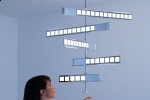 Philips are continuing their assault on traditional bulbs with the launch of two concept OLED lights, the first a compact table lamp and the second a more impressive chandelier.  Both systems use the company's Lumiblade OLED panels, which offer cool-to-the-touch, pure white illumination.
The Philips Luminaire Chandelier consists of five OLED 'blades' balanced out from a thin central pole.  Light from the Lumiblades increases as movement around the chandelier is recognized. 
Video demo of the OLED lighting after the cut
Meanwhile a touch-sensitive button on the base of the light fixture controls power, while a proximity sensor is used to control dimming.  There's no word on whether Philips will commercially release the Luminaire Chandelier concept.
[via OLED-Info]