Philips shows off Lumiblade, new OLED applications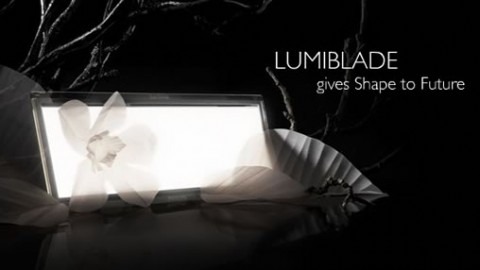 Philips may be out of the TV Game in North America, but they're busy finding new and crazy ways to manipulate OLED's into awesomes designs and shapes. The experiments by Philips demonstrates the wide application of OLED's and possibilities for future products. Given their lightweight and thin nature, OLED's are capable of being utilized in many different ways, not just televisions.
With OLED's, light can be incorporated into designs, rather than hidden within the fixture. It can become a part of the artwork, which Philips has demonstrated at a conference in Milan. The designs are beautiful displays of light and art meshed together to demonstrate the applications of OLED's.
Kristin Knappstein, Business development Manager at Philips Lighting says that "The OLED technology is available, but the opportunities they present go much further than lamps, OLEDs are actually a kind of building block – a new type of magic material – that can be combined with others to produce a striking new and creative whole. OLEDs in clothing, furniture, vehicles, jewelry, works of art: the possibilities are endless. But just hearing about OLEDs isn't enough to be able to fully appreciate their unique characteristics and potential. That's the purpose of the exhibit and the online OLED shop. We want to make it possible for people to see, touch and experience OLEDs for themselves. And if they get inspired, Philips Lighting is always interested in co-development and partnerships. When it comes to OLEDs, just about the only limit is your imagination."
Hit up the link for more amazing photos.
[Via OLED-Display.net]