Philips Hue Wireless Dimming Kit Review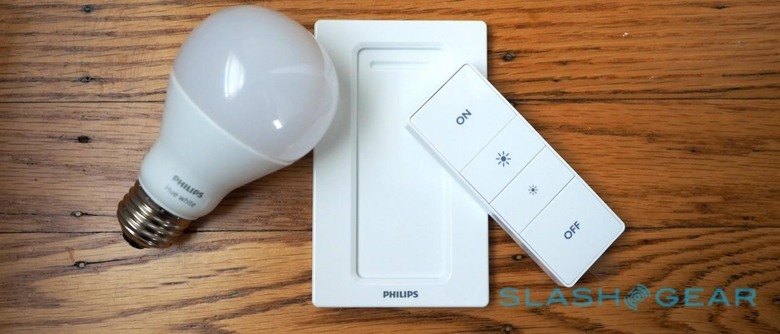 Dimming lights used to be easy with incandescent bulbs, but the new age of LEDs can be a flickering, migraine-inducing mess. Philips believes its Hue Wireless Dimming Kit is the answer, the combination of a simple white bulb with an equally straightforward remote that can be left on a coffee table or easily wall-mounted. Though Philips is pitching the $40 set at novices, there's plenty for the Hue enthusiast to find appealing, however, not least the remote control.
It's not the first remote for the Hue system, mind. Last year, Philips released the Hue Tap, its first standalone switch, though it was no simple button. Rather than a battery, Hue Tap used the power generated from physically pressing each of the four preset triggers to power its ZigBee radio.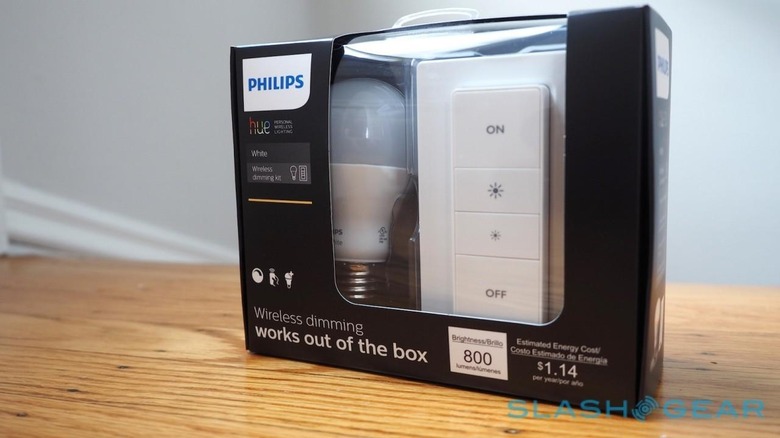 Clever, yes, but not cheap: at $60, it was far too expensive for most Hue fans to consider installing more than one or two in their home, never mind outfitting every room. Happily, Philips' second remote is a far more straightforward affair.
It measures 92 x 35 x 11 mm and weighs 37g, with four buttons – running from the top, there's power-on, bright, dim, and power-off – and a regular CR2450 battery inside. Philips says that should be good for 50,000 clicks, or at least three years of use, and you can unscrew the battery cover and replace it at that point.
Also in the box is a wall plate, to which the remote itself clings magnetically. You can use the adhesive strips on the back to fix it to the wall, or the two screw holes; unfortunately, those holes aren't in the same place that a regular switch plate has them, so a direct swap isn't as straightforward as it could be. Given the magnets, you can even stick the wall plate directly to a metal surface, like a fridge door.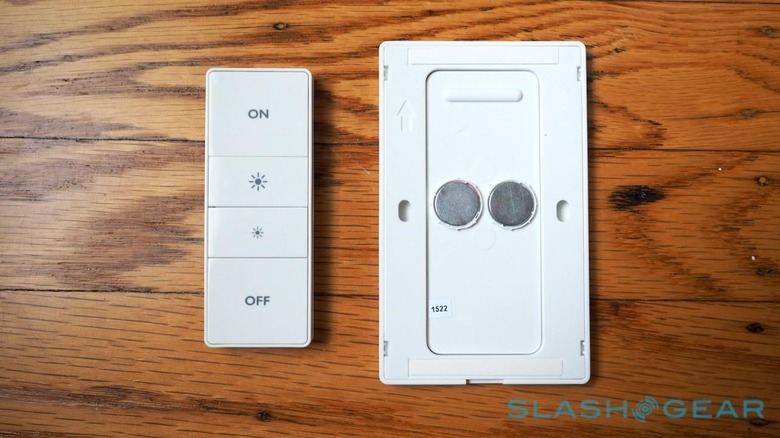 Installation, then, is simple. The white bulb comes already paired with the remote: simply unscrew a regular bulb and swap it for the Hue version. The lamp will need to be left powered on at its regular switch; from that point on, the remote control is used to handle power and brightness.
As lights go, the Hue white bulb is pretty much par for the course. It's 800 lumens bright, and has a 2,700 K temperature – so it's soft and slightly warm, not cold and harsh like some LED bulbs can be – and Philips rates it for around 25,000 hours of use. There's no fancy color-changing, only dimming, though it does that with zero flicker at any level.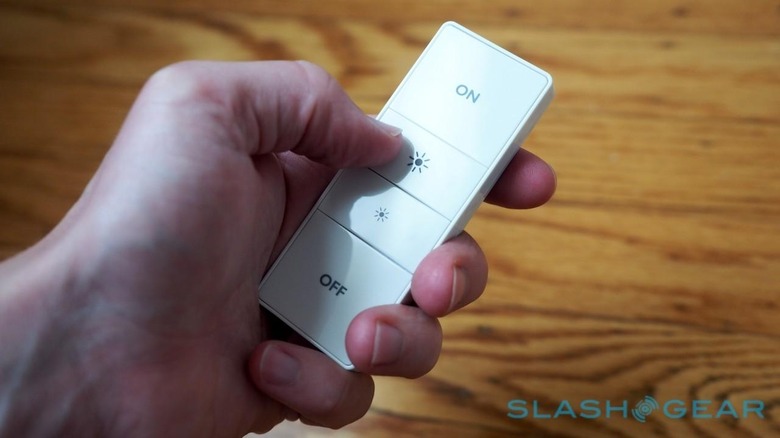 A single remote can be paired with up to ten Hue white bulbs: you simply bring them close together then hold the power-on button for ten seconds to connect them. Doing the same, but with the power-off button disconnects them. You don't get individual control over each bulb in the group, though you can pair one bulb with multiple remotes should you have them.
It's intended for standalone use, though if you've already got a Hue system installed then both bulb and remote will play nicely. To begin with I tried linking a Philips Bloom lamp directly to the remote, and sure enough after holding the button down for ten seconds it paired. You only get power and brightness control, though: the color is whatever the lamp was set to when it was last used.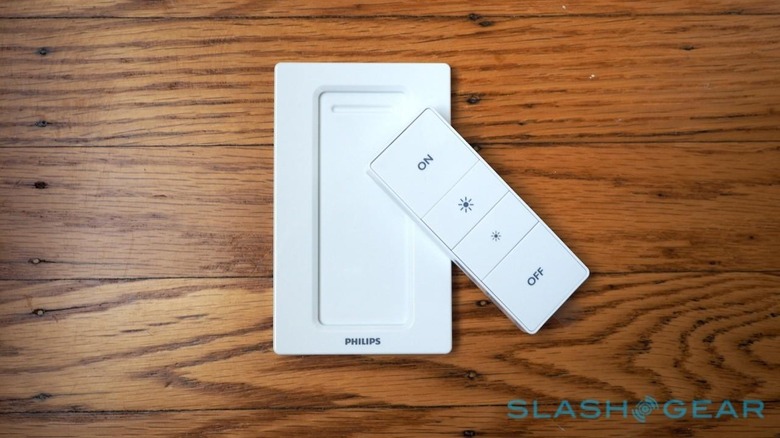 I was also able to pair the new bulb with my Hue bridge, and control it through the app as well as include it in grouped scenes. Doing so disconnected it from the remote, however, though I was able to re-pair it as above and have both remote and app control it.
Philips tells me that a firmware update is due for the bridge that will allow it to register the remote itself. At that point you'll be able to assign groups of bulbs to it, though the update wasn't available during my testing for me to try.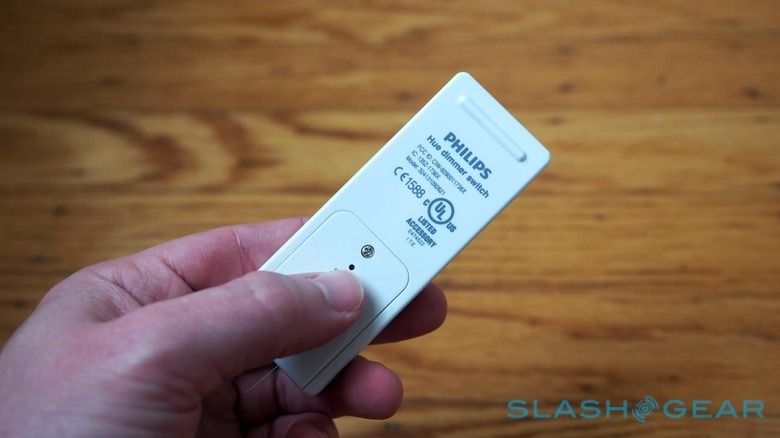 While I'm a fan of Hue, and it's become my go-to recommendation for those looking to dip a toe into the connected lighting space, I've always been frustrated by the shortage of physical controls. The fact that fixtures must be left turned on in order for Hue bulbs to work can prove confusing to less tech-savvy people or guests, and there are times when I just want the lights on, not to have to dig through the Hue app to pick a scene.
This new remote fits the bill well, then, though there's still a problem. Philips will offer the Wireless Dimming Kit for $39.95 in September, consisting of a bulb and the remote, as well as the white bulb individually for $19.95. What the company has no plans to offer, it tells me, is the remote on its own.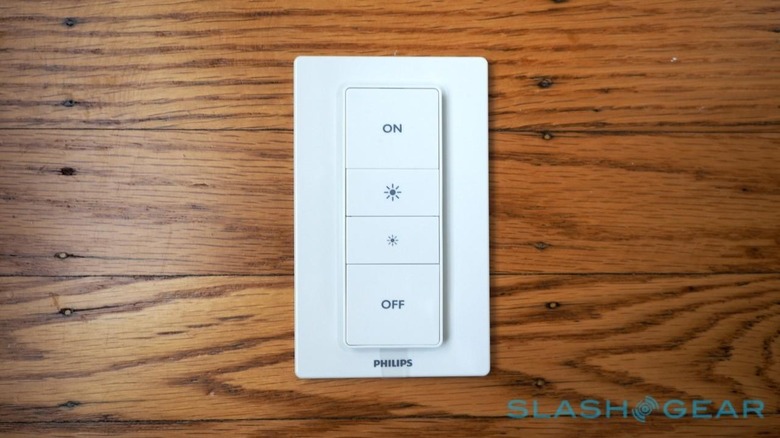 That seems like a missed opportunity to me, and it's a decision I hope Philips reconsiders in due course. I'd also like to see the bulb price come down a little: Cree's Hue-compatible Connected Bulb, for instance, is $5 cheaper while, at 815 lumens is actually a little brighter. Philips' bulb has the edge in aesthetics, mind, without the ugly notches of the Cree, which is worth considering if you have a decorative fixture, and of course the Cree bulb only works if you already have a hub installed.
Philips' set, then, serves as an excellent gateway into Hue ownership. It'd make a great dorm room gift, while the buttons are sufficiently big to make them easily used by the elderly or those with limited dexterity. You can experiment with a couple of lights for the same as a Hue Tap would cost you, and then if you upgrade to a more comprehensive installation later on, your initial outlay isn't wasted. Here's hoping Philips sees sense, and also offers the useful little remote by itself too.