Hue Sync release liberates on-screen color from your PC and Mac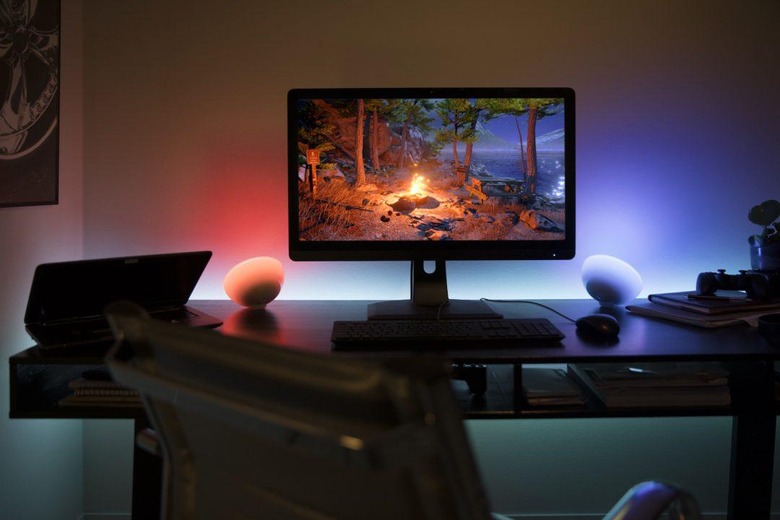 Your Philips Hue bulbs are about to get a lot more interesting, with Hue Sync launching to expand the colors from your PC or Mac into the room. Designed to deliver a more immersive viewing experience, whether you're watching movies or playing games, Hue Sync offers a DIY approach to Philips' Ambilight TV sets.
Hue, if you've not been keeping up with the smart home lighting scene, is an ecosystem of LED bulbs and lamps that connect to a smart hub hooked up to your router. Both color and white-only versions are available, allowing you to control individual light fixtures or whole rooms of grouped bulbs from the Hue app or, more recently, with smart home platforms like Apple's HomeKit, Samsung's SmartThings, and others. Hue Sync, though, is Philips' attempt to make its lights more useful for entertainment.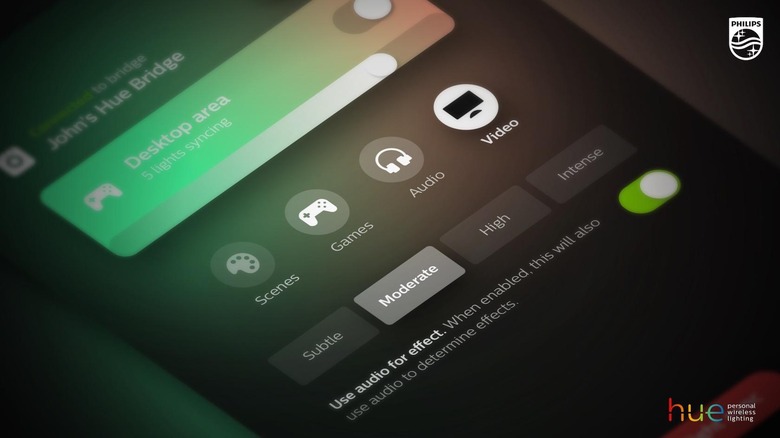 To test Hue Sync out, I set up a handful of Hue A19 color bulbs and a Hue Light Strip around an iMac. The flexible LED strip went behind the computer, while the color bulbs flanked it. I then set up a new entertainment group in the Hue app then, with the Hue Sync app installed on the Mac, I could have the lights automatically react to what was happening on-screen.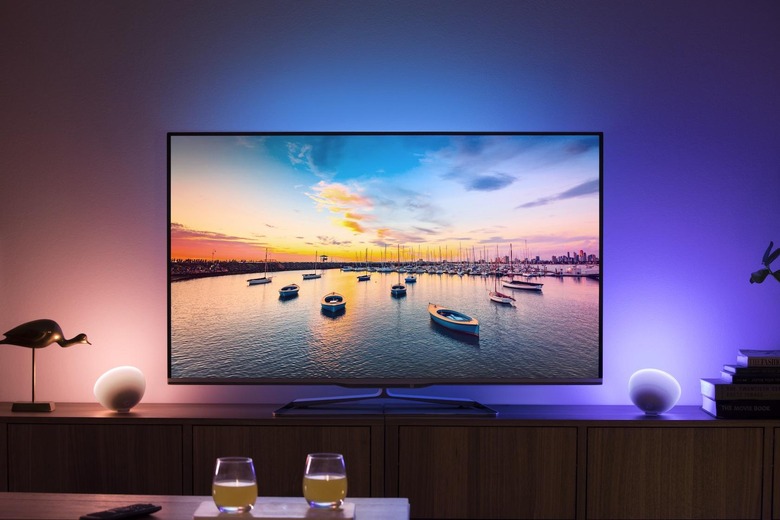 It needn't be so permanent a setup, mind. One of Philips' suggested configurations is built around a pair of Hue Go battery-powered lamps and a single Hue Light Strip. Although the latter would need to be plugged in – and its self-adhesive backing does lend itself to fixed installation – you could easily move the Hue Go lamps into position only when required, and then use them elsewhere the rest of the time.
In fact, the only real limitation is that your Hue bulbs need to support color. The effect is surprisingly impressive; at first, watching a movie, I found the lighting a little distracting. After a few minutes, though, it becomes less obvious. Just how immersive you'll find it will, I suspect, be viewer dependent, but with more intense color scenes in movies – like sunsets or fires – it certainly felt more dramatic. I'm not a gamer, but Philips suggests explosions in PC games will also be more eye-catching and effective.
Settings are fairly minimal. You can choose whether you're watching video or gaming, or turn on the audio mode which synchronizes different color patterns to the music, based on a few preset palettes. The brightness is adjustable, and you can change how rapidly the colors change depending on what's on-screen, ranging from Subtle, through Moderate and High, and finally Intense. For a mellow movie you'll probably want something slower, while games will likely need the speed pushed as fast as it'll go.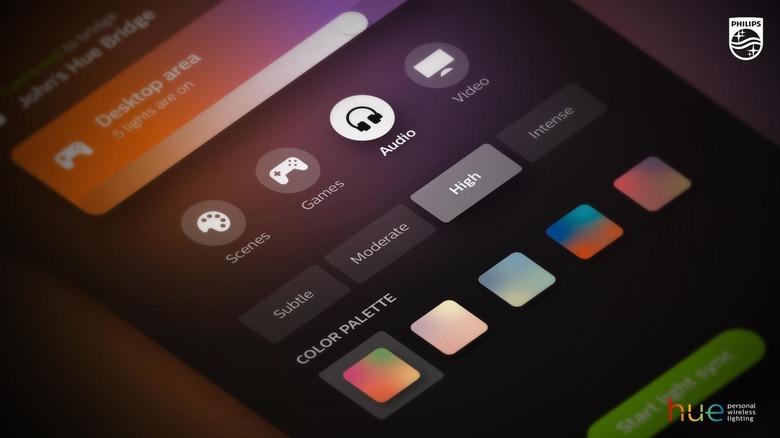 Right now, whether you can replicate the Philips Ambilight TV experience depends on where you're sourcing your content from. While an Ambilight TV monitors what's on-screen to adjust the color backlighting, and thus is source-independent, Hue Sync can only react to what's on-screen on your computer. If you're piping video from there to your TV, via HDMI, ChromeCast, AirPlay, or Miracast, Hue Sync will work, running on the computer you're streaming video from.
With connected lighting often the first port of call for new users looking to dip into the smart home, Hue Sync is certainly another reason why you might want to opt for Philips' bulbs rather than those of another company. The app is a free download for Windows and Mac, and available today.