Philips Hue Go Review - Finally, a battery
Philips has been pushing its Hue smart lighting system for years now, but it's taken until now, and the Hue Go, for the lamps to gain a battery for truly wireless convenience. Latest to the app-controlled line-up, the distinctive little lamp offers the same millions of color options as Hue has from the start; unlike most Hue bulbs, however, Hue Go can not only cut the cord but doesn't demand a nearby smartphone. That flexibility comes with some compromises along the way, however; read on for my full review.
Design and Hardware
Think "milky cereal bowl" and you're not far off the Hue Go's design. A frosted polycarbonate half-sphere, with its flat side curved into a slight meniscus, it has a small molded foot on the bottom just behind a deeply-recessed power socket.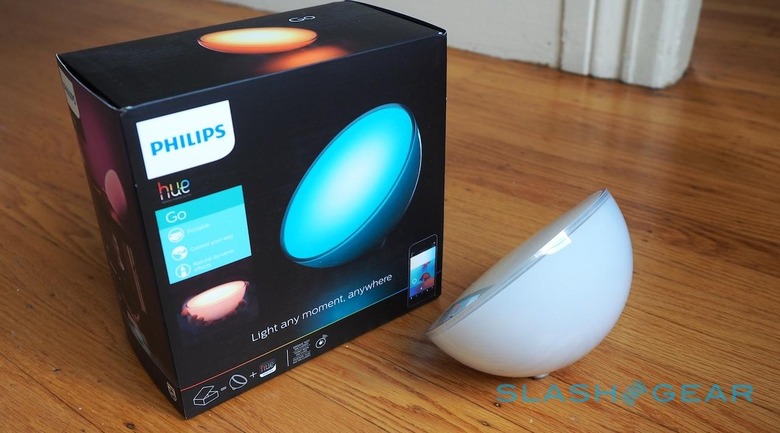 There's only one physical control, a flush button on the back, though inside you get the usual ZigBee wireless for linking up with your existing Hue mesh network. It's worth noting that you don't get the Hue Bridge in the box, so figure on spending at least $79.95 for the Hue Lux starter pack so that you can actually hook it up to your home network.
The plastic casing itself feels sturdy, but it's also very prone to picking up dust and lint. It also seems to scratch quite readily, though you don't really notice the hairlines unless you're looking at it closely.
Plugged-In
WIth its charger plugged in, you can treat the Hue Go pretty much as you would a Hue Bloom lamp. It's not quite as stable on its base, but you do get a broader glow since the sides of the Go are translucent unlike the Bloom's metal housing.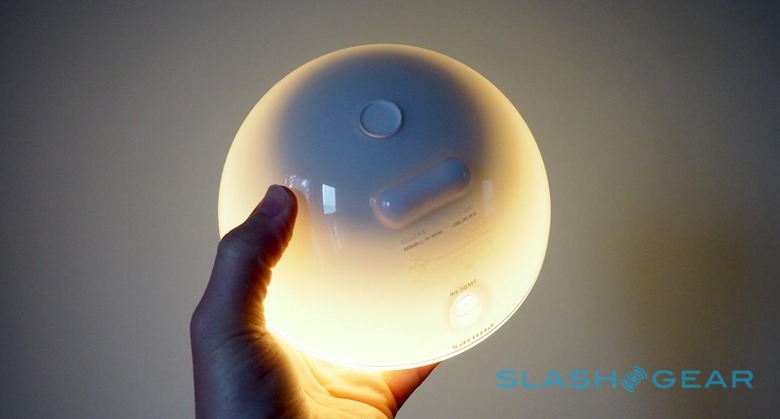 What differentiates Hue Go from earlier lamps is the standalone functionality. Until now, the Hue platform has been focused on app control: you pick from a theoretical 16m colors and a span of brightness settings, either manually or as part of a saved preset.
Hue Go can still be remotely controlled in the same way, but the button on the back can also be used to cycle through a number of preconfigured settings. As well as a warm white light and a natural white light, there are five "dynamic" effects the colors of which vary.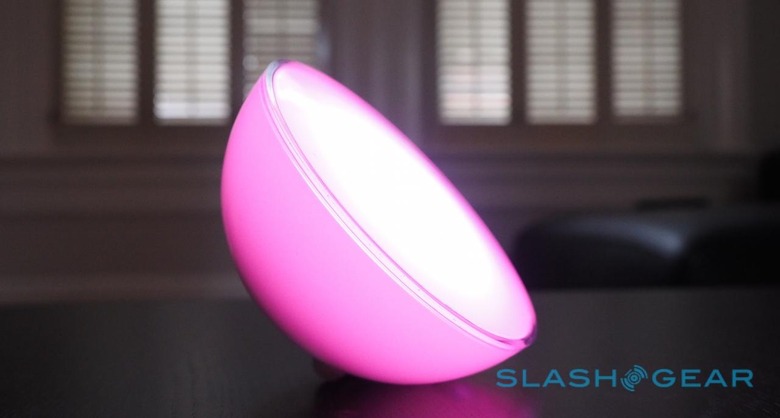 "Cozy candle" flickers between reds and oranges, while "Enchanted Forest" blends between various tones of green. "Night Adventure" shifts through the gamut between deep purple and red, while "Sunday Coffee" does something similar with paler pinks and violets. Finally, "Meditation" slides between green and purple.
Double-press and hold the button, meanwhile, and Hue Go starts shifting through each of the millions of colors it supports. Release it, and it stays fixed at that color. If you ever had a pre-Hue Philips Living Color lamp, you might remember a similar system using the old-fashioned remote controls that were included with them.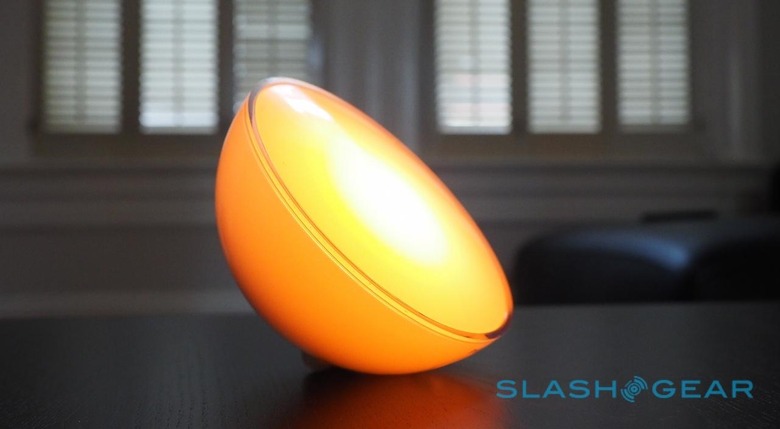 Interestingly, you don't even need to have connected the lamp to your Hue network before you can access the presets; if you wanted to use Hue Go entirely standalone, with no bridge, you can. The only thing you miss out on – beyond precise access to the color wheel – is control over brightness.
Conversely, while from the app you have precise control over colors, you don't get access to the presets. If you want your Hue Go to act like a yoga candle, you'll need to select that mode manually.
Go Walkabout
Hue Go is Philips' first Hue-compatible lamp with an integrated battery, and the upshot is pretty easy to understand: all of a sudden you're free to take your multicolor LED lighting out into the garden, or simply out of reach of the nearest outlet.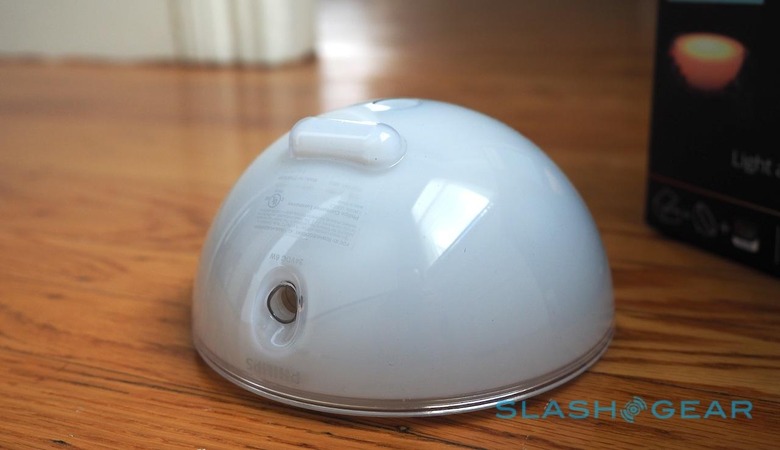 There are a couple of compromises along the way, however, and some of them scratch away at the core simplicity that I've come to appreciate in Philips' platform.
Most noticeable is the dip in brightness. Hue Go automatically drops to 40-percent of its normal brightness so as to maximize battery life – meaning you're getting around 120 lumen rather than 300 – and there's no way to override that on the lamp itself. It's not a deal-breaker, but it certainly limits things to mood lighting rather than practical illumination.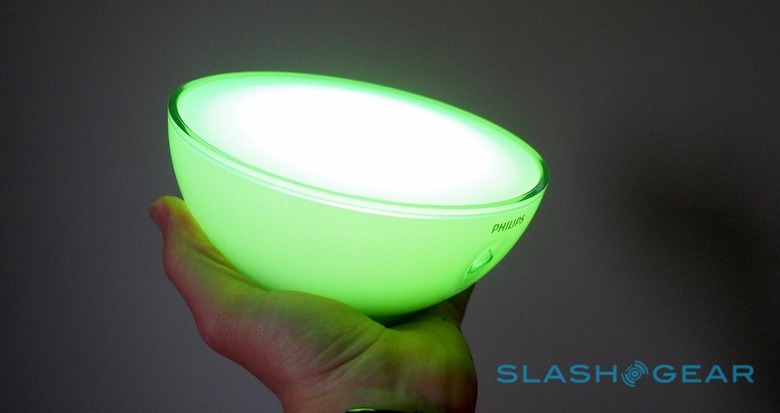 The other, potentially more confusing issue is how Hue Go handles power. Turn the lamp off in the app, or press the button for a couple of seconds, and it goes into standby mode. After two hours on battery alone, though, it then switches off completely, and can only be turned back on by physically pressing the button (you can force a full power-off by holding the button down for ten seconds).

No amount of twiddling with the brightness slider in the app will bring it back to life. I can understand Philips' thinking, but I do think it could be confusing if you're used to how Hue commonly works. I'd have preferred to see a USB charger used, too, rather than the proprietary adapter Philips supplies.
There's another downside, specifically in Philips' use of ZigBee rather than WiFi or Bluetooth. With no device-to-device support between phone and lamp, if you're out of range of the ZigBee network (either the bridge or a bulb connected to it) then the two won't be able to see each other, and you can't use the app to control Hue Go.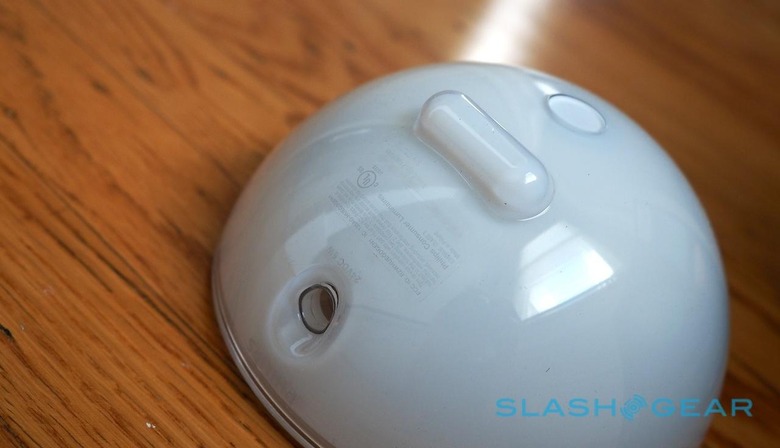 As for battery life, Philips claims up to three hours of use and half that time again to recharge Hue Go completely. I set it to the natural white light mode – which Philips tells me is the most power-demanding – and it lasted around two hours before flicking off. Switching to the more frugal candle mode, however, and I got roughly an extra hour of out it.
Wrap-Up
Membership in the Hue club has never exactly been cheap. Even today, a starter kit of three of the color bulbs will set you back $200, or $80 if you can make do with a pair of white bulbs. Since the platform launched in 2012, Philips has gradually added to it with lamps and bulbs both practical and decorative.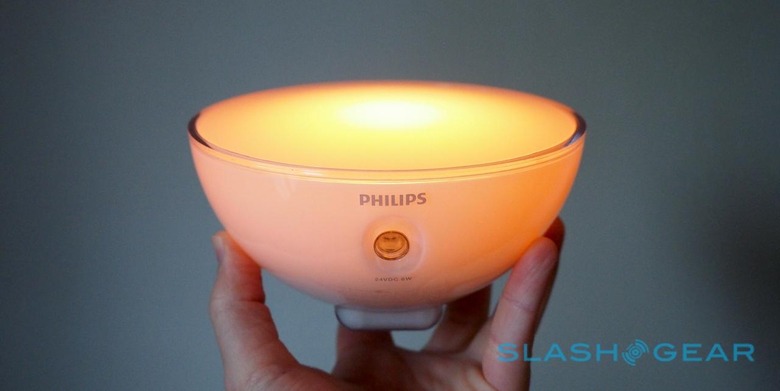 In that grand scheme, then, the $99.95 a Hue Go will set you back could be seen as fairly reasonable, assuming you've bought into Hue as a whole. It's a cute nightlight and a handy way of illuminating an outside space for a barbecue or picnic, assuming you don't want to keep eating at night for any more than three hours of course. It even has standalone use of a sort we've not seen from Hue before, though if you're intending to go the independent route alone then there are probably cheaper color-changing lamps out there.
Hue Go is never going to be an essential part of a Hue installation; for most, the brighter regular bulbs are going to make more sense, and the way the lamp handles longer-term power management is more confusing than its app-controlled siblings. As mood lighting, though, or temporary extension of a Hue setup into the garden or even to a holiday home, it's a welcome addition to Philips' lighting range, but it probably shouldn't be your first step onto the smart lighting ladder.