Philips hue iPad-controlled LED lightbulbs hands-on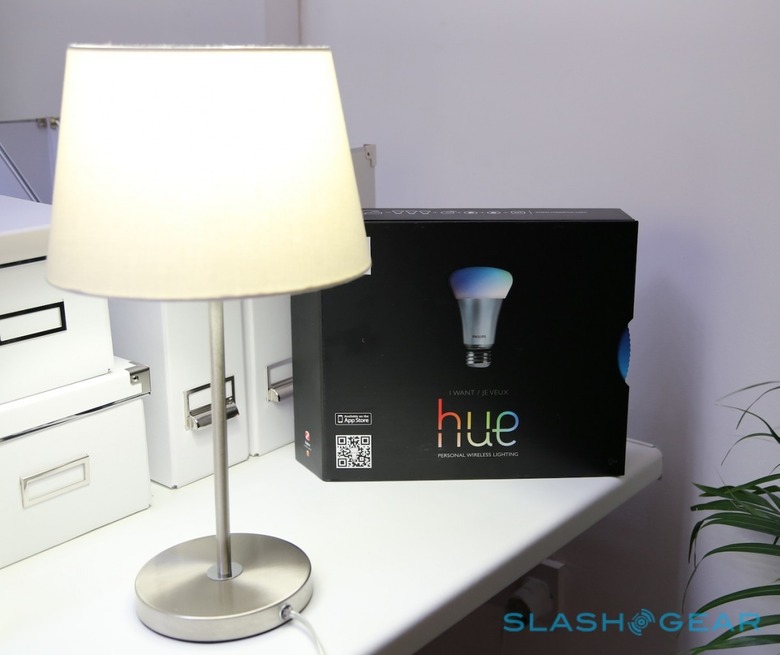 Colored LED lighting that could be remotely controlled used to take professional installation and thousands of dollars; now, Philips' new hue system makes it as easy as screwing in a bulb. On sale on Tuesday – initially exclusively through Apple Stores – the hue bulbs screw into a regular ES fitting and are remotely controlled from iOS or Android apps over a ZigBee connection, either locally around the home or (handy if you've left the lights on while you're on holiday) anywhere with an internet connection. They're hardly a cheap replacement to a standard incandescent bulb, though, so we spent some time with Philips to find out why hue is special, and how the system could actually make us happier or more productive.
The starter box – containing three bulbs and the base station – is priced at $199/£179, while individual bulbs are priced at $59/£49. That might seem expensive on the face of it (though Philips has high-end white LED bulbs in its range that are $50-60 alone) but, in comparison with the LivingColors lamps which come in with an RRP of £159 apiece, it starts to look more reasonable. If you've already bought any LivingColors models, incidentally, you'll be able to use them with the hue system too (with one or two limitations).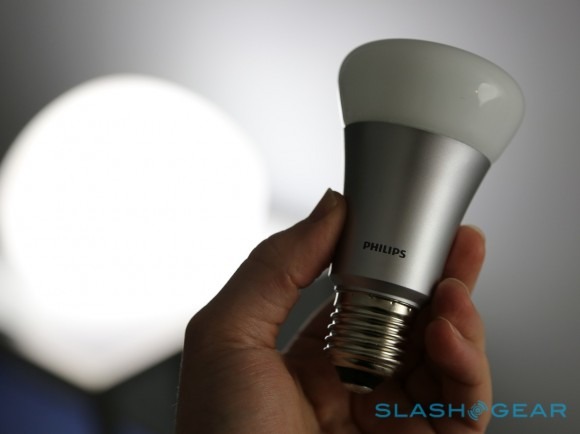 Installation is simple: screw in the bulbs, plug the ZigBee base station into a spare ethernet port on your router, and hook it up to the mains. A pairing button on the base station allows you to link up any other hue bulbs, while three LED lights show system status including whether there's an internet connection for remote access. Since ZigBee is a mesh system, each hue bulb can talk to each other: bulbs can be a great distance from the base station itself, just as long as there are other bulbs spanning the intermediate distance (though lag increases the more mesh-points the signal needs to hop through).
Philips hue official demo:
[vms 617ad94123450fd13710]
The bulbs themselves use 8.5W at most, and – at 600 lumens – are equivalent to 50W traditional bulbs. They also use a special internal coating that, coupled with the shape of the glass, projects light more evenly around the bulb, meaning there isn't a dead-zone to your lamp. Officially, up to 50 can be paired with a single base station, though Philips told us that in fact that's more of a quality-assurance guarantee; in fact, the company has had 250+ bulbs paired with test systems, and had no real issues with them. Bayonet fitting versions are in the pipeline.
Control is via smartphone and tablet app, with iPhone, iPad, and Android versions available at launch; up to ten devices can be linked to control any one base station. The software itself is surprisingly comprehensive. At its most basic, you can adjust the color of any one bulb across the spectrum, including adjusting brightness and color temperature, from a rich red, deep blue, bright white, or anything in-between. You can link up two or more bulbs into a group, and control them all simultaneously, and create preset scenes which each have their own icon on the app's homescreen.
However, there's also color sampling to be played with. Philips includes a number of photos in the app – scenes like beaches or mountains – and by dragging pointers linked to each lamp, you can recreate the color of that point in the image. Again, custom setups of multiple lamps tied to different points can be saved, or you create a random arrangement by physically shaking the tablet or iPhone.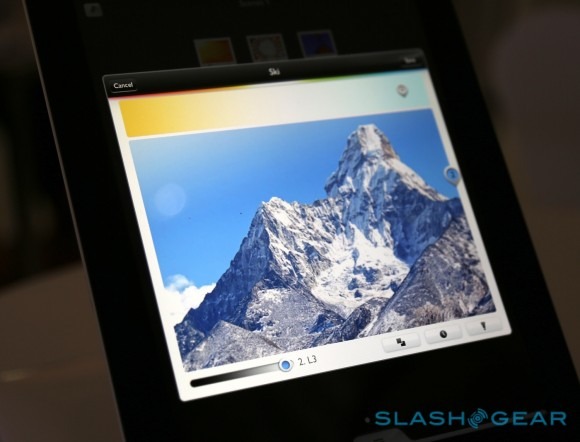 You can alternatively pick out a photo from your own photo gallery – or take a new photo, within the Philips hue app – and select colors from that instead. Each of the scenes, whether basic colors or based on photos, can be set to timers, either turning them on or off; you can also have them gently fade in or out over a period of several minutes, helping you to gently wake up or drift off to sleep. Of course, you can also shut off all the bulbs with the tap of a single button.
Finally, though, comes Philips' splash of science. The company preloads four "LightRecipes" – relax, read, concentrate, and energize – which adjust lighting to specific shades and brightness levels based on research into how those scenarios affect the human body. Philips says testing in schools showed students did better in tests, were calmer, or read faster and more accurately, depending on the different setting active at any one time. It's worth noting that older LivingColors lamps won't work with these new LightRecipes, as they don't have the settings baked in like the new hue bulbs do.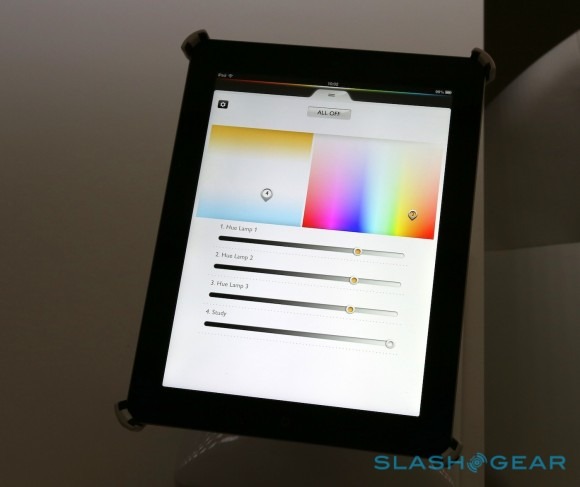 There are some sensible tweaks and decisions Philips has made along the way to the hue system overall. An override feature automatically lights the bulbs up to a regular white "lamp light" default if the physical power switch is used, just in case of emergency, and you can easily deactivate a phone or tablet from the control group in case it's lost or stolen (or if your kids insist on triggering a mini disco in your room at 2am every day). At launch, the Android app will lack the out-of-house remote control feature, though Philips says it's coming; if you have any existing remotes from the LivingColors line-up, the company confirmed to us that they, too, would still work, useful for the less tablet-savvy in the household.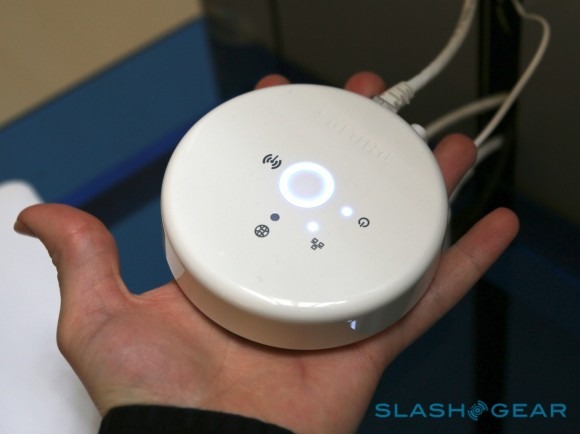 Perhaps best of all, it's all designed to be open. Philips' base station works as a regular ZigBee hub, and so will function with any other ZigBee devices that conform to the standard, while the individual bulbs are compliant with the ZigBee Light Link standard and so can be integrated with wireless home automation setups you might have already. The company is also opening up its app to third-party developers, in the hope that they'll step in and augment the functionality. Suggestions included flashing the lights when you get a VIP email, synchronizing color changes with musical playlists, or geo-location so that the lights automatically turn on when you get home, and off when you leave. Individual users will be able to use the site to swap color scheme presets.
At sixty bucks apiece, hue bulbs aren't cheap. However, the popularity of recent Kickstarter campaigns for WiFi-enabled bulbs such as Lifx - which raised more than 13x of its goal - has shown that there's a consumer interest for more flexible, smarter lighting. Unlike fund-raising projects, though, Philips' hue system ships from tomorrow, not sometime next year, and comes from a company with a long history in lighting. We'll be putting hue through its paces soon, to see if the promise lives up to the price.