Philips Hue adds outdoor lamps, Sync TV voice control and refines Zones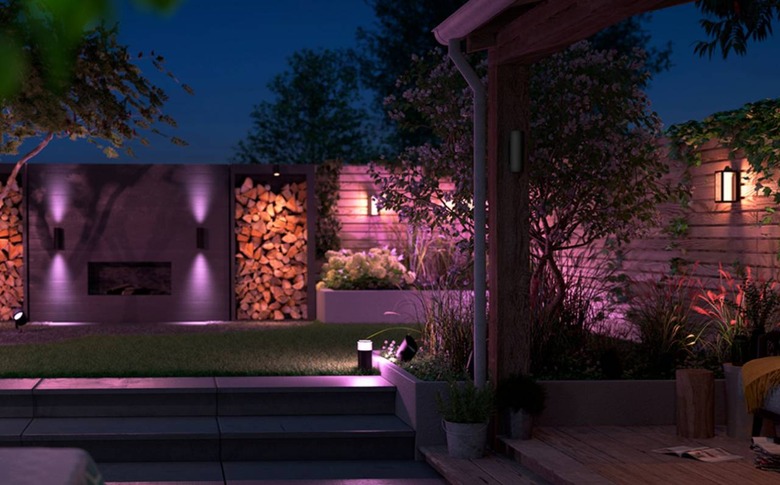 Philips Hue is getting new smart switches, new outdoor connected lights, and adding voice control for the Hue Play HDMI Sync Box, the smart home lighting company has announced at CES 2020. In addition to easier control, Hue-owner Signify is also pushing easier installation of its custom fixtures, by adding low-voltage versions that don't necessarily require an electrician to fit them outdoors.
Philips Hue outdoor range at CES 2020
Hue bulbs have long been indoors, but the outdoor selection has been a little more limited. That's changing with a new line-up of smart lights for the wall, for pathways, and for low-voltage fixtures. As you'd expect, they support the usual Hue features like 16 million available colors, and 50,000 shades of white light color temperature.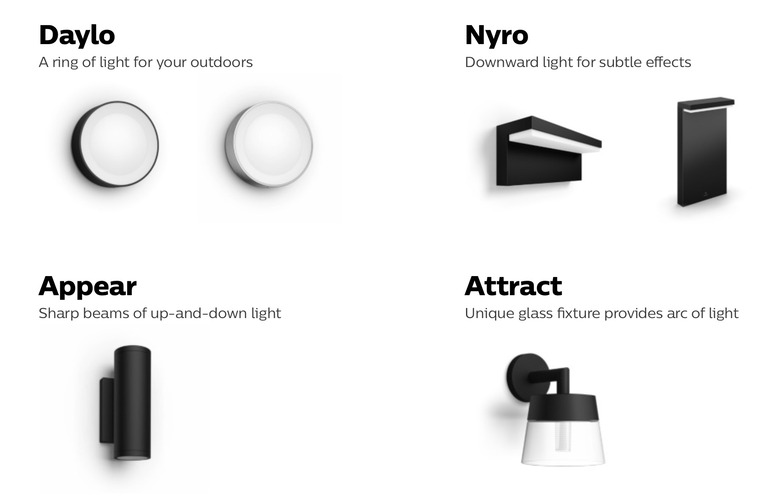 Appear is a new wall light, which creates a sharp, directed triangle of light above and below the fixtures. Resonate does similar, but for a more elegant effect, while Attract is a wall lantern which plays an arc of colorful light onto the wall. Daylo is a circular wall light, with a more subtle backlit glow. Finally, Nyro has a more modern, architectural design, and will be offered in both wall and path light options.
As for low-voltage lighting, there are three new options. Lily XL is a larger, more powerful spotlight, while Impress takes the existing light and makes a low-voltage version that's easier to install. Econic, too, is an existing Hue light that now comes with a low-voltage version. Philips has new outdoor power supply units, coming in at 40W and 100W, and extension cables with a T-junction too, for more flexibility in how the Hue lights are installed.
The Hue Appear wall light will be $139.99 when it goes on sale in the US this month, while the Hue Lily XL low-voltage will be $139.99 and the Hue Econic pedestal low-voltage will be $129.99. The Hue Cable and T-part pack will be $14.99. The Downlight and Garnea will follow on in the US come March.
Smarter Hue zones and switches
The latest Hue app is now adding more Zones functionality, so that it's easier to control a group of different lights from a single button press. For example, you'll be able to create a zone and then have one Hue Dimmer switch, a Hue Smart button, or a third-party Friends of Hue switch like the Lutron Aurora control every light in that Zone.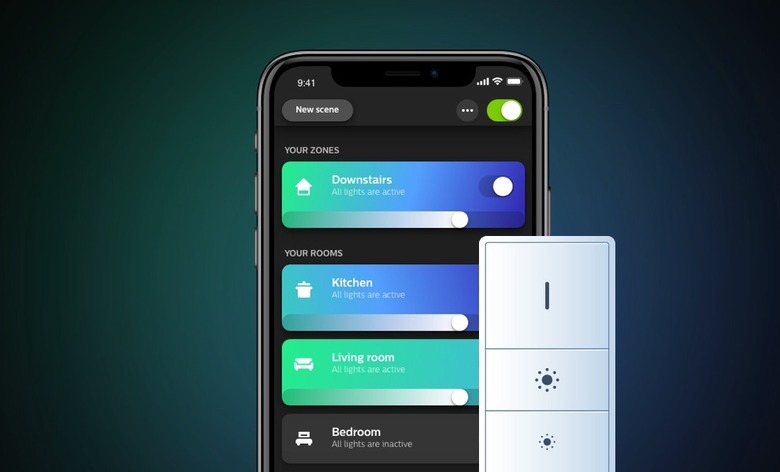 It's separate from Hue rooms, which group lights by the room they're in. A Zone could include a subset of lights in a single room – just the feature lighting on a desk, for instance – or encompass multiple rooms. You might have a Zone for the whole downstairs of the house, for example, which you can turn off with one button when you go to bed.
As for Philips Friends of Hue, the third-party control range is getting some extra options, though not for the US. In Germany, there'll be a battery-free light switch from Voltus, while Jung will be offering new switches in Germany, Austria, Switzerland, and the Netherlands. German company Insta has also joined the Friends of Hue program.
Hue Play HDMI Sync Box Voice Control
Signify launched its Philips Hue Play HDMI Sync Box late last year, a way to synchronize what's showing on your TV with the lighting around the living room. If you're gaming, for example, your Hue color-changing lights can echo the colors in the game around you; if you're watching a movie, that can become more immersive by matching the ambient light to what's on-screen.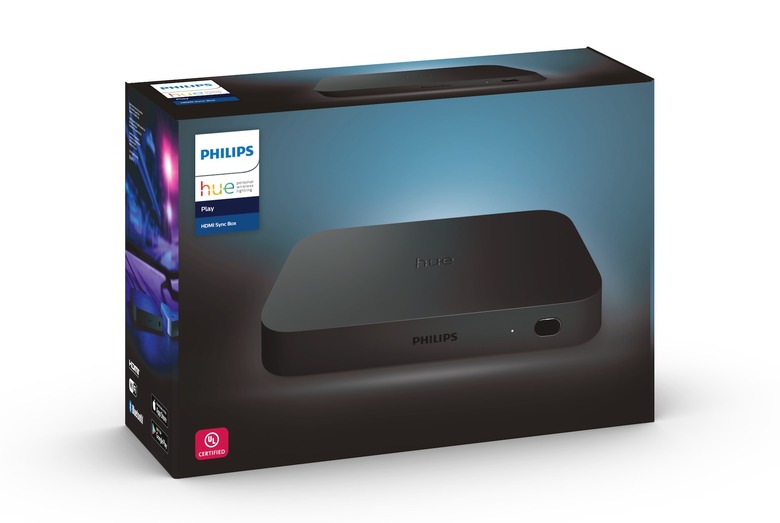 Now, the box is getting integration with the popular voice assistants. A new update adds the ability to control it through Amazon Alexa, Apple Siri, and the Google Assistant. You'll be able to turn the Sync box on and off, change its light settings, and switch between HDMI devices connected to its ports.
At the same time, Signify is also adding infrared remote control support. The Sync box will be able to learn the commands from a TV remote – whether standard or universal – and rely on that to control its power and switching through the HDMI inputs. Both features will be added in an update expected to be released in Spring 2020.