Pegatron Netbook: Freescale CPU, 8hr Battery, Super-Slim & 3G [Video]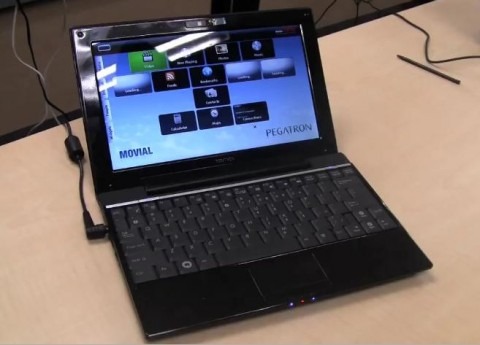 Joining Wistron's N900z on the Freescale Semiconducters Computex stand is this netbook from Pegatron.  Running an Freescale IMX51 800MHz ARM-based CPU and Xandros Linux OS, the most interesting aspects of the ultraportable are its super-skinny profile and long, eight-hour battery life.
Video hands-on after the cut
In fact the bottom half of the Pegatron is just a little thicker than a standard VGA port, and it weighs roughly 800g maximum.  There are still USB 2.0 ports, audio in/out and a multiformat card reader, though, and an access panel underneath to get to the standard 4GB SSD; wireless connectivity includes WiFi, Bluetooth, 3G UMTS and GPS.
Build quality is reportedly very good, with a large keyboard with a decent layout and reasonable feedback; sadly the mouse button is only a single button.  There'll apparently be a second OS choice, Movial, which is billed as an "easy-mode".  No word on pricing or availability, but if they can match the Wistron N900z's predicted sub-$200 tag then we'll be very interested.