Wistron N900z Smartbook: sub-$200 ARM netbook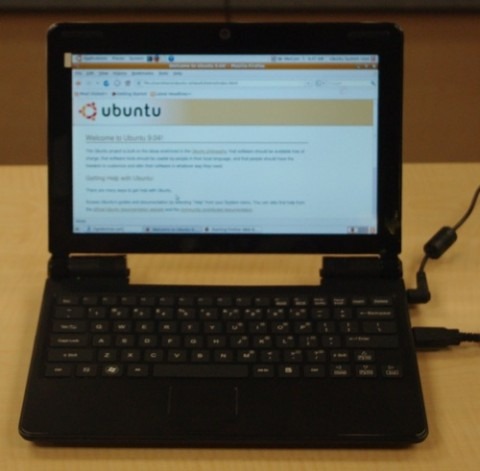 Wistron's most endearing Smartbook machine may be the compact VAIO P-lookalike that has been floating around tradeshows for a few months now, but it's not their only offering with ARM under the hood.  Freescale Semiconductors are showing the Wistron N900z at their Computex 2009 stand, a more traditionally designed 10-inch netbook, and LaptopMag shot some hands-on video.
The design is relatively basic, with a rubberized keyboard (that LaptopMag compare to that of the OLPC XO-1, but we can't avoid thinking about the Spectrum ZX) and "almost unusable" touchpad.  Inside, though, is the real draw: Freescale's i.MX515 platform, with an 800MHz processor and 4GB SSD.
The N900z runs Ubuntu, and loaded OpenOffice Writer in around fifteen seconds; Firefox, even when opened simultaneously, didn't present any performance issues, though attempting to then play a video clip resulted in sluggishness.  When the video was played on its own, though, it ran fine; Wistron expect the N900z to manage in excess of 10hrs runtime from a single charge, and be priced at under $200 when it eventually launches.