Pegatron Freescale netbook prototype shows up with Pre in tow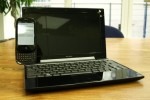 Pegatron have been showing off their Freescale-powered netbook prototype again, and if you're wondering why there's a Palm Pre perched on the end then it's because the two share the same basic ARM Cortex A8 core architecture.  In the unnamed netbook's case, though, the Freescale iMX515 runs at 1GHz, and is capable of playing 720p video and running 3D games.
The Cortex A8-based prototype first showed up back at Freescale's stand during Computex in June, and Pegatron – a division of ASUS – were talking about up to 8hrs runtime and integrated 3G UMTS and GPS along with Bluetooth and WiFi.  According to Crave UK, though, things still aren't looking so hot for an actual release.While
The hope, though, is that positive feedback from this pre-production unit will encourage ASUS to greenlight production of the netbook, likely as an Eee PC model.  By relying on a processor more usually associated with smartphones, the overall price could be kept low, making this a true companion device rather than a netbook compromise.