Pebble Time: color smartwatch returns to Kickstarter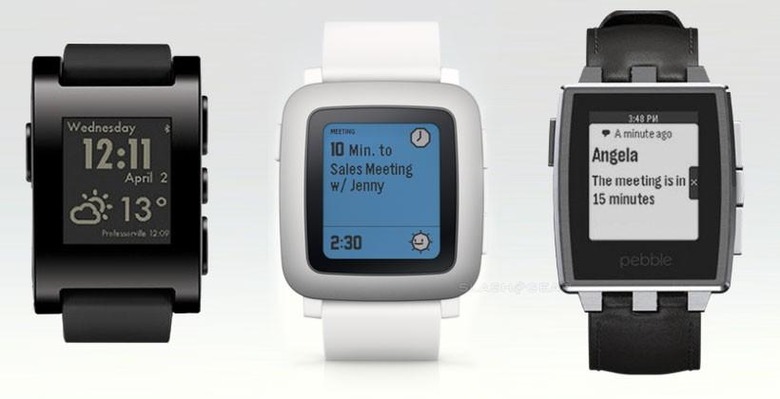 That's right: the second-generation "Pebble Time" smartwatch will be launched on the same platform as its predecessor: Kickstarter. This unit is reminiscent of its predecessor, working with a subdued physical design and a newly updated Pebble OS software interface. Pebble Time, as it's called, will be available to backers of this Kickstarter by May of 2015 and will be delivered at a price point roughly double that of the original – unless you're talking about the original price – it's the same as the launch price of the original Pebble and that of the newer Pebble Steel.
Pebble Time works with a color display. Early leaks of the device suggested that this might be true, leading to rumors of a so-called "Pebble Color."
Instead, we get Pebble Time, a device which works with a new color e-paper display. Power consumption is minimized on this device, working with what Pebble describes as a battery life of up to 7 days.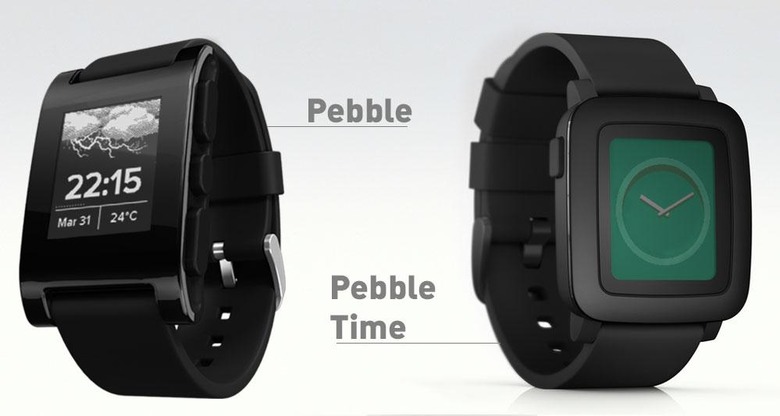 Pebble Time is 20% thinner than the original Pebble, and protecting the display is a pane of scratch-resistant Gorilla Glass. This device also works with the following features:
• 1.26-inch 144 × 168 pixel color e-paper display
• 7 day battery
• Microphone for "voice replies" or "voice notes"
• Water resistance (swim, shower, surf)
• Stainless steel bezel
• Quick-release watch band for easy switching
• Works with: iPhone 4s and newer with iOS8
• Works with: Android 4.0+ phones of all kinds
Interestingly, Pebble lists the following as key Android brands in the field: "Samsung HTC, Song, LG, Google, Motorola, Xiaomi, and more." This is going to be an international release, very obviously.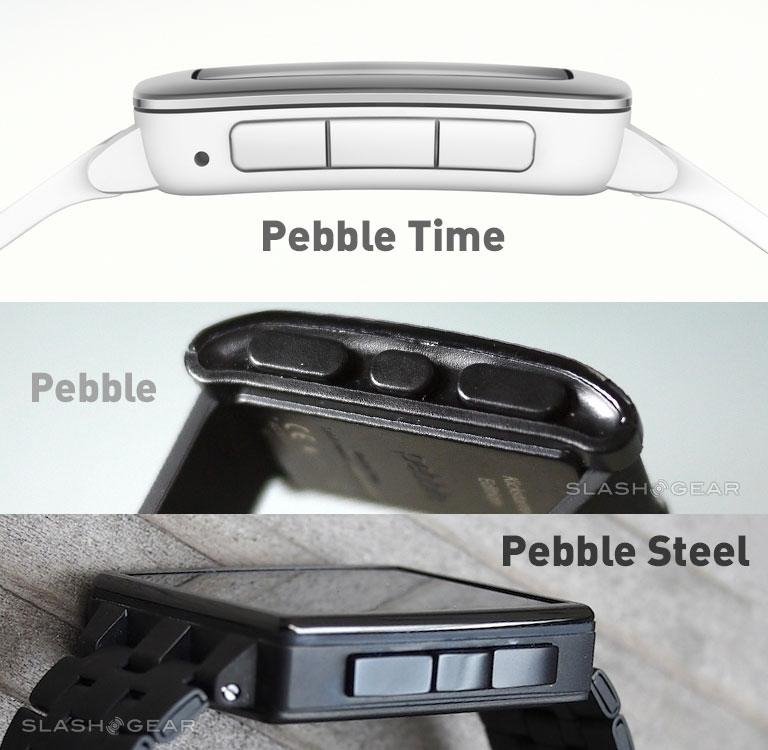 A new smart accessory port will be included with the the Pebble Time. This port will be able to connect with "sensors and smart straps" made by 3rd party manufacturers connecting directly with the watch.
NOTE: Keep an eye out for unique battery charging on this device. This isn't the same magnetic charging connector situation as the original.
Pebble OS
A newly redesigned Pebble operating system with a new Timeline. This new system "organizes relevant information like notifications, weather, news, travel, and reminders chronologically."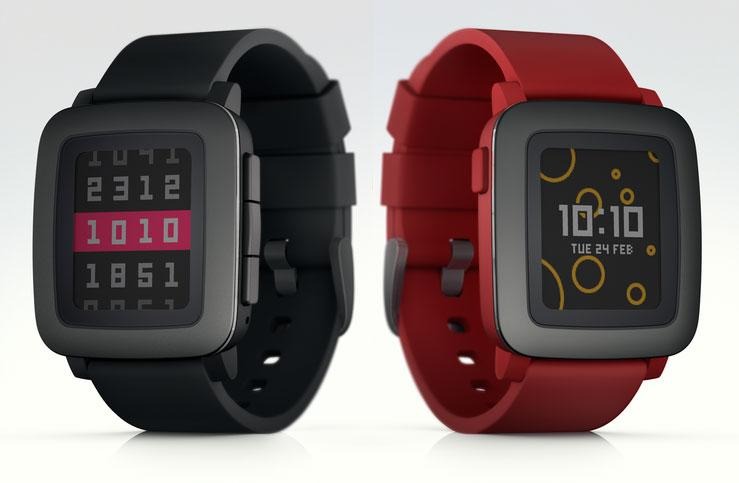 In addition to being sent notifications from your phone, you'll be able to scroll back to earlier information – emails, fitness tracking, weather, etc. This new Timeline feature is roughly comparable to Google Now, bringing you pertinent information in smaller clips rather than relying on full-fledged apps.
Pebble Time is also compatible with all existing Pebble apps and watchfaces. Pebble suggests that they're currently working with The Weather Channel, ESPN, Jawbone, Evernote, Pandora and others to create unique app experiences for the new OS now.
Kickstarter
The official Pebble Time listing space will be the portal you'll want to go through to reach the Kickstarter. The standard Kickstarter frontpage will also likely feature the Pebble Time as the original Pebble remains the second highest-earning crowd-funding venture on the site since inception.
There you'll find the Pebble Time available in three colors for $159 as a Kickstarter exclusive. Later this year, Pebble Time will be available for $199 everywhere fine smartwatches are sold.