Pebble talks developers, apps, watchfaces and future-proofing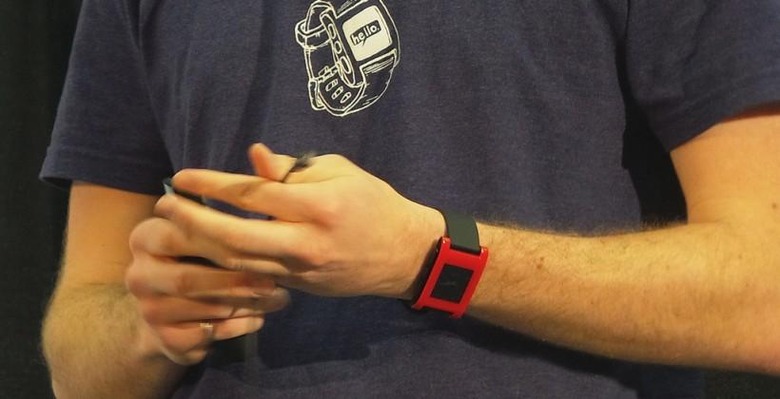 The first Pebble developer SDK is already in limited testing, the company has confirmed, allowing coders to create custom watchfaces for the smartwatch. Pebble is paving the way for new features that won't be in the initial feature-set, too; although it uses Bluetooth 2.1 to connect currently, there's actually a Bluetooth 4.0 chip inside for lower-power wireless in the future, and there's an ambient light sensor which developers will also be able to tap into. On the software side, there's If This Then That integration for extra flexibility. Read on for more details.
Some of the initial watchfaces have already been released, with a mixture of analog and digital styles. There's a Braun-esque analog, plus a binary one which would look at home on a Tokyoflash timepiece, and the Pebble team itself has created some fashionable written-text UIs, which say "Twenty past Nine" rather than showing numbers.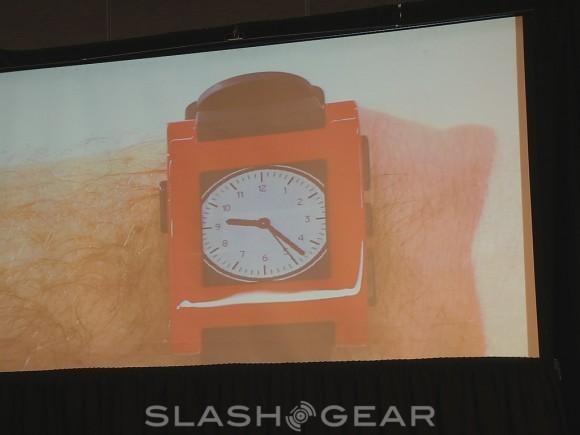 Pebble also demonstrated the music interface, with the smartwatch paired with an iPod and used to scroll through a playlist. The watch shows what's currently playing on the display, and thanks to the waterproofing, you could even use it to control playback while you're in the shower. The accelerometer is used for controlling the backlight, with a simple tap of the watch turning on the display.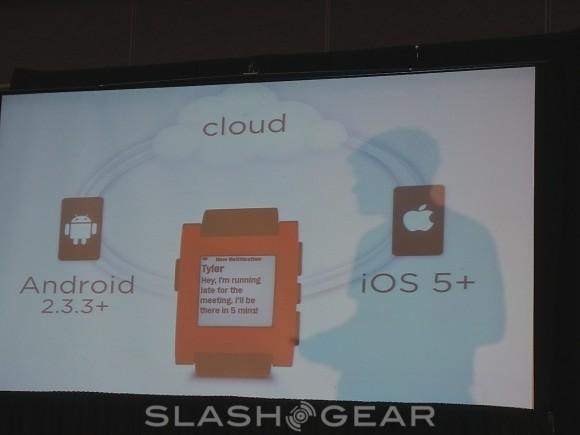 As for message previews, they show your email subject and sender, as well as the content of the message; SMS, meanwhile, shows sender and the full content. Incoming phone calls show caller ID and number at the same time, and you can dismiss the call with a push of one of the side buttons. Phones can also send things like Facebook alerts, and developers will be able to use Pebble's user-ID system to send notifications directly to their subscribers' smartwatches.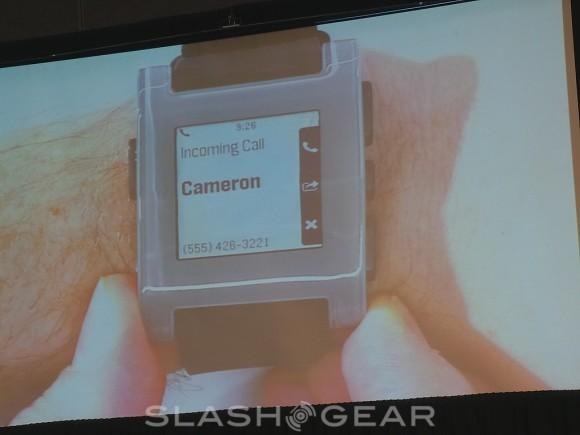 Pebble has also jumped on If This Then That (IFTT), which allows for easy creation of macros to send notifications to the smartwatch when different criteria are met. So, you can set up a weather alert – pinging news to your wrist when the temperature reaches a certain point -  or a stock price alert online, and link Pebble in.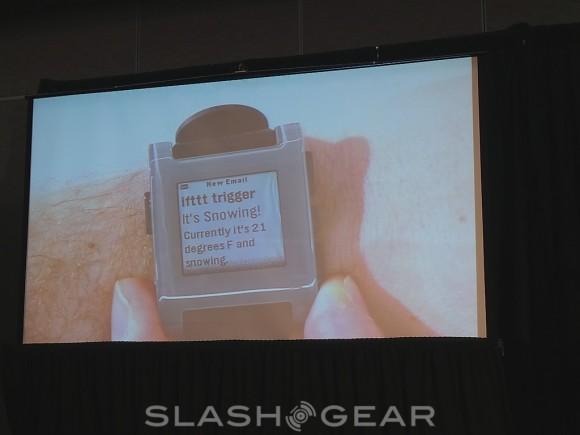 Installing new apps and watchfaces is a simple matter of using Pebble's smartphone app, tapping the required content in the gallery and then watching it load on the smartwatch almost instantaneously. Software updates are delivered the same way, triggered from the app and pushed to the watch; Pebble says there'll be updates every 2-3 weeks until the initially-promised features are working. That will include Runkeeper support, for instance.
That's great for the Pebble side, but a persistent Bluetooth system takes its toll on your phone. Pebble says the watch will impact your phone's battery by 5- to 10-percent per day, thanks to its 24/7 connection. The smartwatch will begin shipping later this month.