Pebble Steel hands-on: The smartwatch goes classy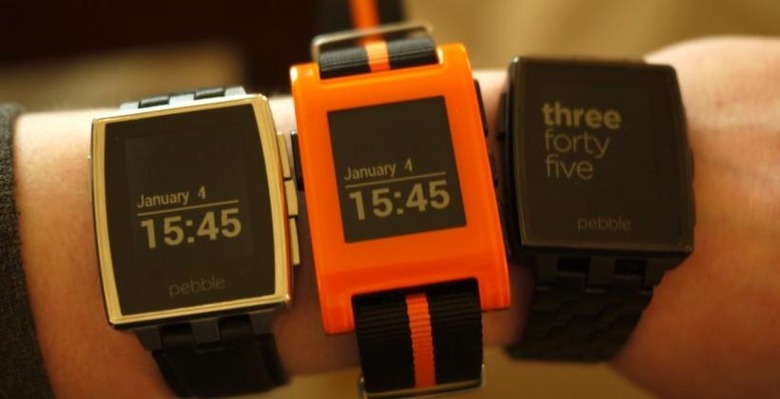 New year, new Pebble, and the smartwatch company that took Kickstarter by storm has cooked up a second model, the Pebble Steel, to continue its assault on the wearables space. Announced here at CES 2014, where SlashGear caught up with CEO Eric Migicovsky to check out the new watch, Pebble Steel takes aim at a slightly different market to the original version, those watch-wearers who perhaps didn't want to give up their classically-designed Rolex, Omega, or similar for the chunky plastic of the first-gen model. Read on for some first impressions.
First things first: just because Pebble Steel has arrived, it doesn't mean the original Pebble is dead. In fact, the two watches will co-exist, the plastic Pebble at $149 and Pebble Steel at $249, targeting different types of users in the process.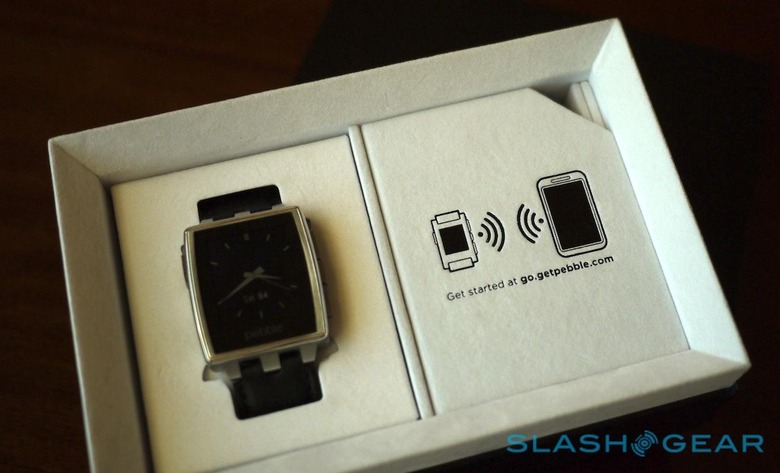 The big challenge, Migicovsky explained to us, was addressing what had become regular feedback from owners and would-be owners over the desire for a more premium version, with not wanting to leave behind the existing 300,000+ users and fast-growing developer cohort by changing the architecture dramatically. Pebble flirted with color screens and different chips, but eventually settled on keeping the guts of the Pebble Steel effectively the same as they are in the original.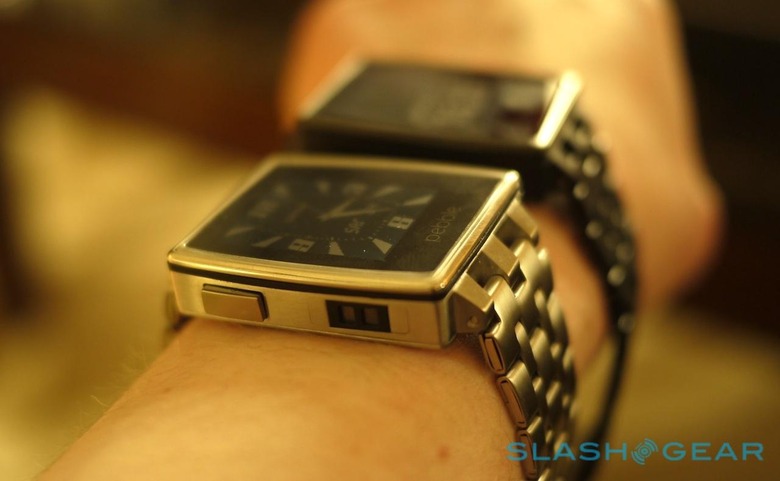 So, you get a 1.26-inch e-paper monochrome display, an estimated 5-7 days of battery life, and 5ATM waterproofing so that you can still wear the smartwatch while in the shower, doing the washing up, or in the pool. However, the screen is now covered with a slice of Corning Gorilla Glass for extra protection, has narrower bezels than before, and there's a new anti-fingerprint coating to help avoid smudges.
Pebble Steel also gets an RGB LED in the lower left corner of the face, which for the moment shows the charging status of the watch. The charger itself has also been modified, with a smaller head and stronger magnets to help avoid the inadvertent drop-off some Pebble users complained of. One possibility Pebble is considering, product evangelist Myriam Joire told us, is releasing the design spec of the head for other wearables manufacturers to adopt, in an attempt to make it a common standard and reduce the number of cables people have to carry.
The most noticeable change, of course, is the casing design. Pebble mills it out of stainless steel, and then either gives it a brushed finish for those who want a silver smartwatch, or a matte black finish using a process called physical vapor deposition that's supposedly extra-resilient to scratches.
A little of Pebble's indecision carried over to the launch, Migicovsky told us, with the team not only unable to settle on a single finish – hence the silver and black options – but also on a strap. The buyer won out in the end, though: Pebble includes both a steel strap (matching the case) and a black leather band with each Pebble Steel.
Unfortunately, whereas the original Pebble uses a standard watch strap fitting, Pebble Steel does not. Having two bands in the box from the outset will help with that a little, but Migicovsky is counting on third-party strap manufacturers from stepping in, and the company will release the fitting design on its site to make the process easier for them.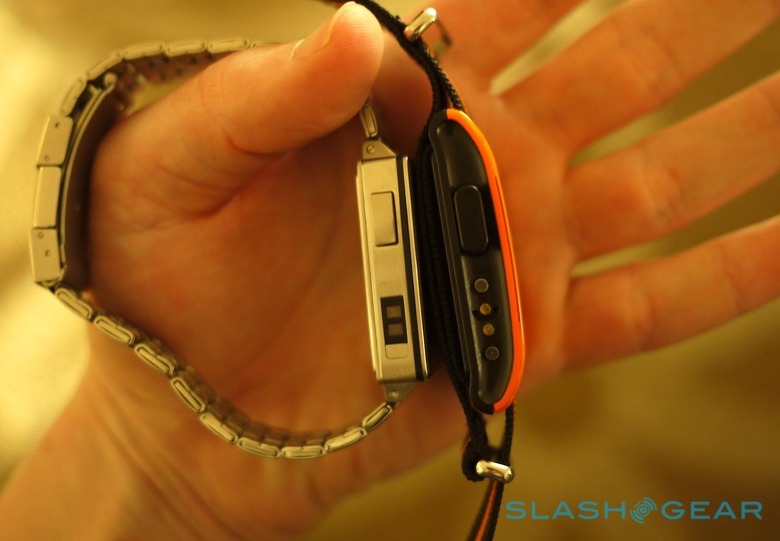 It's surprising how much of a difference the aesthetic changes make to how the watch feels as a product. The original Pebble was clever, certainly, and its four-button interface straightforward to use, but it never felt like a premium product in the same way that, say, Samsung's Galaxy Gear (for all its own flaws) feels high-quality. Pebble Steel addresses that, now slimmer than the original and feeling sturdier too, though not unduly heavy in the process.
Those who felt the plastic Pebble was too indiscrete on the wrist should have more luck with the Pebble Steel, and both straps feel well made and are comfortable. It should look less jarring if your usual work uniform is a suit and tie, too. (As an added bonus, check out the custom 3D-printed disguise Pebble made to hide the Pebble Steel while it was used out in public testing, in the gallery below)
Pebble Steel will also arrive with some new apps, shared by the original Pebble of course. Most exciting is probably the new Notifications page, which now lists all the recent alerts that have come in from your iOS or Android device for you to scroll through, even if you previously dismissed them. It's a common request we've heard from owners, and Migicovsky agreed that it was a long-overdue addition.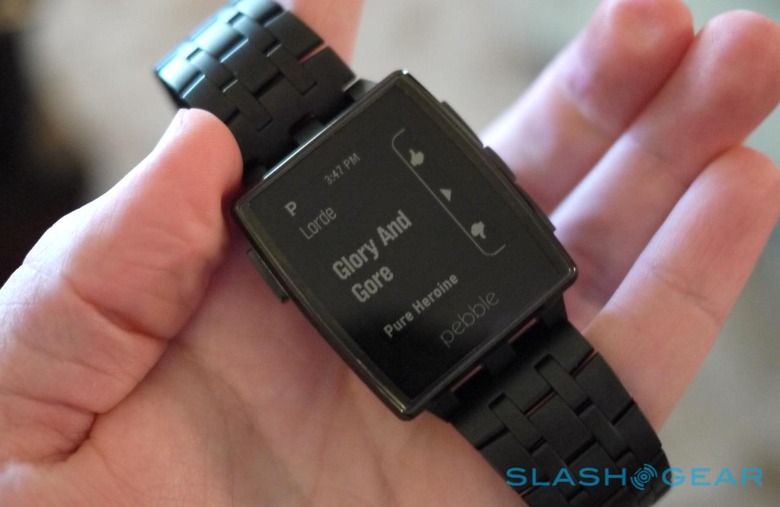 Meanwhile, from third-party developers there's now a Pandora remote control, which allows for track ratings as well as switching between playlists all from the watch face. ESPN has a sports tracker, showing different leagues and pulling in real-time results, while Mercedes-Benz has a Digital DriveStyle app that will put things like fuel level, lock status, location, upcoming hazards, and more on Pebble. It will also allow the three buttons to be remapped to trigger in-car features like navigation re-routing, media control, and triggering Siri.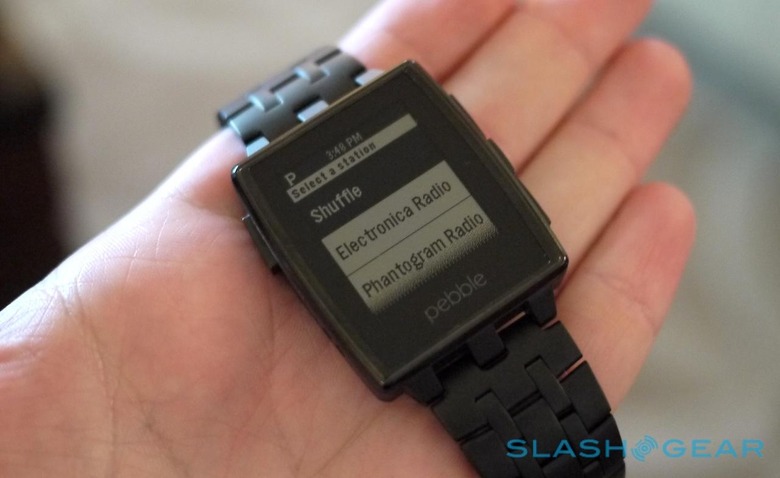 With Pebble developers growing in number by around a hundred a day, Migicovsky told us, it's just the right time for the Pebble appstore to launch, set to happen by the end of January. That will work as a centralized place for apps and watchfaces, curated by the company itself, though Pebble insists that owners will still be able to install software from other sources just as they can today.
Pebble Steel is up for sale from today, priced at $249. Pebble says it will begin shipping from January 28, with early orders getting free worldwide shipping.