The first big update to the Pebble ecosystem is about to hit inside early 2014 in the form of the Pebble appstore. This portal for Pebble apps and companion apps will allow users to make the most of the launch of Pebble's SDK 2.0. This second wave of software will push forth apps that work with Javascript, Accelerometer data, Data Logging, and Persistent Storage – only available to those intrepid enough to dive into the beta release of Pebble 2.0 late this 2013.
With the Pebble Store, users will be able to browse through a collection of apps made specifically for Pebble in as controlled an environment as possible. This doesn't mean controlled as in Pebble is going through and regulating the masses in a harsh manner – it must means that you'll no longer be searching the massive wild west wasteland that is the Google Play app store or Apple App Store for apps that may or may not work with your Pebble device.

New Pebble apps will, however, need to conform to the Pebble App Store terms and conditions and Pebble will control the appstore however they see fit. If you turn your Pebble app into a fireball, you're going to get the hose.
Instead you've got the Pebble appstore made by the same folks who made the device, allowing you to rest assured that the whole collection is ready to roll. Categories for this app store will include Daily, Remotes, Games, Notifications, Tools & Utilities, Sports & Fitness, and Watchfaces.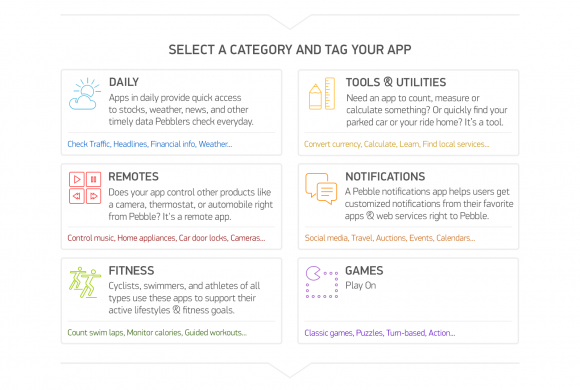 Developers that wish to connect to companion apps through the Pebble appstore can do so with simple links to the Google Play app store or Apple App Store as needed. At launch you'll find the entire collection of Pebble appstore releases to be free – in the near future they'll support paid apps, but for now the cash will have to flow through iTunes or Google with companion apps.
And what about the most major Pebble app repository out there today, MyPebbleFaces? As it turns out, Pebble is still in full support of this awesome effort, and has made a donation to The Neuromuscular Center, "the association that supported the cost and energy of running MyPebbleFaces.com" from the start!
Also of note – Pebble makes clear today that the device will still work with 3rd party app store and the group "will not prevent or block installation of applications by 3rd party websites." That's what being open is all about.