Pebble smartwatch: CEO Eric Migocovsky talks Kickstarter loyalty and more with SlashGear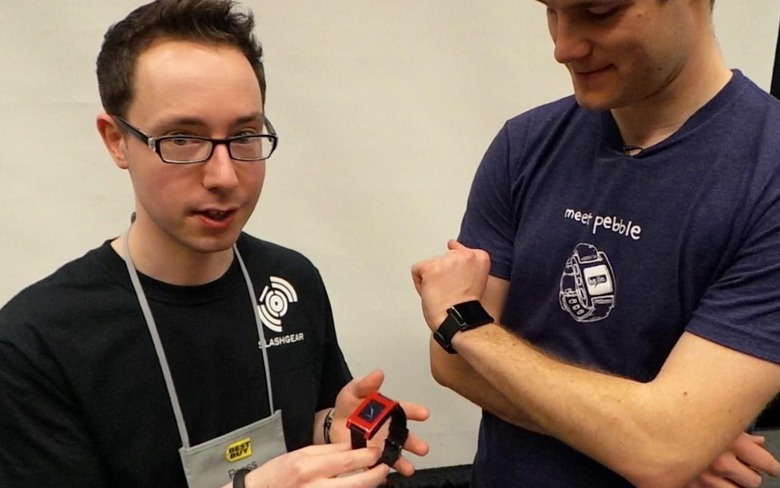 With $10m in the Kickstarter bank and a product shipping in two weeks time, Pebble was arguably the king of the crowdsourcers in 2012. The smartwatch already has us tempted after our hands-on, so we caught up with Pebble CEO Eric Migocovsky to talk lessons-learned from the original InPulse model, the process of growing a company in the public eye, and what's next in the smartwatch's future.
With so many rival smartwatches already on the market and in the pipeline – Toshiba is showing one such concept here at CES - Migocovsky says it's been a "perfect storm" of publicity, timing, and attention that has seen Pebble capture the imagination. Part of that is backer engagement, Migocovsky believes: the fact that Pebble is contactable by Facebook, Twitter, and other routes to anyone with a question or a suggestion.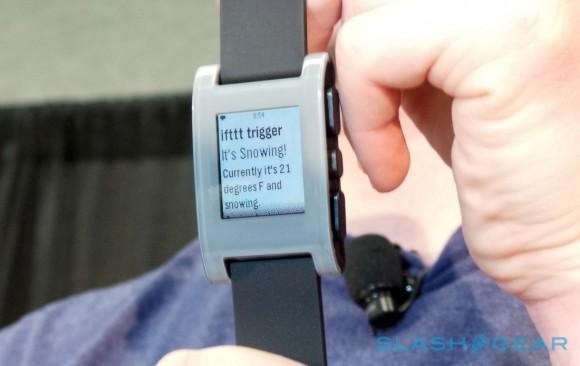 Those suggestions have come thick and fast, though Migocovsky is wary of over-promising at this stage. The current SDK only caters for alternative watch faces – the first thing you'll see when you glance at your wrist, given the e-paper display is permanently on (and a tap of the watch triggers the backlight) – and there's no timescale for when third-party applications will be enabled. Still, the If This Then That integration does make for more flexibility for those willing to craft a few web-app macros.
Pebble Smartwatch demo:
Pebble doesn't see that app limitation as a drawback, however; in fact, Migocovsky argues it's an advantage. If the initial product isn't good enough to be deemed worthy of a place on your wrist, you won't wear it, he points out: if people aren't wearing it, then developers won't recognize it as a worthy market to code for, and the carefully-honed ecosystem will shrivel.
Pebble Smartwatch interview with Eric Migicovsky
That commitment to Kickstarter backers isn't going anywhere, either. Not only will the 85,000 people who supported Pebble with cash up-front be the first to get their smartwatch, Migocovsky is also determined to make sure they don't end up with an outmoded device any time soon. The "added extra" hardware features – such as the Bluetooth 4.0 capabilities, despite the fact that Pebble currently only uses Bluetooth 2.1, and the ambient light sensor – are a big part of that, and Pebble will be pushing out firmware updates every 2-3 weeks until every initially-promised feature is present and correct.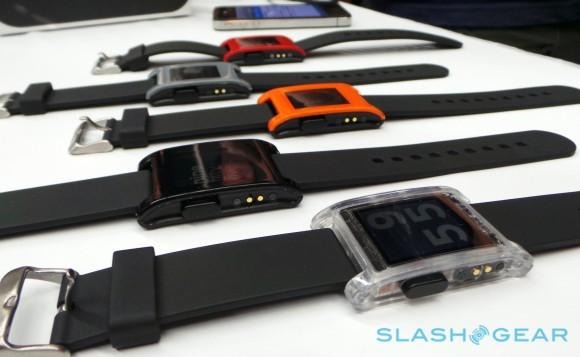 Next step, though, is batch-shipping of the first Pebble units to backers, with Migocovsky saying the factory is capable of producing 15,000 units a week when at full tilt. When the initial list is done, then they'll turn to the reservations list that opened after the Kickstarter closed; that currently measures in the tens of thousands, Pebble says, though not quite the same number as the watch start-up saw backers.
The wearables market is certainly heating up, with a range of form-factors (on the wrist, digital eyewear like Google Glass, clip-on activity trackers, and more) being played with, and it seems 2013 may be the year it all comes to a head. Our early impressions are definitely positive – several of the SlashGear team are also Kickstarter backers – but we'll reserve our full opinion until we can live with Pebble on our wrist for a while.