Peak Design Everyday Backpack 20L Review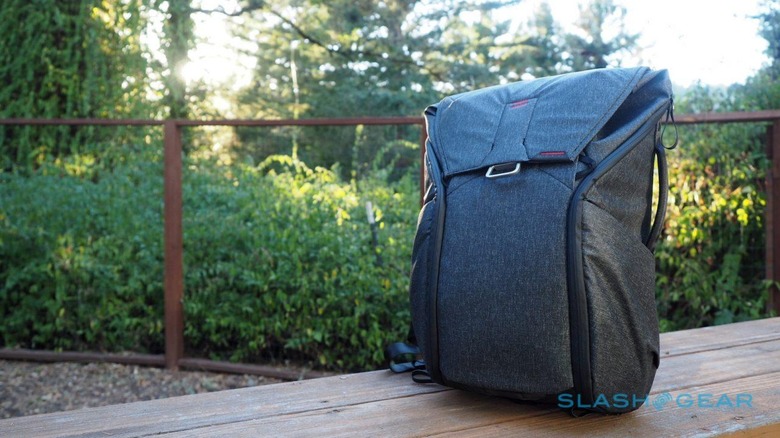 EDITORS' RATING: 8/10
We may receive a commission on purchases made from links.
It's fair to say that Peak Design started something big with the Everyday Backpack. The company, already beloved for its Everyday Messenger bags among other camera accessories, set out to raise $500k on Kickstarter back in 2016; it ended up pulling in more than $6.5m, then nearly $700k more in a second preorder phase. Clearly, the Everyday Backpack tapped into something photographers in particular were looking for, but as I discovered myself there's more to the bag than just that.
It's worth noting that, to get me the Everyday Backpack as soon as they could, the people at Peak Design sent me a pre-production version. That basically means that some of the stitching can be a little wonky, or the detailing not quite in line with the final bag. Even so, I've not been less than impressed.
Peak Design is clear that the "Everyday" user they have in mind for this particular backpack is a photographer. I don't mean just the person who snaps everything with their iPhone, either, or even someone with a compact mirrorless they want to tote around with their laptop. No, it's really designed for a whole bunch of camera gear.
The majority of the body of the bag is made from 500D Kodra, treated for waterproofing. There are plenty of bar-tacked reinforcement points where you might encounter strain over extended use; I've been using it for months, and even as a pre-production bag it's only showing minimal signs of wear. The shoulder straps were a little stiff to begin with, but softened up over the first month and are now very comfortable, not least because of the pivoting hinge at the top of each. The back panel itself can slide over the handle of your rolling suitcase, if you want.
It's a highly practical backpack. The main compartment can be accessed from either side of the bag, with the whole side panel folding out. Each has a double-ended zipper, so you can open it from the top or the bottom. It's designed so you can pull the Everyday Backpack up and under your arm, with it still slung over your shoulder, and grab things out easily, but it also works well when the bag is lying flat on a table.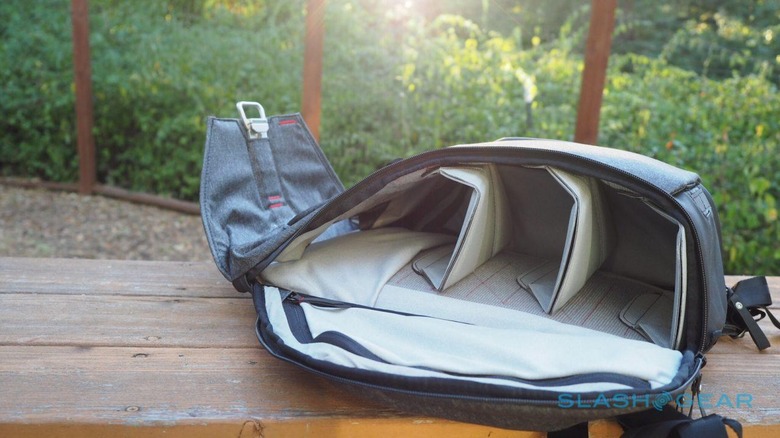 The inside is lined with a soft, felt-like fabric. Onto that you can stick Peak Design's FlexFold dividers, reworked to be stiffer compared to the company's older Messenger bags. Three are included, and they're pre-scored so that you can break up the interior into different sections. Honestly, three is one too many for my needs, but I do like being able to separate out different nooks so that spare batteries and headphones don't go rattling around the bag and congregate in a mess at the bottom.
Each side panel has a zippered inner pocket with a selection of pen, battery, notebook, cable, and other sections sewn inside. Each is made of a stretchy fabric and the layout is different on each side. You can fit a surprising amount in there, too: I have a long, narrow Anker battery pack that can power a USB-C laptop in a pinch, and it slots in neatly.
On the top there's a large opening, with Peak Design's MagLatch closure system. That can shut at several different points down the front of the backpack, depending on how much stuff you have inside. I usually keep my camera and a notepad in the upper section, divided off with a FlexFold partition from the rest of the bag, so that I can easily dip in and grab them out.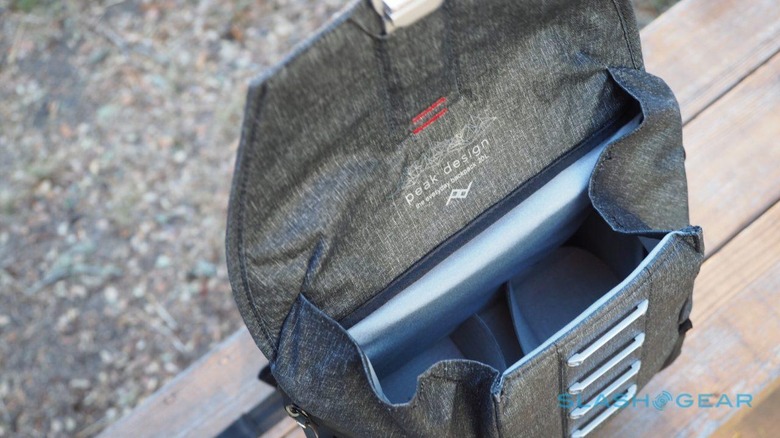 So far, so good, but as I said: it's the detailing that makes it. The external zippers are water-resistant, for instance, while all the seam stitching has been designed to stop spills from getting inside. There's a useful little pocket just inside the top flap, which closes with a magnet, while the external side pockets expand out to a surprising degree. Straps on either side can be used to lash a tripod to the backpack; there are more straps, tucked away normally in a magnetically-closed pocket, on the front. You could turn the Everyday Backpack into quite the packhorse with tripods, monopods, and even a drone tethered to its front and sides.
It doesn't stop there. There are side-handles, for picking the backup up like a holdall: thanks to the broad overlap of the flap closure, and the full-length side pockets, you can access the contents as you would with a holdall too. Like the top handle, they're more than just a length of fabric, being a smooth nylon lined with tubing for a more comfortable grip. There's a little tethered strap with a quick-release tether for your door key or ID, and a sternum strap; I used the former but not the latter, but Peak Design made it so that any unused straps hook back onto the bag rather than dangling free.
Like I said, I straddle the line for Peak Design's target audience here. That means that my few criticisms of the bag may well not apply to you, if your primary focus is carrying a camera body or two, a selection of lenses, and other accessories. Still, since I've had plenty of interest in the bag since I started carrying it – and from a wide range of people – it only seems fair to call out some of the compromises made.
The biggest, for me, is the size of the laptop pocket, which I wish was even just a little larger. Since it's the only full-length section of the backpack – assuming you have at least one of the main dividers in place – it's where you'll be keeping not only your laptop but any papers and books you might need. Unfortunately, things get tight with a single computer in there.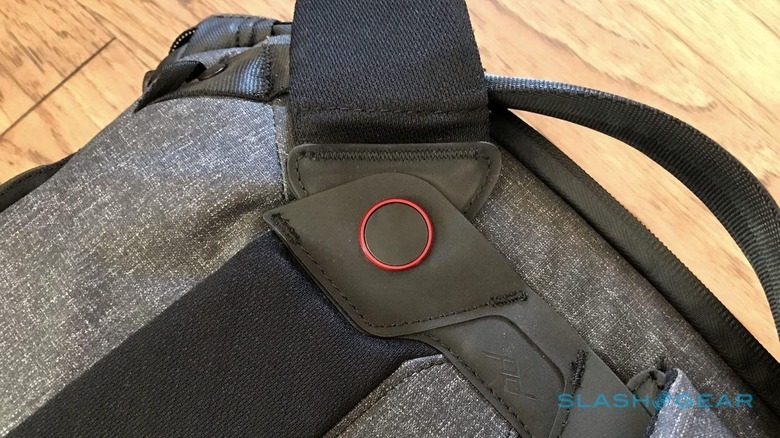 My everyday laptop is a 13-inch MacBook Pro, and that's snug. You can fit a 15-inch notebook in there, but I certainly wouldn't want to try to squeeze, say, a tablet in too, even though there's a pocket that would keep it apart from the laptop. The upper section has a shallow pocket that I've found is handy for my passport and a phone or two, but otherwise that's your lot. Even getting a magazine in there as well would require some serious coaxing.
It's also worth noting that, because you can open both sides, the FlexFold dividers don't quite close off the entire width of the main compartment. That can lead to smaller items dropping down through the cracks; I opted to keep memory cards in the inner top pocket for that reason.
I tend toward over-packing. While my old TUMI backpack was lighter, when empty, than the Peak Design Everyday Backpack, its main pocket was effectively a cavernous pit. Sure, I could put a basic change of clothes for an overnight stay in both, along with my laptop, camera, various chargers and adapters, and the other detritus I simply have to have with me at any one time, but accessing them in the TUMI could be a matter of unpacking the whole thing.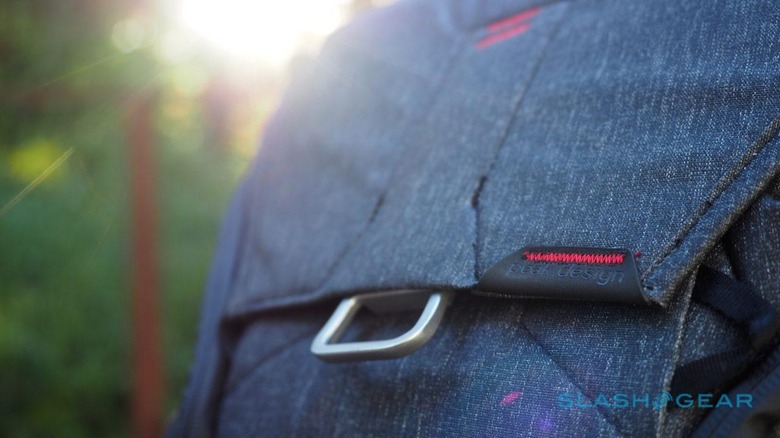 Peak Design's approach is a little more bulky in comparison – though the 20L bag doesn't actually protrude too far from your back, so I don't look like a Koopa – but that pays dividends in organization. Meanwhile, if you unexpectedly find yourself needing to carry something larger, the modular design of the internal FlexFold dividers means you can convert it into one single compartment. Of course, the 30L version holds even more, but that's getting a little too large for my own definition of "Everyday".
While you can pick up a more mundane backpack for a fraction of the $259.95 that Peak Design is asking for the Everyday Backpack 20L, in the grand scheme of well-designed bags it's actually reasonably competitive. I've had unprompted complements on its style, too; people are invariably even more impressed when I give them the elevator pitch on how flexible it is. If you're a photographer with a busy kit-bag, Peak Design's focus on customizable organization could be reason enough to buy it. For the rest of us, while we may not be the primary audience, there's no shortage of justifications as to why this should be the bag on your back.
SlashGear uses Amazon affiliate links, and if you buy something we may get a small share of the sale