PDP's Faceoff Deluxe+ Switch controller serves up easy voice chat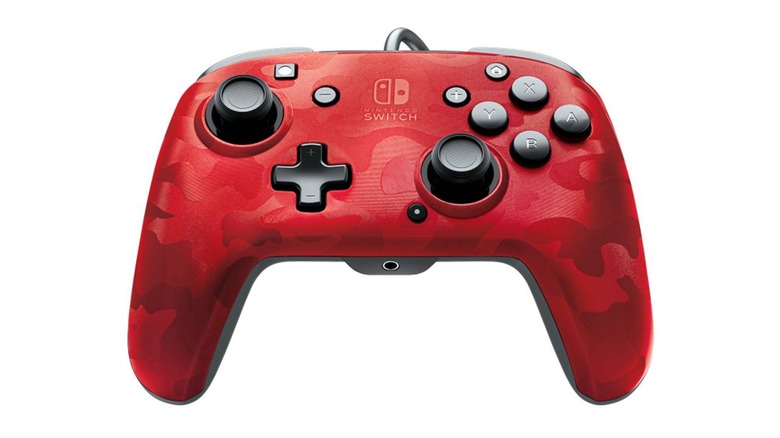 If you've owned a Switch for any amount of time, you're likely aware that in-game voice chat needs some attention. Nintendo's solution has been to offload voice chat onto a smartphone application, which certainly isn't the most elegant or straightforward approach. Slowly but surely, however, third-party companies are taking it upon themselves to fix the voice chat experience on Switch, with peripheral maker PDP tossing its hat into the ring today.
PDP has announced the Faceoff Deluxe+, a wired controller for the Nintendo Switch that was designed with in-game voice chat in mind. Most importantly, that means the controller comes with a 3.5mm headphone jack for connecting a headset. It also features on-board controls that allow users to adjust the audio using the controller itself, which is a nice touch.
It seems that PDP actually partnered with Vivox to create this controller. Back in February, Vivox revealed that it was working on an SDK that would allow Switch developers to integrate in-game voice chat in their games. Vivox voice chat is already live in Fortnite, and it goes without saying that the in-game chat experience in that game is a fair bit better than the solution Nintendo has come up with.
As it stands, the Faceoff Deluxe+ will only really shine within the confines of Fortnite, but assuming Vivox's SDK takes off with developers, we could very well see the controller become compatible with a number of new games over time. PDP has been known to make some solid controllers too, so even without widespread support for Vivox's software, the Faceoff Deluxe+ still might be worth a buy if you find yourself short on gamepads.
At the moment, there's been no word of pricing for the controller, which also offers interchangeable faceplates. PDP says that pre-orders will open up in May on its website, with launch to follow at some point this summer. We'll keep an eye out for more information on the Faceoff Deluxe+ and we'll update you when we hear more.