Parrot Anafi drone is a 4K HDR flying camera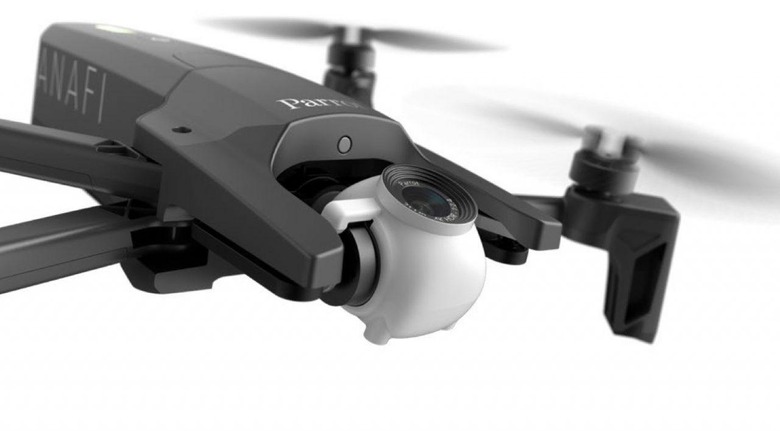 The best drone is the one you have with you, Parrot says, hence its new foldable Anafi drone being so darn compact. Don't confuse small size with a shortage of capabilities, mind. With 4K HDR video recording, some new automatic shooting modes that want to make you the next Alfred Hitchcock, and 25 minutes of flight time, there's plenty to like about the Parrot Anafi beyond its scale.
All the same, it's hard to ignore just how compact it is. The carbon-fiber reinforced frame has fold-out arms, and Parrot has designed them to open and close quickly to get you flying sooner. Indeed, the company claims you can go from unpacking to airborne in under a minute.The 320g drone comes with a carrying case, too, though unfortunately there's no space in there for the Skycontroller remote.

Power is courtesy of a removable 2,700 mAh lithium-ion battery, and rather than requiring an external charger Parrot has added a USB-C port right to it. There's a USB-A to USB-C cable in the box, and the Anafi supports USB-PD for the fastest possible charging. With a compatible 24W charger – sold separately – you're looking at 90 minutes. Expect around double that time for a regular charger. Four LEDs show charge status.
A full charge is good for 25 minutes of flight, with the Anafi capable of up to 34 mph. It has a range of up to 2.4 miles, thanks to a new radio system and antennas integrated into each foot. Maybe more importantly, it's quiet: 35-percent quieter than Parrot's old Bebop 2, and – in the company's own testing – half the volume of rival drones in the category.
At the front there's a 21-megapixel camera with 4K HDR video support, with optical image stabilization. It's mounted on a gimbal with 180-degree tilt support, so that the Anafi can look all the way up or all the way down. Parrot is claiming a lossless digital zoom, too, with up to 2.8x magnification – albeit at Full HD resolution. If you're sticking with maximum resolution, meanwhile, the drone will capture at up to 100 MB/sec bitrates, and has a 1.4x lossless zoom.
If you don't mind sacrificing range you can pilot the Anafi from your smartphone and Parrot's Freeflight 6 app alone. However, for maximum ease of use you'll want to use the Skycontroller. It has a fold-out smartphone holder, with your iPhone or Android device connecting via USB for live video.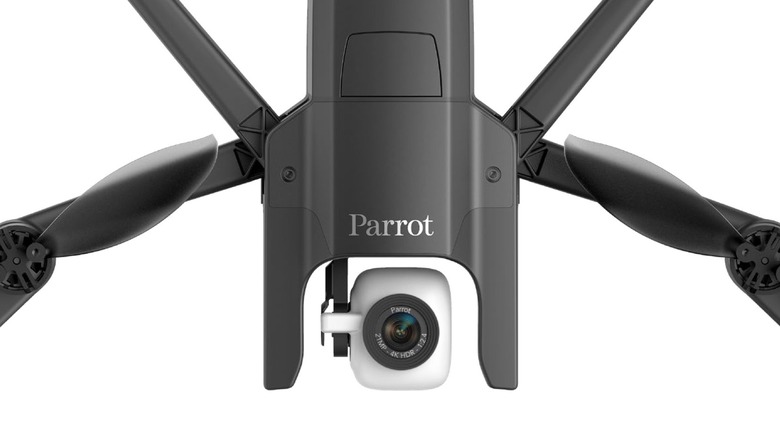 There are toggles on the back for controlling the zoom and the camera angle, along with a reset button that quickly takes you back to the defaults. All of the shooting modes and the drone's settings are handled through the app, though. That's where you can switch between Film and Sport modes – the former prioritizing smoothness for shooting video, while the latter focusing on speed and agility – as well as choose between the various camera modes.
Not for nothing is Parrot describing the Anafi as a "flying camera" not just a drone, after all. There's the usual follow-me mode to track a moving subject – though sadly with no smart object-avoidance like a (more expensive) Skydio R1 offers – and automatic framing of objects. You can choose two or more points on a map of the area, and have the Anafi automatically pilot its way between them.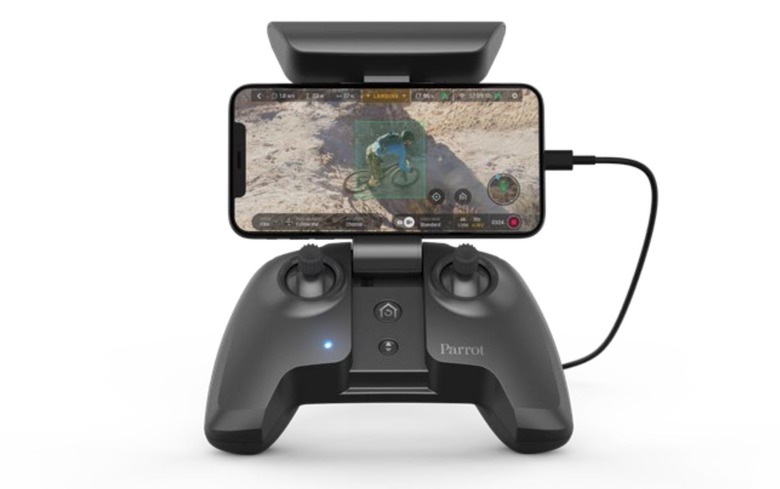 However, there are also what Parrot is calling "SmartDronies": more impressive effects. Most striking is the Dolly Zoom, a filming effect made popular by Vertigo where the zoom and the focal length are changed in tandem. The end result is a subject that stays the same size, but with the background warping oddly around them.
There's also slow-motion, with 1080p at 60 fps capture, along with a Hyperlapse mode. High framerates are supported, too, with user-adjustable shooting speeds. A Pro camera mode allows manual control over shutter speed, ISO, white balance, and exposure; or, you can leave the camera to figure it out itself, and rely on HDR to balance out the extremes.
As for safety, there's optional geofencing, with the ability to define a zone outside of which the Anafi can't fly. Parrot has also developed a smarter return-home feature, which monitors the current battery level to figure out what the actual safe range is. It can handle wind speeds of up to 31 mph.
The consumer drone space has proven to be unexpectedly competitive. Look no further for evidence of that than GoPro's surprise decision to abandon its Karma range, despite not only serious investment but apparently strong sales. Increasingly affordable models from DJI and others have forced extra creativity from drone-makers, like the Anafi's smart shooting modes.
Parrot says the Anafi drone will go on sale in early July. We'll have final pricing very shortly.