GoPro Karma drone axed as company struggles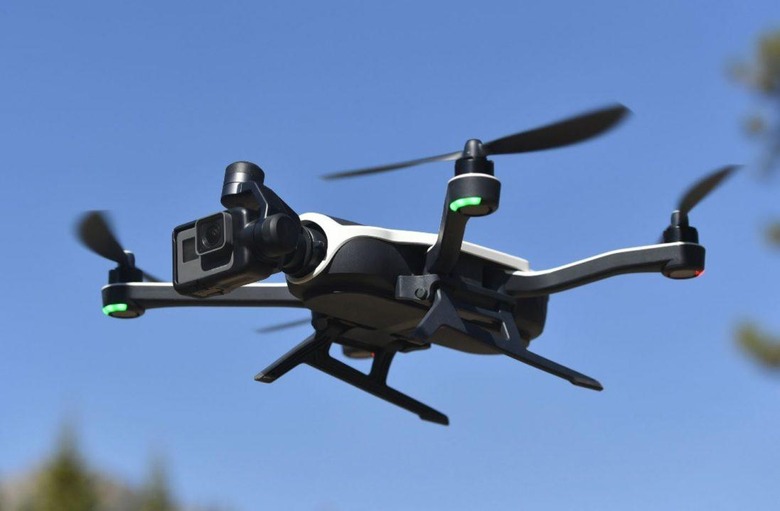 GoPro delivered preliminary results for its fourth quarter ending December 31, 2017 today, and while there isn't much in the way of detailed financials, this report does still provide something of a bombshell announcement. GoPro revealed that it will be exiting the drone business, which is sour news for those who are fans of its Karma drone. This is particularly surprising because, as GoPro itself points out, the Karma managed to reach "the #2 market position in its price band in 2017."
So what's the deal? Why would GoPro exit the drone market when the Karma seems to be a successful machine? The reason, it turns out, is a multi-faceted one. For starters, GoPro says that the the drone market is a particularly competitive one, with a lot of manufacturers vying for a slice of a pie that seems to be growing larger each year.
This competition leads to what GoPro calls "margin challenges," meaning that it's difficult to make a decent profit on drones with so many competing and driving prices down. To add to these problems, GoPro says that there's currently "a hostile regulatory environment" both at home in the US and abroad in Europe. While strict regulations on drones are nothing new, GoPro says that they will eventually "reduce the total addressable market in the years ahead."
So, once GoPro finishes selling off the Karma stock it has already produced, that'll be it. It'll stop producing new drones and move forward without that as a core focus of its business. The good news, however, is that those who already own a Karma will continue to receive support and service, so you Karma owners won't be left out in the cold just because GoPro is choosing to call it quits on drones.
We'll see if GoPro eventually decides to dive back into the drone market, but unless regulations ease up, that probably won't happen. The full preliminary financial report can be found over on GoPro's website, and be sure to head down to the comments section to tell us what you think of this news.