PandaBoard offers TI Cortex-A9 OMAP4 to imaginative devs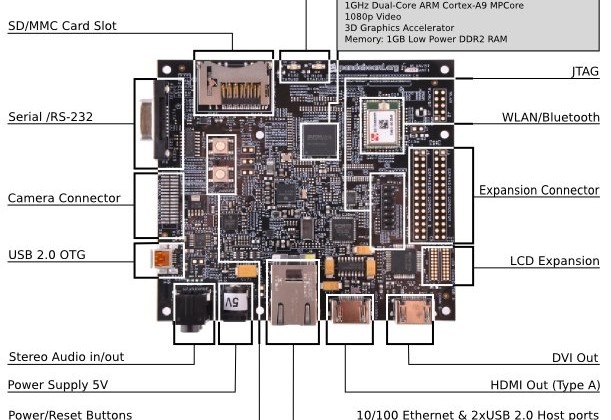 Texas Instruments already has a Cortex-A9 OMAP4 product available to developers in the shape of the undeniably expensive OMAP Blaze, but now there's a cheaper option on the horizon.  Based on the BeagleBoard principle, the new PandaBoard project is now taking submissions for an early adopter program with the first TI Cortex-A9 based boards expected to ship out in mid-October.
The board itself measures 4.0 x 4.5 inches and includes not only the dual-core OMAP4 chip but 1GB of RAM and a plethora of connectivity.  There's WiFi and Bluetooth, HDMI capable of 1080p HD video, DVI, 10/100 ethernet and USB 2.0 (two Host, one OTG); you also get an SD/MMC memory card slot, serial port and audio in/out, along with various other expansion connectors.
The early adopter program will see two phases of boards being given out to developers; all you need to do is submit an interesting proposal (that you have the technical skills to follow up on, naturally) and promise to release your code as open-source.  No word on how much the PandaBoard will cost, nor when more general availability will be open, but considering the abilities of the OMAP4 platform and its potential for STBs, tablets, MIDs and other devices we're excited.
[via ARMDevices]