Texas Instruments OMAP Blaze on Sale Now

The Texas Instruments OMAP3 and OMAP4 mobile development platform is something that we've followed pretty extensively here at SlashGear. With an in-depth look at what the platform as a whole offers, plus not just one, but two different hands-on videos of the whole set up in action, we're pretty comfortable in saying that TI's creation is one of the most interesting things we've seen in a long time. That's why we're happy to see that their OMAP Blaze is now on sale. In four variations, no less.
The OMAP Blaze mobile development platform (MDP) was created solely for developers wanting to learn how to take advantage of the OMAP4 platform. And in doing so, Texas Instruments managed to create a monster gadget. Featuring not only one, but two 3.7-inch WVGA displays, dual front cameras, a 12MP camera on the back, and an integrated 15-lumen DLP pico-projector. You've also got HDMI connectivity, ethernet, and USB 2.0 for good measure. GPS, WiFi, and Bluetooth are also featured.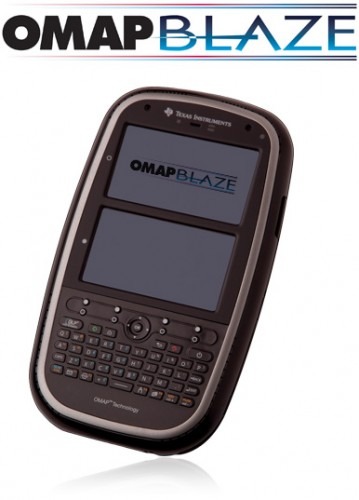 You've got an expansive full, physical QWERTY keyboard to go along with the package too. As for the models available, you can choose from the Blaze sEVM4430 with Pico Projector ($1,999.00), Blaze sEVM4430 without Pico ($1,799.00), Blaze sEVM4430 1GHz without Pico Interim ($1,799.00), and the Blaze sEVM4430 without Pico Interim ($1,799.00). So, while the model numbers are the same, there's some major differences in features for each device. Luckily though, the prices don't vary all that much. All of the above models are available for purchase right now from SVTronics' website, so if you're interested for developing for the advanced chipset, go ahead and take the plunge. And if you do, let us know how it goes, won't you?
[vms 6617f20abbf2ffd806f6]
[via SVTronics; thanks Chris!]