Panasonic Toughbook CF-H1 Mobile Clinical Assistant: Video Demos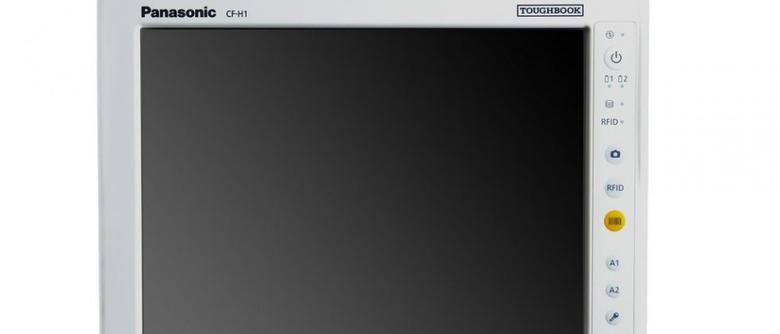 Panasonic have officially announced the Toughbook CF-H1 Medical Tablet PC they demonstrated at the IDF in August.  Fully ruggedized to military standard 810F, as well as being IP54 compliant, the CF-H1 has a magnesium alloy chassis and is capable of surviving a 3ft drop as well as rain, dust, spills and vibrations. Underneath lurks a 1.86GHz Intel Atom Z540 processor, 1GB of RAM and an 80GB shock-mounted hard-drive. Primary input is via the 10.4-inch XGA resolution dual-touch LCD.Full gallery & video demos of the Panasonic Toughbook CF-H1 after the cut
We say "primary" because there are other methods of input: a barcode reader, for instance, that allows medical professionals to scan medication, a contactless smartcard reader and fingerprint scanner for employee identification and an RFID reader. There's also a GPS receiver, WiFi a/b/g/n, Bluetooth 2.0 +EDR and a 2-megapixel camera with dual-LED lights. EVDO and HSPA 3G WWAN is an option.
Panasonic are claiming 6hr battery life, and the power pack is hot-swappable meaning minimal downtime.  The slate weighs 3.4lbs and measures 10.4 x 10.6 x 1.3-2.3 inches, complete with a carry-handle and hand-strap.  It'll be available worldwide in January 2009, priced from $2,999.
Official H1 Video:
H1 Product Overview:
H1 Cleaning:
H1 Drop Test:
Press Release:
Panasonic Unveils the Toughbook® H1 mobile CLINICAL ASSISTANT for MEDICAL PROFESSIONALS

Delivers category firsts in durability, battery life, ergonomics, connectivity, warranty and ease of sanitization

Secaucus, NJ, November 4, 2008 – To better serve the growing demand for mobility in the healthcare environment, Panasonic Computer Solutions Company, manufacturer of durable, reliable Panasonic Toughbook® mobile computers, today announced the Panasonic Toughbook H1, the first fully-rugged mobile clinical assistant (MCA) and the first device of its kind to integrate the low power Intel® Atom™ processor. The new Toughbook H1 redefines performance and functionality for the MCA category with six hour battery life, dual hot–swappable batteries, standard daylight viewable screen and integrated Gobi™ technology in a sealed and easily-sanitized package.

Engineered for the Medical Professional

The Toughbook H1 is based on Panasonic's innovative engineering, resulting from its own proprietary global healthcare industry research and Intel's mobile clinical assistant (MCA) reference design. The company visited clinicians around the world to solicit feedback for the product. The resulting device improves workflow and eases clinical loads for doctors and nurses, allowing them to access patient records at the point of care and document a patient's condition in real time. The workflow advantages offered by the H1 can help healthcare organizations maximize efficiency, which is critical as the market faces an aging population, increased demand for healthcare services and a shortage of nurses.

"At Panasonic we listen closely to our healthcare customers in an effort to create solutions that improve both patient care and bottom line performance," said Rance M. Poehler, president, Panasonic Computer Solutions Company. "Our customers require a family of reliable mobile computing products to meet their needs, not a one-size-fits-all solution. The Toughbook H1 joins a fleet of proven reliable mobile healthcare products from Panasonic, including cart-based solutions to fully-rugged UMPCs and convertible tablets, designed by Panasonic to satisfy the varying requirements of most healthcare environments."

The Toughbook H1 MCA can help to reduce medication administration errors while helping clinicians deliver faster, safer care. With integrated RFID reader, 2.0 megapixel auto-focus camera with dual LED lights, a barcode reader, contactless smart card reader and fingerprint readers, the new Toughbook H1 MCA is a secure and intuitive platform for barcode medication administration (BCMA), vitals capture and electronic medical records (EMR) capture and review.

"Intel developed the MCA reference based on significant ethnographic research, workflow studies and conversations with healthcare professionals worldwide," said Louis Burns, vice president and general manager of Intel's Digital Health Group. "By putting innovative technologies such as the Toughbook H1 MCA in the hands of clinicians, we are providing them with the tools they need to have the right information at the point of decision. Intel is committed to collaborating with companies such as Panasonic to help enable high quality, economical, and accessible healthcare."

Maximum Performance Delivers ROI

By leveraging Panasonic's advanced battery technology and a low-power Intel Atom processor, the H1 offers a category-leading six hours of battery life, complemented by dual hot-swappable batteries that deliver extended life, allowing non-stop computing while on the move. This virtually eliminates down time, maximizing return on investment.

Clean Design

The Toughbook® H1 has been designed for easy disinfection, reducing the risk of germs being spread from patient to patient. The device is the first MCA to offer a fanless design – limiting the opportunity for germs to be transported by the device – and also features a smooth surface with sealed buttons, a gapless LCD screen and no exposed ports.

To further aid in disinfection, a Panasonic-designed software utility can be programmed to remind users to wipe the unit down at defined intervals. The utility automatically records a successful cleaning for the hospital's permanent records.

Inside-Out Durability; Outside-in Solutions

Panasonic is focused on delivering the industry's most reliable mobile solutions, ensuring that practitioners and administrators can depend on their technology along the entire continuum of care.

Panasonic's commitment to quality results in a total of more than 500 checks and tests before, during and after production, on every Toughbook unit built. The rugged H1 is MIL-STD-810F tested and is capable of withstanding three foot drops – similar to the height of a patient's bed – while operational. The sealed unit is IP54 compliant for water-, rain- and dust-resistance and can easily handle being repeatedly sprayed and wiped with disinfectant.

The highly durable H1 is the first MCA device to be backed with a 3-year standard warranty.

In addition, Panasonic is using Intel's MCA platform, together with the freely available Intel MCA Software Development Kit (SDK), to accelerate time-to-market for application developers by providing a development environment that is hardware agnostic. The company also offers dedicated developer support and sales training for its partners.

Improved Ergonomics and Connectivity

Customers provided significant input into the design of the H1. With its light weight, 3.4 pound design, low heat production, integrated hand strap and barcode reader placement, the Toughbook H1 offers improved ergonomics over first-generation MCA devices.

To meet the needs for mobility in both facilities and in-home health environments, the H1 offers a range of embedded wireless options including 802.11a/b/g/draft-n and Bluetooth® 2.0. The device can also ship with Qualcomm's new Gobi™ technology, simplifying complex multi-carrier wireless deployments for IT departments. The H1 will be certified on all major networks in the US, allowing workers to stay connected regardless of their geography.

The H1 also comes with optional, next generation GPS technology allowing for location awareness with improved accuracy, faster satellite acquisition time and lower power consumption.

Panasonic Toughbook® H1: Select Features and Specifications

· Genuine Windows Vista® Business with Service Pack 1 (with Windows XP Tablet downgrade option)

· Intel® Atom™ processor (1.86GHz) Z540 with 533MHz FSB, 512KB L2 cache

· 1GB standard RAM configuration

· 80 GB 1.8-inch shock mounted hard drive

· 10.4" XGA sunlight viewable 500 NIT Dual Touch LCD screen (1024 x 768 resolution)

· Anti-reflective screen treatment

· Integrated 2.0 megapixel auto-focus camera with dual LED lights

· Fingerprint scanner

· Contactless smartcard reader

· RFID reader

· Fully rugged

o MIL-STD-810F and IP54 compliant

o 3 foot drop approved

o Magnesium alloy chassis

o Sealed all-weather design

o Rain-, spill-, dust- and vibration-resistant

· Intel® WiFi Link 5100 802.11a/b/g/draft-n

· Bluetooth® v2.0 + EDR

· Integrated docking connector

· Integrated options:

o Optional integrated WWAN / Gobi™-enabled mobile broadband (EV-DO and HSPA)

o Global position system (GPS) receiver

o 2D barcode reader (also reads 1D barcodes)

· 6 hour battery life

· Hot-swappable batteries

· 3.4 lbs (with batteries)

· 10.4" (W) x 10.6" (H) x 1.3" – 2.3" (D)

Pricing and Availability

The Panasonic Toughbook H1 will be available worldwide in January of 2009. In the United States, the base H1 model is expected to be available at an estimated street price of $2,999 from authorized Panasonic resellers and distributors.