Streaming security cameras are great, until your WiFi connection dies and your virtual peephole gets cut off. Enter the Panasonic Nubo, throwing 4G LTE into the mixture along with some smart home ambitions. Panasonic isn't aiming low, either, claiming the Nubo is a "Dropcam killer" from the outset, and aiming to out-perform everything on the Nest-owned streaming camera's spec sheet. I caught up with the Panasonic Cameramanager team to find out why Nubo shouldn't just be on your home office wall, but hitching a ride in your suitcase.
The camera is actually the handiwork of a new team within Panasonic, the first new product from Cameramanager, a European cloud surveillance firm acquired eighteen months ago. Cameramanager has some history in the segment, CTO Tijmen Vos explained to me, already providing cloud storage and analysis for business users. Nubo is the first product in a new line of consumer devices that Panasonic hopes will carve it a space in the smart home.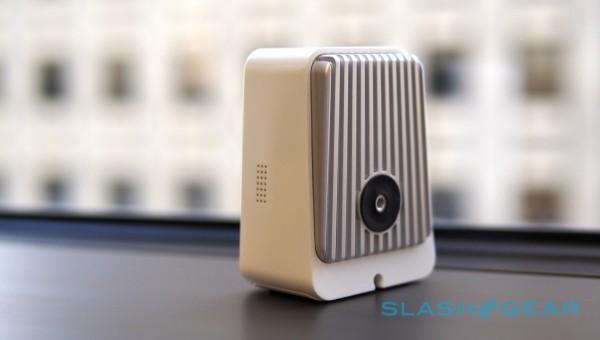 A squat little obelisk with a heatsink hunchback, Nubo is a little bulkier than a Dropcam but squeezes more inside. On the front, there's a 1080p-capable camera with a 140-degree wide angle lens, IR illumination that Panasonic claims is good for 10m visibility in pitch darkness, a motion sensor, and a microphone; the speaker is on the right edge, so there's support for two-way audio.
A circular magnet on the back clips either to the included posable mount – which can be screwed onto the wall – or allows for placement in more impromptu positions: on a refrigerator door, perhaps, or a metal window frame. Panasonic has plans for a variety of optional mounts down the line, including a car mount for documenting road trips or watching out for break-ins. In fact, the final magnet should be strong enough to clip the Nubo to the bodywork of your car, though Panasonic isn't recommending using it as a GoPro stand-in.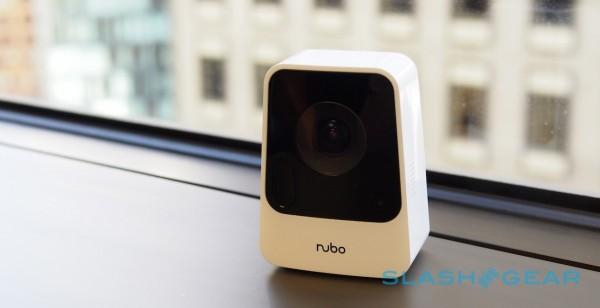 On the bottom, meanwhile, there's a recessed microUSB port for power, as well as the microSDXC and SIM card slots behind rubber flaps. Panasonic has more planned for there, however, including a slot-in battery pack for standalone use. That's still in development, but so far is delivering around 2-3 hours of constant streaming over 4G, or half a day of standby with the camera hibernating and only woken up when the motion sensor is triggered.
Inside, there's 2G/3G/4G LTE with roaming support for the US and Europe. WiFi b/g/n, ZigBee, and Bluetooth are also included, while geotagging is theoretically supported by the LTE chipset, though right now Panasonic's software doesn't support it.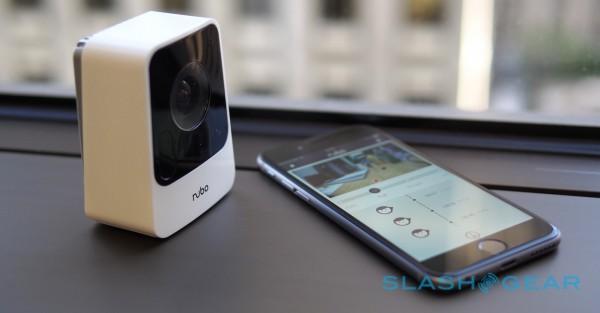 Setup involves plugging in the power cord, connecting an iOS or Android phone or tablet to the ad-hoc WiFi network hosted by the camera, and then either punching in your wireless credentials or opting for cellular connectivity. Alternatively you can have both: using WiFi by default but 4G as a backup, or vice-versa.
What quality of video you actually see depends on how the Nubo is connected. Over WiFi, it streams 1080/30p to Panasonic's cloud as well as storing a copy locally on the memory card. If it's using 3G or 4G, however, you get a 720/10p stream but a full-resolution local copy. Over 2G, there's a notification and a snapshot, but no streaming.
That snapshot should still be useful even if you don't have the bandwidth for more, however, Panasonic says. In the cloud, every clip is processed for human detection – not just whether there's a face in view, but human-shaped movement, or even just a hand or arm reaching into the frame – while the most information-packed still, judged by movement and other factors, is picked to send out with the alarm. That way, so Panasonic believes, users will spend less time reviewing clips where nothing really happens.
By opting to use a PIR sensor rather than camera-based motion detection, Panasonic says, accuracy is improved, particularly in inclement conditions: the Nubo meets IP-66 ruggedization specifications, meaning it can withstand powerful jets of water, dust, and more. However, it's also possible to set a specific area of interest, such as a doorway or window, that the PIR will only track, while geofencing can be used to automatically start the Nubo watching whenever you leave home.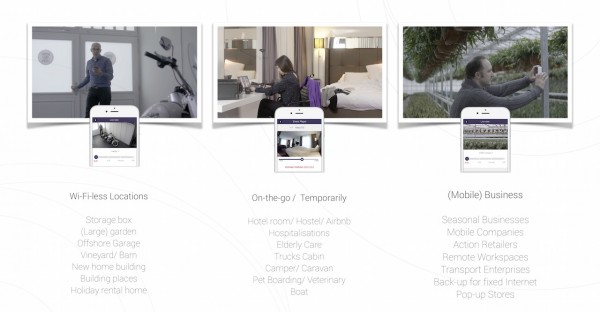 Whereas a Dropcam or other WiFi-based streaming camera is usually set in place and then left there, Panasonic envisages Nubo going on more trips. For instance, travelers could use it to keep an eye on their AirBnB apartment or hotel room, or it might be a good solution to monitor a storage unit or garden shed, where there's power but no broadband.
Of course, the downside to cellular connectivity is that you need to pay for it. Panasonic hasn't finalized pricing yet – it expects the Nobu itself to be around $249, though that could come down before release – but envisages four tiers of service plan.
Most basic will be a $7-10 per month tariff giving 250 alarms and cloud storage for the past seven days. Beyond that, there'll be options for 500 alarms (with 14 days in the cloud), 1000 alarms (with 30 days), and finally 2500 alarms (with 90 days of cloud accessibility). Vos tells me the top-tier won't be more than $50 per month, though isn't decided on whether unused alerts will roll-over month to month.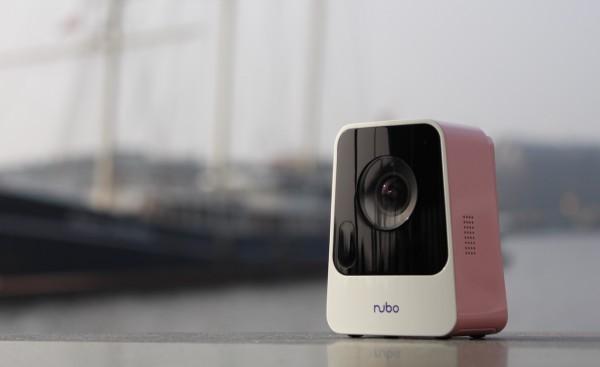 Finally, there'll be a free plan for local storage and WiFi-only connectivity, which will be the default when the initial three month 4G trial expires. What's useful is that, like 4G on an iPad, you'll be able to choose month-to-month whether you pay for 4G Nubo access through the app: if you want to use it over WiFi for eleven months of the year and then take it traveling for the twelfth, you only need pay for that single month. Similarly, you can upgrade to a higher tier for one month if your usage is unusually high, and then downgrade again after that without penalty.
A running count of data use is included in the app – which also supports multiple cameras; Panasonic hasn't settled on whether there'll be a discount for those with several Nubo installed, but Vos agreed with me that it made sense to do something like that – defined by alarms not gigabytes. You can choose between clips as short as 5s or as long as 60s to be captured when the motion sensor is triggered; change that, and the app shows you roughly how many of those clips you have left in the month.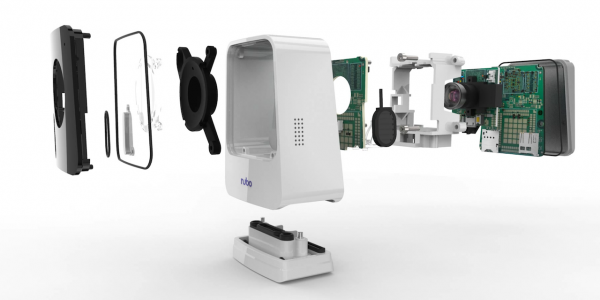 Similarly, impromptu streaming – if you want to check whether you left the lights turned on at home, say – will also count against that "alarm" allowance, the exact amount depending on how long you watch. Clips can be downloaded to the device itself, or shared on Facebook or Twitter; optionally, you can set the Nubo into private mode, and they'll only be stored on the memory card or available for streaming to devices on the same WiFi network.
Panasonic's plans for Nobu don't end there, however. As well as the battery pack, and the alternative mounts, there's a range of sensors in the works that will help turn the camera into more of a smart home system. ZigBee switches, for instance, could trigger recording when a door or window is opened; Bluetooth or ZigBee could be used to integrate with digital door locks or smart lighting like Philips' hue.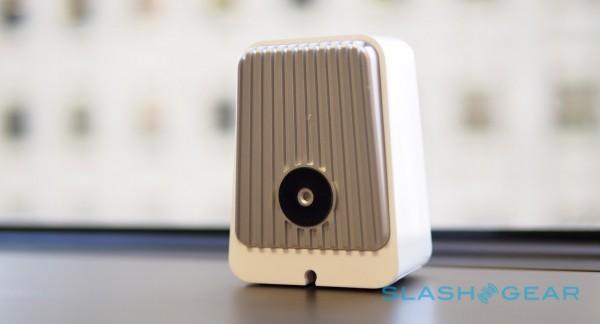 On the software side, meanwhile, there's a browser-based interface coming for desktop use, while Panasonic will simultaneously improve the cloud-based processing. That might one day include facial-recognition – actually identifying individuals, rather than just saying "yes, that's a human not a cat" – though right now, Vos argues, the accuracy is affected too greatly by things like inclement weather to be reliable enough for the mass-market.
Unfortunately, the mass-market is also going to have to wait a while before they can drop a Nubo in the bag. Pre-sales begin in April 2015 – with the lure of a 25-percent discount for those who get in early – but Panasonic doesn't expect the camera to arrive until November 2015 at the earliest.
The UK and the Netherlands will get Nubo first, thanks to a deal with Vodafone; a new Panasonic M2M service with the carrier will mean connected gadgets like Nubo will be able to travel cross-Europe without incurring roaming charges, too. Availability in the US and rest of Europe isn't expected until January or February of 2016, however, as Panasonic works on inking a deal with other carriers. There'll be no unlocked option for users to put their own SIM in.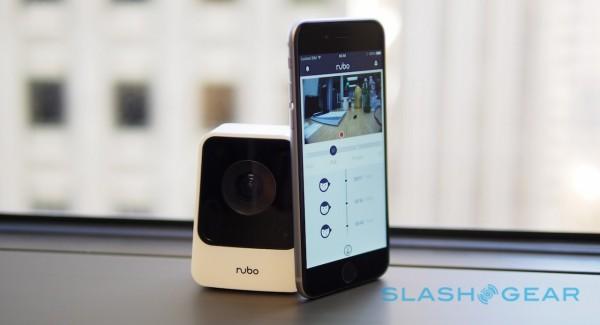 As someone who has been stung by their home WiFi dying and thus their Dropcam going offline while they're away, I can certainly see the appeal of integrated 4G as a backup. If Panasonic can undercut Dropcam in the monthly fees (Dropcam charges $99 per year for 7-day cloud recording, which works out to $8.25 per month), and beat Simplicam for the quality of its human detection – not to mention shaving a little more off that upfront camera price, too – then Nubo's far greater flexibility in positioning could give it an edge.
Of course, with Nubo's release so far out, Dropcam – and others – still have time to counter the Panasonic's 4G advantage. That's probably a net-win for the consumer and the smart home enthusiast.
MORE Nubo