Panasonic Lumix GF3 leaks: smallest GF-series so far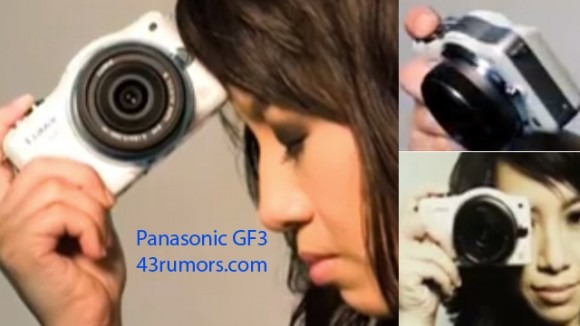 We've been expecting a new
camera from Panasonic
, and it seems the camera itself – the Lumix GF3 – has leaked to satisfy us that it really is on the way. An official Panasonic video briefly showed up online before being yanked, but not too quick to avoid 
grabbing some shots of the compact camera.
It certainly looks like Panasonic has shrunk the its third-gen GF series camera down even more, with the standard micro-4/3 mount now being taller than the body of the camera itself. The
ditched 19-percent of its predecessor's bulk, and it seems even that has gone on a diet to create the GF3.
Control is via touchscreen, as Panasonic sheers away more physical controls, and there's no hotshoe since it apparently can't be accommodated by the curved top of the camera. That presumably means no compatibility with Panasonic's digital viewfinder accessory, as the company attempts to push the GF3 further into the consumer range and take on generic point-and-shoots.
The sensor itself is believed to be the same 16-megapixel unit as in the
, though other specifications are unknown. We'll have to wait until June 13, apparently Panasonic's launch date for the Lumix GF3, to find out more.
[
Gizmodo]