Panasonic G7, Fujifilm X-T10 leaked ahead of Monday reveal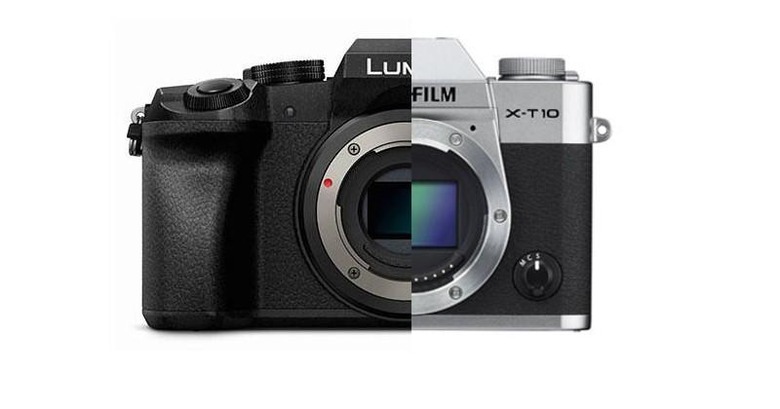 Next Monday, May 18, we may or may not be hearing two camera makers unveil their latest entries into the digital photography market. Panasonic and Fujifilm have been rumored to be preparing the successors to their G and X lines, respectively, and we may be privy to some of the details surrounding these. What is, however, interesting about the Panasonic Lumix G7 and the Fujifilm X-T10 is not just their features and design, but how they actually don't resemble their predecessors that much,. especially at first glance.
Although the Panasonic G7 is the nominal heir of the G6, which is now more than two years old, you might not immediately see the family resemblance. While the G6 employed a lot of curves in its design, the G7 goes for mostly straight edges. It also sports a new dial on the left shoulder for changing drive modes, a feature that is more peculiar to the 2014 Lumix GH4 than the G6.
In fact, the Lumix G7 is said to take more after the GH4 in terms of capabilities. These include a 16 megapixel Digital Live MOS sensor capable of shooting 4K stills and videos, the latter at 30 and 24 fps. Its brains is provided by a still unnamed new Venus engine. It bears a 2.36 million dot organic EL EVF as well as a 1.04 million dot multi-angle viewer.
The Fujifilm X-T10 is poised to succeed the X-T1 unveiled January last year and here, there is only a bit of diversion from the original design, though the changes are actually quite subtle. The left shoulder dial, for example, is now used to change drive modes and now has what seems to be a lever for the pop-up flash. Backside, the focus assist button is nowhere to be found and the Fn button has moved from the top right shoulder to the bottom right rear.
Inside the X-T10, however, there is very little change compared to the X-T1. The same 16.3 MP APS-C X-Trans CMOS II sensor still runs the show. It doesn't reach 4K heights, unlike the Panasonic, and maxes out at Full HD videos. The max ISO, however, has been doubled, now at 51,200. And there is still Wi-Fi connectivity that will allow users to remotely control the camera through their smartphones.
No exact dates yet on either camera, though recent leaks point to a Monday announcement for both.
VIA: Digicame-info Panasonic G7 (1), (2), Fujifilm X-T10 (1), (2)