Panasonic AG-AF100 Micro Four Thirds 1080p camcorder gets official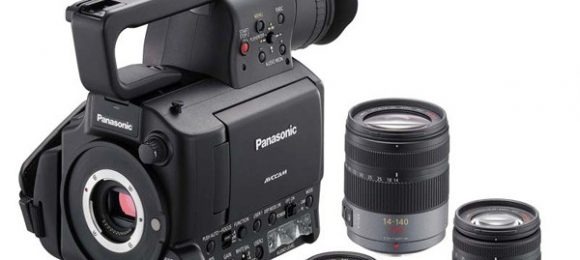 It's been a few months since Panasonic teased us with their Micro Four Thirds camcorder, the AF100, and they've only just got around to officially announcing the thing.  The AF100 – or its AF105 Japanese sibling – can use standard DSLR and MFT lenses or, with an adapter, cinema and prime lenses, shooting up to 1080/24p 24Mbps video to a pair of SD/SDHC/SDXC cards.
There's also XLR audio inputs, an HD-SDI output, USB 2.0 and a remote control port, together with a stereo microphone, HDMI and three different audio outputs.  Both a viewfinder and a flip-out LCD display are fitted, and there are a choice of optional grip handles.
Unfortunately Panasonic's VW-CLT1 3D lens won't be supported, according to the company's press release.  Still, with their focus on 3D tech, we wouldn't be surprised to see a Micro Four Thirds 3D lens alternative for the AF100/AF105 sometime soon.  The camcorder is expected to drop in December 2010, priced at 837,900 yen ($9,967).
[via Engadget]