Panasonic HDC-TC750 3D camcorder hands-on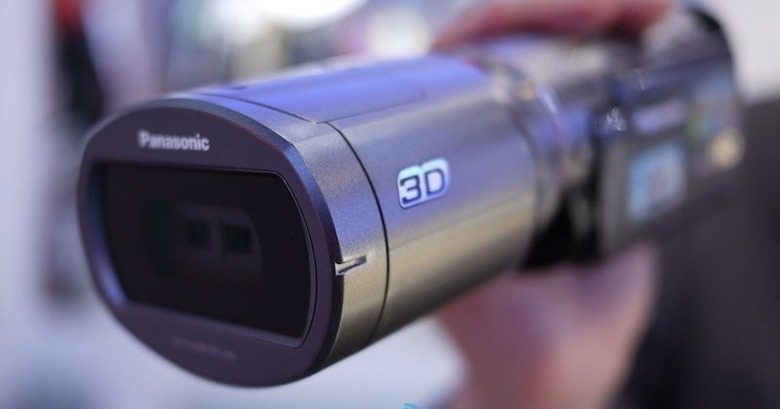 Of all Panasonic's 3D goodies today, the gadget we were most interested in was the HDC-TC750 camcorder with its optional VW-CLT1 3D lens.  We grabbed some time with the camcorder after the company's keynote, to see whether the first 3D HD consumer model really lived up to its top billing.
In the hand, while the lens – which screws onto the TC750's lens thread, as would a regular filter or other adapter – does add to the length of the camcorder, its relatively light weight keeps it from feeling end-heavy.  Shooting 3D video – or photos – is as straightforward as for 2D, and Panasonic will be bundling all the appropriate software for post-processing.
Panasonic tell us that the VW-CLT1 is all-optical; that is, it uses a set of prisms inside to funnel two optical pathways to the TC750's sensor.  That means you can still use the optical zoom and all the camera's in-built image stabilization.  The SDT750 can shoot 960 x 1080 resolution 3D footage, or – with the lens taken off – 1080/60p HD 2D footage.  You can then hook it up via HDMI or USB (or whip out the SD card) for showing off your content.
While we can't really fault Panasonic's hardware approach, we do think adoption of the HDC-TC750 and VW-CLT1 pairing might be slower than they expect.  For a start, you – or whoever you're sending the footage to – need a 3D-capable TV in order to enjoy it, and that comes with a significant price tag but also the barrier of requiring glasses.  The actual footage itself showed more blur than Panasonic's professional models – though considering they shoot 3D in Full HD that's perhaps no surprise – and there's still a sense of looking at a stack of staggered images rather than a true 3D vista.
Nonetheless, if you're in the market for a 3D HD camcorder and you don't want to step up to a pro model, you don't have much choice at the moment.  Its $1,400 price tag is still hefty, but there's plenty to like about the TC750.