Palm webOS 1.2.1 restores iTunes sync, adds photo support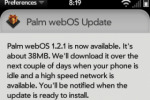 Our friends over at My Pre have flagged up that, as of this weekend, Palm have pushed out webOS 1.2.1.  The new firmware – which comes but a week after 1.2.0 saw its own launch – tweaks Exchange support for increased stability, but the biggest difference is that it restores iTunes 9.0.1 synchronization, something which Apple "broke" in their latest media app update.
Just to show that it isn't merely a case of treading on Apple's toes for the sake of it, Palm have also bolstered the media sync functionality by now supporting photo album sync.  Albums are transferred between the Pre and iTunes, and their folder structure maintained.  Full list of changes over at MyPre.