Palm Voice for Verizon Appears on Website, Features LTE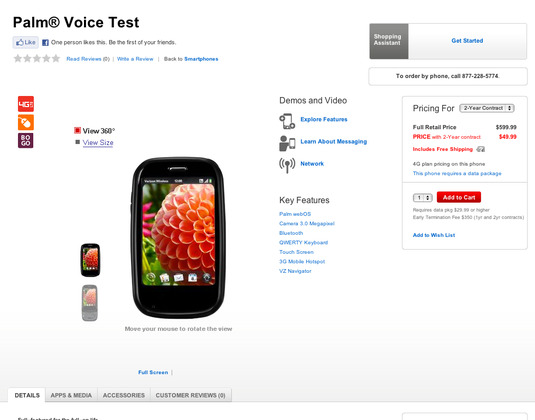 An interesting product page has popped up onto the Internet today, featuring a device that looks strikingly similar to a device that's been available for quite some time now (but is no longer). We seem to be looking at a Palm Pre Plus for Verizon, and the specifications for the device listed here do indeed outline the handset in question. However, there's a few key alterations in this product page that have us wondering if a mistake has been made, or if we've caught a glimpse of what we should expect to see at HP's webOS special announcement.
The device is listed as the Palm Voice Test, on the rather official-looking product page. As for the subdomain "testman," the same device appears as the Palm LTE Voice. While the 4G references are pretty clear, and it seems that Verizon is looking to launch a Palm/HP product with LTE on board, there's no confirmation of this device existing. And, even more interesting, is that the specifications on the page don't outline a sequel to the Palm Pre Plus — it describes the Pre Plus.
There are obviously questions swirling around about the device shown above, along with the LTE references. While Verizon has an announcement to make on Tuesday (tomorrow), it seems pretty clear as to what device the majority of people believe will be announced. And it's not the Palm Voice. However, HP's event is in less than a month, where the device could certainly be announced. Stay tuned — it looks like things are about to get very interesting.
UPDATE: The page has been pulled from the site, but a bit too late – everybody chattin already. ALSO thanks to TechTrackr for being on time snapping the pics!
[via PreCentral]