Palm Pre official demo video: Fandango & Pandora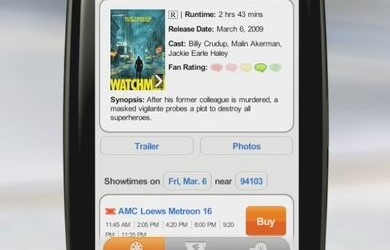 In case you've not been keeping track of our sister site My Pre – and shame on you if that's the case – you may have missed Palm's latest official Pre demo video.  After the first video's run-through of the basic Pre calendar, email, internet and messaging functionality, this new piece  – called "This Weekend" – showcases some of the freshly-announced apps: Fandango and Pandora.Palm Pre video after the cut
While a movie app seems quite a straightforward prospect, Palm have gone a few steps further and integrated Fandango with webOS.  You can obviously search for movies, check times at a local theater and then buy tickets, all on the Pre, but when you do it automatically adds an appointment entry for that movie into the smartphone's calendar, and helps you to invite other people via email.
As for Pandora, meanwhile, there's little change in the streaming music app's functionality, but the Pre's multi-tasking abilities come to the fore here.  You can leave the Pandora "card" running in the background and go internet browsing, calendar searching and anything else, all with the music still playing.  That's something that'll leave iPhone owners particularly jealous.
Remember, for all the hottest news about the Palm Pre – and more video demos and photos from CTIA 2009 than you can shake the proverbial stick at – check out My Pre!
[vms db773eb2dc1b0a17836a]