Palm releases new Pre demo video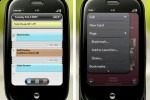 In conjunction to Mobile World Congress, Palm is keeping the Pre buzz alive with new video demoing its GUI. The video demoed tight integration between its calendar, appointments and contacts with the browser and sharing functionality. The smooth riding GUI gives a peek of webOS customization – such as the capability to add specific webpages to the launcher as shortcut.
webOS is a very young platform, but Palm seems to age it very well within a short period of time. As Mobile World Congress 09 starting soon, many anticipated Palm would be announcing the GSM version of Pre.
[via precommunity]