Palm Enyo app framework due 2011 for phone & tablet devs [Video]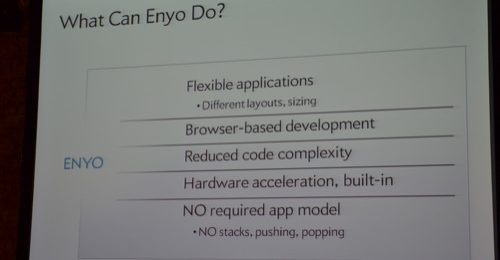 Palm spent last week talking about its imminent software plans and 5-inch Palm Mansion, but also took a little time to preview its next-gen application framework. Enyo, set to roll out in 2011 with an early-access SDK program near the beginning of the year, will support multiple form factors and work with Palm's online drag-and-drop Ares development system, making it ideal for both tablet developers and relatively novice coders alike.
Video after the cut
There are also performance benefits as well, including apps that load significantly faster than on the current Palm Mojo framework. Palm reckons apps that could take up to 7 seconds to launch with Mojo might shave that down to a single second with Enyo, but there are also ongoing speed and stability improvements as well.
Palm demonstrated a concept email app, developed in Enyo and able to intelligently adjust the amount of data – and its layout – depending on what screen size or windowed state it was being displayed in. So, a card view or smartphone screen view was different to a larger, tablet-scale view, despite being exactly the same app.