Rod Whitby Of webOS Internals Details Roadmap For Preware 2.0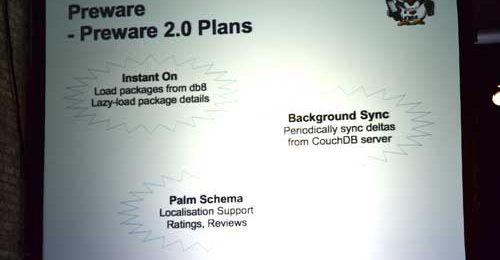 Today WebOS Internals' Rod Whitby sent a few words out in a speech at webOS Developer Day in NYC about webOS Homebrew development. All the way back to a million years ago, 2009, when the Palm Pre was released, to now, and looking ahead. Preware 2.0 Plans include the following: Instant On. Need I say more? Everyone loves that. Currently loading Preware requires a scan and parse of all needed files – in the future, loading packages from db8 will make the whole process more dynamic and quick. Then, the db8 feature will more more easily sync an app to the cloud, allowing it to update in the background.
Thirdly, Palm Schema – more supporting features for reading app reviews and ratings, make it much easier to work with and control and see what's going on before working with apps, plus more geographic controls so people in many different countries can decide in Preware which apps will appear. Custom kernels are being created by webOS Internals to get more apps ready to work with webOS 2.0, and they hope to get wIRC and more into the App Catalog very soon.
Fun! Looks like Preware's getting really ramped up and ready to blast through some walls, yes? Have a little talk about it at http://webosforums.com/ with me whydon'cha?
[Via PreCentral]