OS X Yosemite Adoption Week One: Slightly Outpacing Mavericks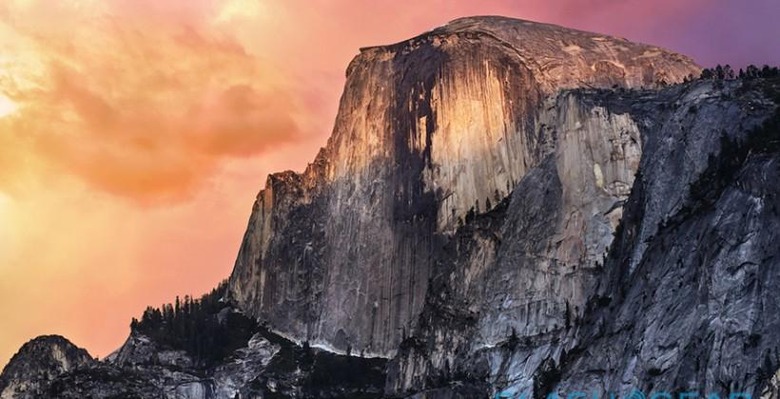 It's been one week since Apple's desktop software OS X Yosemite has been released to the public, and adoption is taking place quick. Word comes from the folks at Chitika where they show OS X 10.10 Yosemite being present on 12.8% of the Apple computers in their ad impression bin. With Mac computers selling at a rate 30% faster here in Apple's latest earnings report than they were last year at this time, an increased adoption rate of Yosemite over Mavericks is all the more impressive.
Chitika Insights suggest they've sampled "tens of millions of US and Canadian Mac OS X-based online ad impressions as run through their Chitika Ad Network. The slightly less curvy graph you see in this Chitika graph is OS X 10.8 Mountain Lion, where just one survey day was done one week after the initial launch – not once per day as the others have been.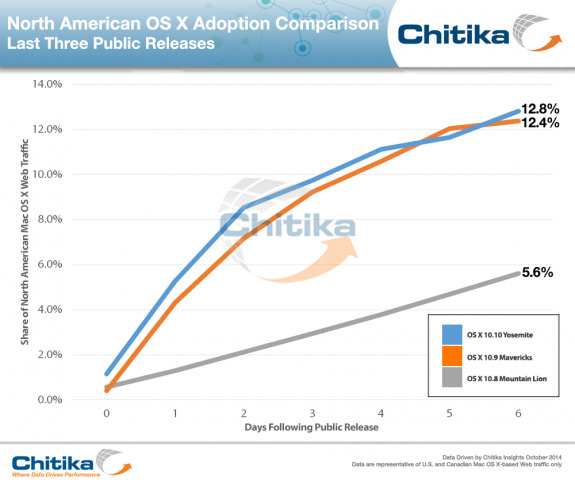 It should also be noted that Mountain Lion was the last Apple desktop operating system to cost cash. Back in 2012, OS X Mountain Lion cost a cool $19.99 USD. After that, each OS X release was free.
A separate study suggested that OS X Yosemite downloads beat Mavericks on day one. The size of the upgrade and the hype of the release all imposing.
Similar numbers can be found for iOS 8 – but there you'll find switching to the newest version of the operating system to be much quicker. Many more people switching a whole lot faster.
For more information on Apple's newest operating system, have a peek at our OS X Yosemite Review. This review runs down all the key points you'll want to seek out for the operating system you'll be using next.