OS 4.7.0.99 for BlackBerry Storm 9530 leaks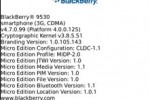 Another unofficial firmware update for the BlackBerry Storm has leaked, version 4.7.0.99.  The new software is seemingly only for the Storm 9530, however, not the 9500, but brings with it reportedly increased stability and faster applications.
OS 4.7.0.90 leaked in late January, and was credited with being one of the most stable releases for the smartphone to date.  Initial reports are suggesting that version 4.7.0.99 might better even that unofficial build, with early users reporting faster app loading, email and web browsing, faster camera performance, and fewer freezes.
However at least one Storm owner has reported that the Korean language option is now missing from his device (Chinese and Japanese remain), while another continues to experience issues with MMS sending.  The onscreen keyboard is also smaller, which may be an issue to some users.  You can find a huge feedback thread here, with more details.
[via IntoMobile]