Orion replay: behind-the-scenes, on the ground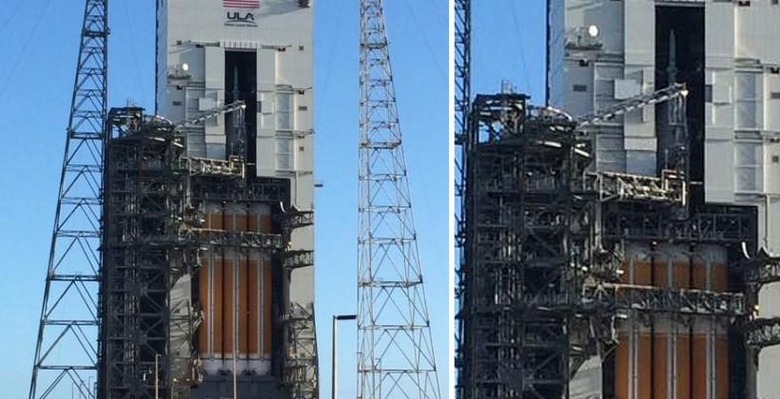 Over the past 24 hours, NASA's Orion spacecraft had a weather delay, a rocket valve glitch, and a successful launch. The Delta IV Heavy rocket took off at 7:05 AM Eastern Time, reaching low-Earth orbit in around 20 minutes. What you're about to see is the liftoff replay and a set of behind-the-scenes images you would not have seen in the live feed – on the ground, at the launch site, and behind the control boards at NASA as the rocket took off, then as the craft landed in the Pacific Ocean.
The first image you're seeing here shows NASA Administrator Charles Bolden and his wife Jackie Bolden. This image – as many of these images do – comes from Friends of NASA. Bolden and Bolden watch as the United Launch Alliance Delta IV Heavy rocket (with NASA's Orion spacecraft mounted atop) take off from Cape Canaveral Air Force Station's Space Launch Complex.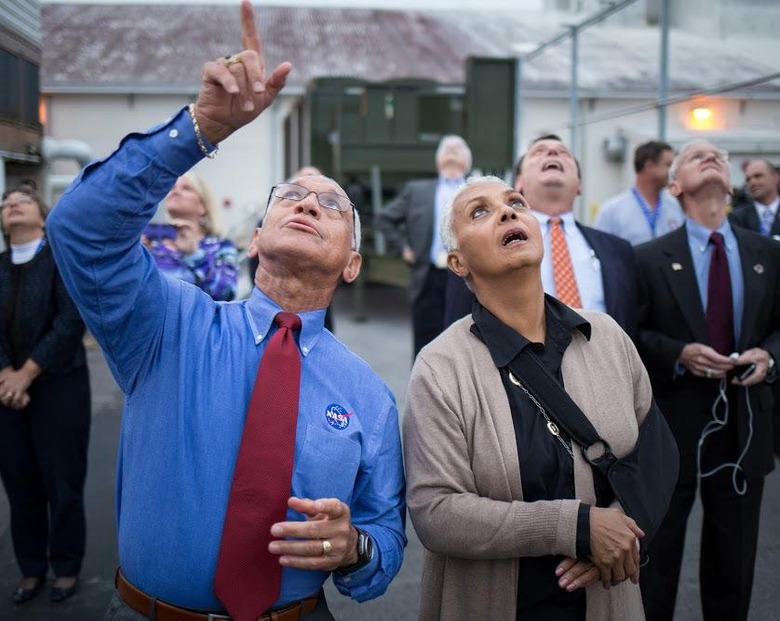 From NASA Orion comes this photo of Johnson Space Center Director Ellen Ochoa, Orion Program Manager Mark Geyer, Orion Deputy Program Manager Mark Kirasich, NASA Astronaut John Casper.
You'll also see the Boldens standing by.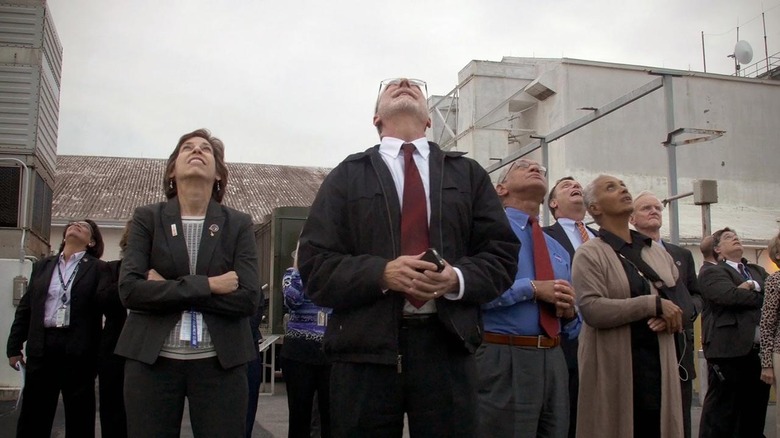 Next you'll see the Orion takeoff replay from NASA.
The photo you see below AND the photo you see at the head of this article were taken by Erik Axdahl, Special Assistant to the Administrator at NASA Headquarters and Research Aerospace Engineer at NASA Langley Research Center.
Here you'll see the last bits of smoke as the blow over Cape Canaveral after the launch.
Below you'll see Orion Program Manager Mark Geyer watching as Orion reaches an apogee of 3600 miles. This photo comes from NASA, photographed by Radislav Sinyak.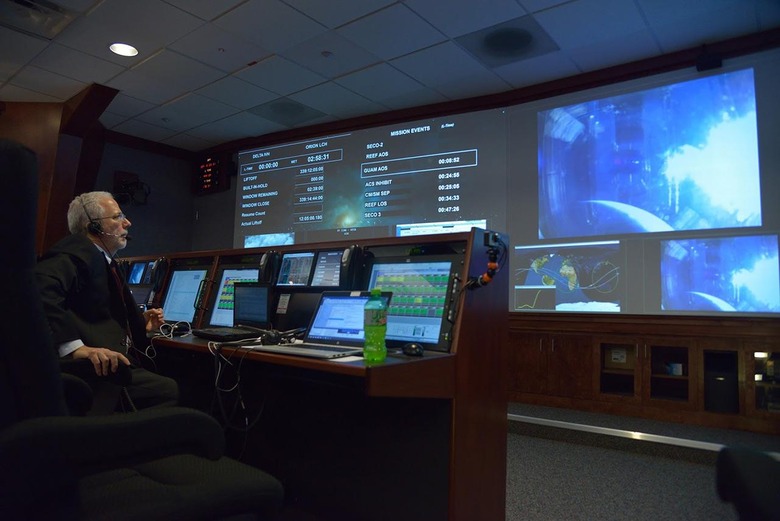 The next two images also come from Axdahl, inside the command center at Cape Canaveral.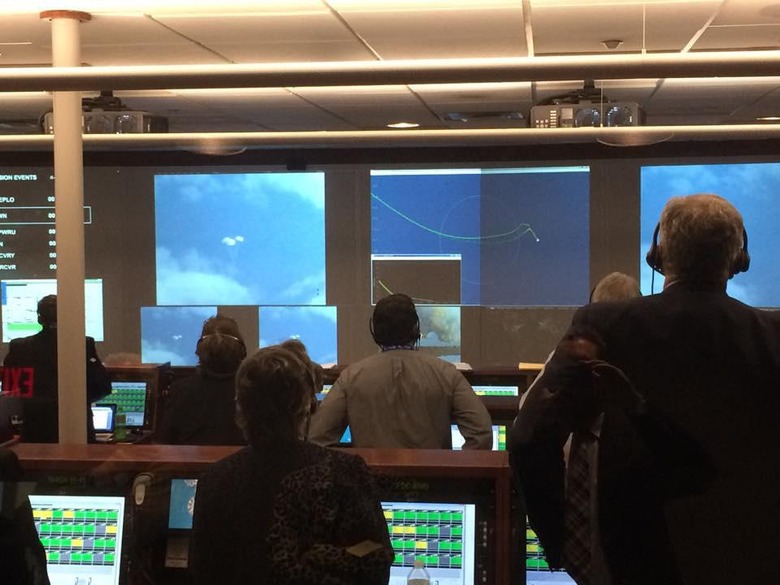 Above you'll see Orion heading back toward Earth and its parachutes successfully deploying. Below you'll see a slightly different view of the chutes, this time from the craft's perspective.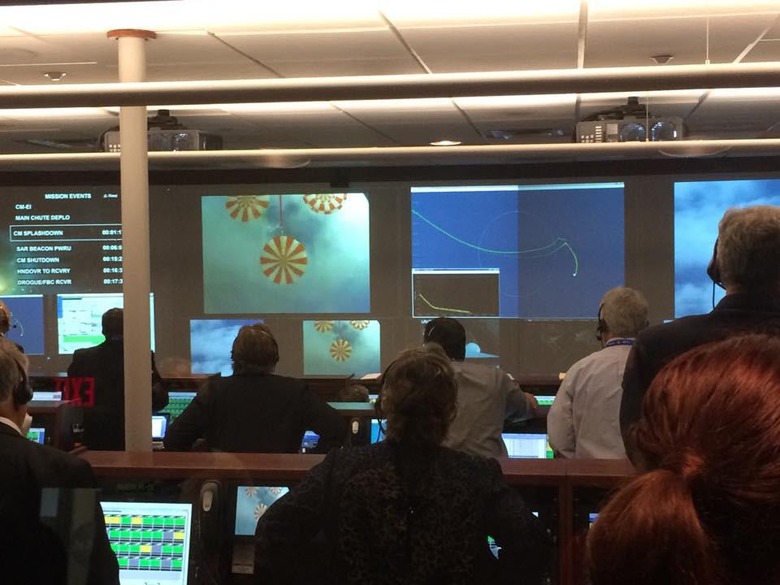 You'll also see that both of these images come from the "CM SPLASHDOWN" phase of the mission, immediately after MAIN CHUTE DEPLOY.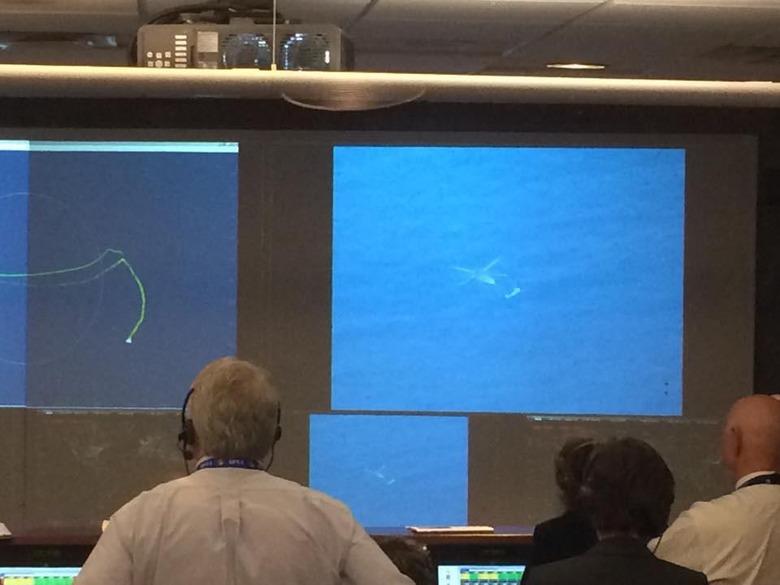 Above you'll see the first helicopter to approach the craft after its splashed down in the Pacific ocean – again, photographed by Axdahl.
After 4-hours and 20-minutes from takeoff to splashdown, this has been a completely successful mission. Below you'll see a timeline leading up to this mission "going off without a hitch" as our friendly NASA live feed announcer suggests.