Orbital to rent rockets to keep ISS resupply going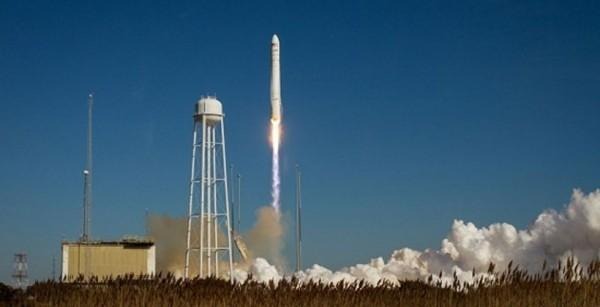 Astronauts on the International Space Station won't go hungry, despite the Antares resupply rocket exploding last week, with Orbital Sciences planning to outsource launches while it brings forward its next-gen rocket plans. The incident shortly after takeoff on Monday last week, which saw Orbital's third resupply mission to the ISS unexpectedly curtailed though thankfully with no loss of life, has forced the company to "accelerate" its upgrade of the medium-class launcher's main production system, it announced today. Still, there should be no extra cost or delay to NASA, Orbital insists.
Orbital had previously planned to begin the upgrade in 2016, but that's now going to take place sooner. In the meantime, there will be one or two launches in 2015-2016 using rockets from other companies.
Repairs to the Mid-Atlantic Regional Spaceport, damaged by the explosion, are expected to be completed in time for the new Antares design to enter service in 2016.
Orbital says that, because it had already planned for the upgrade, there won't be a material impact on its financial situation. It's yet to decide on what third-party rocket will be used, or how much that might cost.
The investigation into the failure of the unmanned rocket is still underway, but Orbital says preliminary analysis suggests "a probable turbopump-related failure in one of the two Aerojet Rocketdyne AJ26 stage one main engines." The company is likely to cease using the engines as a result.
All outstanding cargo earmarked for the ISS will be delivered by the end of 2016, with minimal changes required to the current manifest plans.
SOURCE Orbital Sciences