Orb Music MP-1 Review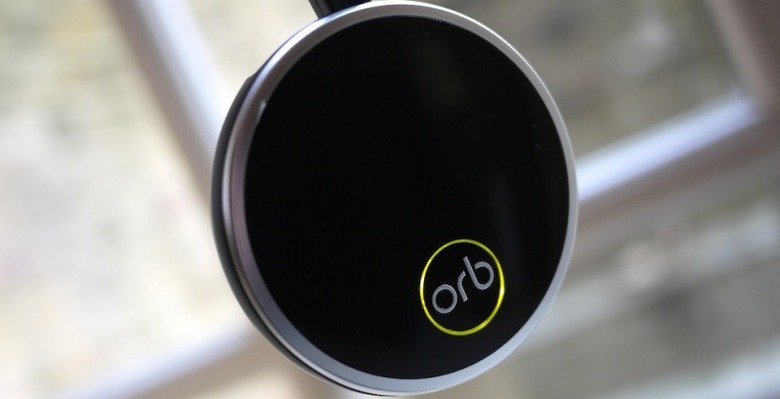 Whole-house audio isn't new, and – as Sonos has shown – it isn't necessarily complicated, but nor has it generally been all that affordable. Orb plans on changing that with the Orb Music MP-1, a $69 wireless audio adapter that – along with some free software to turn your Apple or Android smartphone into a remote control – promises Sonos-style streaming without the sky-high price tag. Check out the full review after the cut.
Hardware
The MP-1 itself is a small plastic disc 3.28-inches across, about the size of a drinks coaster, with a rubberized base and an Orb logo on the top inside an illuminated status ring. Ports and controls are minimal: a miniUSB is used for initial setup and then power, while a 3.5mm stereo output is the only way to hook up speakers; meanwhile the only hardware button is a recessed reset nub on the bottom of the unit.
Inside there's WiFi b/g/n, and in the box Orb include an AC USB power supply, a USB to miniUSB cable and a 3.5mm stereo audio cable. There's also a brief "Getting Started" sheet and the warranty information.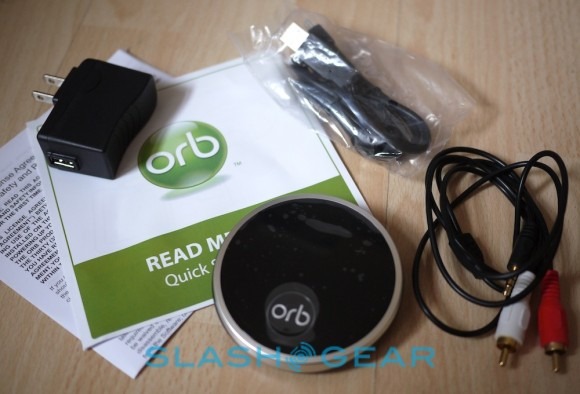 Software
Orb rely on two different software components, each available to download rather than included in the retail box. First up is Orb Caster, the music "server" side of the system and which is currently available for Windows and Mac. It's this app that pulls together your multimedia and squirts it out to the MP-1, and it means you'll need to have a computer running full-time if you want to use the Orb system; there's no standalone component. You can index local and network-shared media, including an iTunes library, MP3, MP3 VBR, Audible (formats 2, 3, 4), AAC, Lossless, WMA and WAV files are supported.
Second is the Orb Controller app, which is available for iPhone/iPod touch, iPad (as a native app) and Android. This is the free remote control, and the useful thing is that you can download it to as many devices as you own: if you've got an iPad in the lounge and then an Android smartphone, you can have Orb Controller running on each.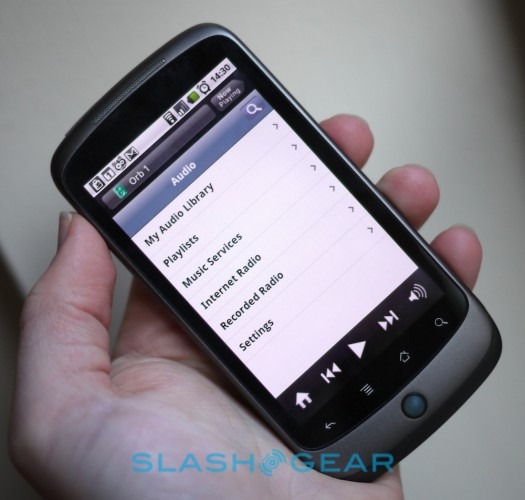 Setup proved trickier than it should, with neither our PC or Mac able to see the MP-1. After some head-scratching, that was tracked down to a bent pin in the supplied USB cable, which meant the Orb Music was powered but not connected for data. There's no way of knowing whether we bent the pin ourselves or if Orb supplied a broken cable.
Once plugged in with a working cable, the Orb Caster app quickly recognized the MP-1 and allowed us to select the default WiFi network for it to connect to. After that, when powered up it showed up in the Orb Devices list – on all the Orb Caster installs, not just the one that set it up initially – after twenty seconds or so of network registration. The Orb logo on the MP-1 flashes orange while it's finding the WiFi connection, double-flashes if it can't find the Orb Caster server, and then lights green when it's ready.
As for the Orb Controller app, that's available in the Apple App Store or the Android Market, and is free in each. Loaded up, and it automatically finds whatever Orb Caster servers are running; you can then choose which one you want to control, based on the server name you set during installation. The homescreen offers the core audio library along with any playlists, together with Pandora and Sirius if you have access to them, internet radio (sorted by country, genre and favourites), any internet radio you've recorded using Orb Caster, and the settings page. The latter allows you to reset the controller and, remotely, Orb Caster, together with triggering a rescan of the media library.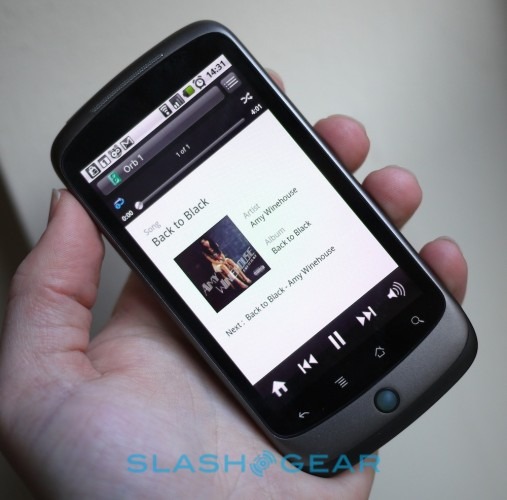 Media itself can be browsed by artist, album, genre, composer, song or folder, or alternatively you can search for a specific track. Album art is supported, though not downloaded on-demand. Using the bar at the top of the screen you can see all the MP-1 units on your network and their current activity, including pausing or stopping playback on all of them. Tapping the first track plays it; tapping subsequent tracks allows you to choose between playing them immediately, playing them next or appending them to the end of the current ad-hoc playlist. If you have two or more Orb Controllers running simultaneously, they can each control a single MP-1: you can see track changes and even volume adjustments, synchronized across all of the controllers.
Performance
Audio quality is highly dependent on the speakers you plug in, and as long as those you choose have a 3.5mm input, you'll have no problems hooking up the MP-1. With only analog audio to choose from, rather than some sort of digital output, the Orb Music won't be quite as good as a Sonos system with a top-notch HiFi, but that sort of setup is obviously expensive and also demands that your digital music collection is encoded at suitably high bitrates. All that considered, we had no issues with the MP-1's audio performance.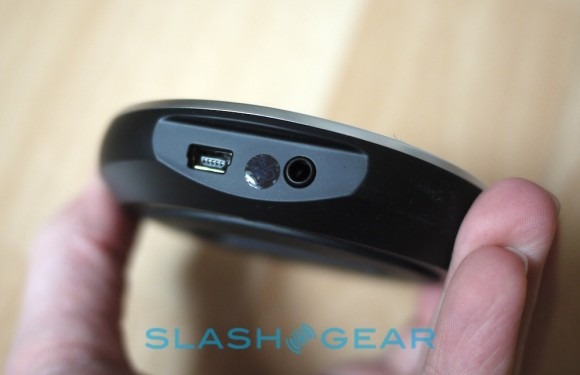 Overall responsiveness of the Orb system is, as you'd imagine, dependent on every stage the music has to pass through; the speed is only as good as the weakest link in the chain. With the Orb Caster app pulling tracks locally and from a USB hard-drive, linked via WiFi b/g to the MP-1, playback started after a second or two of delay. Streaming music from a NAS, meanwhile, added an extra second or two into the process.
As for the Orb Controller apps, the iOS version seems more polished than its Android counterpart. On the iPad it updated quickly and moved swiftly between pages, only encountering minor delays when getting long lists of albums, artists or tracks from the server. The Android app was a little more buggy, occasionally freezing and sometimes causing the device to slow down and become unresponsive altogether. These were intermittent issues, but we noticed them on both a Samsung Galaxy Tab and a Google Nexus One.
Wrap-Up
Viewed against Sonos', Raumfeld's or Logitech's systems, the Orb Music has some obvious omissions. Its remote app is more sluggish – and demands that you have an Android or iOS device to run it – and it lacks connectivity options like digital audio outputs and wired ethernet. On the flip side, a single MP-1 is $69; assuming you already have a suitable device to act as the remote, that means you can be up and running with a single-room wireless audio streaming system for a fraction of the cost of a Sonos setup.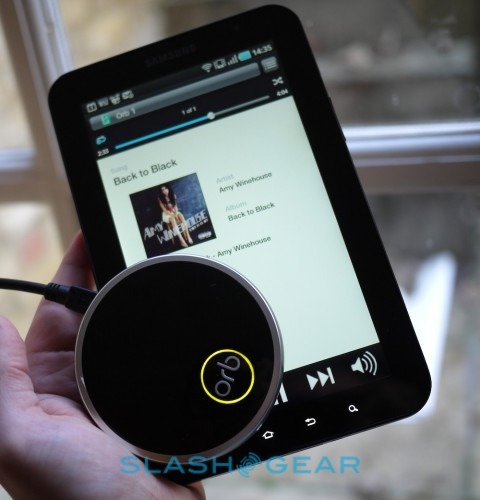 Adding an extra room is another $69, and Orb's recent Orb TV VP-1 adapter – at $99 – promises to do for video and photos (along with music) what the MP-1 does for audio, all running from the same Orb Caster server. Yes, you'll need a computer turned on all the time, but the same is true with SqueezeBox, and if you're buying into Sonos then you're basically getting a standalone PC in their units. We'd like to see a NAS plugin, as with SqueezeBoz, to run Orb Caster from a network-attached storage device, but the target audience for the Orb Music is probably going to be able to work around leaving a computer switched on 24/7.
Orb still has work to do finessing the Orb Controller app, particularly the Android version, and we'd like to see Rhapsody support (which the company says it is working on) in the US and Spotify in the UK. An open API for third-party developers would be grand, too. The company does say a wired ethernet version of the MP-1 is also under consideration, if there's enough user demand. Still, on balance this is an affordable and flexible way to stream music without installing huge lengths of cable or spending massively on proprietary remotes and other hardware. What shortcomings there are pale considerably when you take into account the Orb Music MP-1's bargain price.