Orange Motorola DEXT hands-on [Video]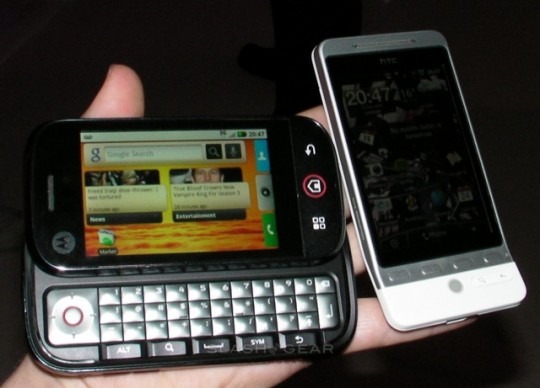 Archos' new PMP isn't the only Android gadget SlashGear has been playing with recently. Last night saw the launch of the European version of Motorola's first Android smartphone, the Motorola DEXT. Debuted last week as the Motorola CLIQ in the US, the QWERTY slider smartphone is set to arrive exclusively on Orange in the UK and France; so far all the carrier has said is "early October", but SlashGear was told that the official release date is somewhere between the 5th and the 9th of October.
Hands-on gallery and video demo after the cut
The European DEXT is basically the same device as the CLIQ, so this was more an opportunity to get a second look at the smartphone and see whether our tentatively positive impression from last week holds out.  Packing a 3.1-inch HVGA capacitive touchscreen, slide-out QWERTY keyboard, 3G, a 5-megapixel camera with 30fps video capture and integrated GPS, the DEXT certainly ticks the majority of boxes expected from today's smartphones.
Build-quality and general feel of the device was fair (it's worth noting that Motorola were showing pre-production handsets) though the Euro-spec HTC Hero we took along to compare felt more solidly put together.  It proved interesting to compare how Motorola's MOTOBLUR system compared to HTC's Sense, both attempting to address social network overload.  MOTOBLUR – which funnels all of your social networks (though you can selectively opt-out of including one or more of them) into a single "Happenings" feed that can be widgetized on the desktop – is arguably the more comprehensive system; in contrast, HTC Sense pulls down data, but keeps it more separate; Twitter messages go to HTC Peep, Facebook and Flickr updates get slotted into contact entries in the address book.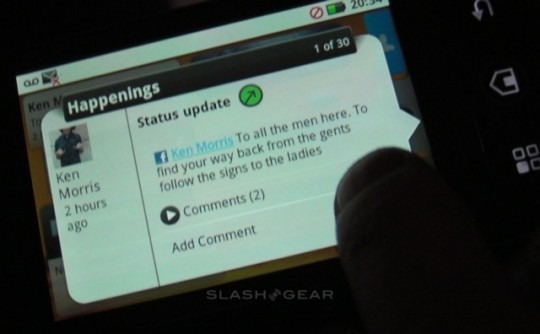 This is certainly a strength for Motorola, and they were keen to highlight not only the broad range of networks currently supported but that they can implement further networks simply by plugging them into their server back-end and having the DEXT user enter their login credentials.  It's a first-generation system, certainly; right now, there's no way to prioritize or weight different contacts or networks, and if you have a particularly busy Twitter feed it could easily drown out your Facebook friends updates.  Motorola's team suggested that the current workaround for that sort of situation would be removing a network from "Happenings" and having it in a separate widget on the desktop; while that works, we'd prefer to see a system whereby MOTOBLUR can either be told or will learn (preferably both) which information (and which sources of information) the user is especially interested in, and make sure that data is flagged up more noticeably in the Happenings stream.  Motorola told us that as well as Android system OTA (over-the-air) updates, MOTOBLUR also supports OTA changes, so future refinements can be loaded wirelessly.
The DEXT is certainly a case where the software is more interested than the hardware, and while it's a reasonably handsome device it doesn't particularly stand out.  Still, we're looking forward to a longer-term play when our review unit arrives.  The Motorola DEXT will land on Orange in the UK in the first full week of October, with the handset free with a new £34.26 ($57) contract.  That contract includes unlimited data, sat-nav and messaging, among other things.  For our Motorola CLIQ video demo and gallery, head over here.
[vms f2ff029a833cccc778fd]