Motorola CLIQ hands-on video and first-impressions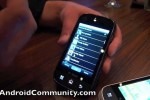 After announcing the Motorola CLIQ with MOTOBLUR yesterday, we grabbed some hands-on time with the new Android smartphone and persuaded one of the company's demo team to give us a ten minute walkthrough of its capabilities.  There's plenty to like about this distinctive new addition to the Android stable; we didn't have as much time to play as we'd have liked, but our early impression is that the keyboard is well made, sturdy and tactile, and the capacitive display responsive and accurate.
Video hands-on after the cut
Although it's unclear whether this particular unit was running production software or if there's some work still to be done – we'd guess the latter, simply on the basis of timescale before the CLIQ's Q4 US launch on T-Mobile – the whole thing ran quickly, with menus opening smoothly and page transitions slick.  Motorola's widgets have obviously been a work-in-progress for some time, and we're very keen to get a better look at them in a review device.  Like HTC, Motorola has attempted to bring together all the different strands of social networking into one manageable, mobile portal courtesy of MOTOBLUR, though they've gone about it in a different way.
We're waiting for the full hands-on image gallery of the Motorola CLIQ to finish processing, and will update with that when it's ready.  For now, enjoy the video demos and check out this post for more detail on the CLIQ itself.
Motorola CLIQ (aka DEXT) hands-on demo:
[vms 8137a16a1acd04ed9112]
Motorola CLIQ with MOTOBLUR demo:
[vms 79d135ba18e051673d90]