Optoma PK101 Pico-Projector gets December 1st preorder date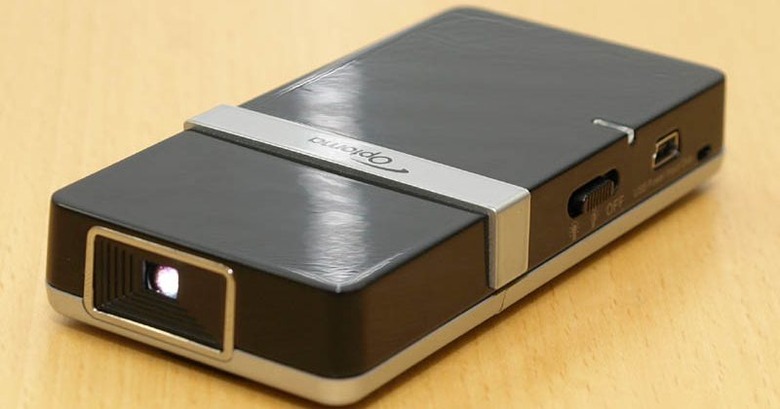 Optoma's pico-projector first showed up back in June, with few details aside from a tentative promise of limited distribution in late 2008.  Now the company has confirmed that the projector, the PK101, will go on sale in December at Japanese Apple Stores, offering buyers a 120g battery-powered device capable of creating up to 66-inch images at 480 x 320 resolution.
Other specs include 1,000:1 contrast ratio and 10 lumens brightness from the LED lightsource; the LED itself is rated for 20,000hrs use, and has two power settings.  Inputs include composite video and stereo audio to drive the integrated 0.5W speaker.  The PK101 measures 51 x 105 x 77mm and recharges either via an AC adaptor or through its mini-USB port.  A full charge is good for two hours.
You're unlikely to be watching any feature films with 480 x 320 resolution, but it could be handy for impromptu presentations or keeping the kids entertained while waiting at the airport.  Optoma will supply the PK101 with two Li-Ion batteries, and the projector has a tripod screw-mount underneath.  It will go up for preorder on December 1st, with deliveries expected from December 16th; pricing is unconfirmed but expected to be under 50,000 yen ($512).