Optoma PK-100 Pico-Projector hits virtual shelves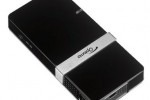 We may receive a commission on purchases made from links.
Optoma's PK-100 pico-projector may not be, at $196.99, exactly a small-change purchase, but the entry-level model does at least bring the ownership hurdle a little lower.  Announced at the start of the month, and now up for sale on Amazon, the PK-100 promises up to a 60-inch image (albeit at a maximum 480 x 320 resolution) and 11 lumens brightness.
Its sub-$200 price makes it a little over $20 less than its PK-101 sibling.  According to the Amazon description there's a USB port which can be used for recharging, but no word on whether you can also hook up a netbook or similar and use it as an input; from what we heard earlier, the only input on the PK-100 is a simple composite video port, making the pico more suited to entertainment than as an impromptu business tool.
[via PicoProjector-Info]