Optimus collaborate, make Mini-Three earn its keep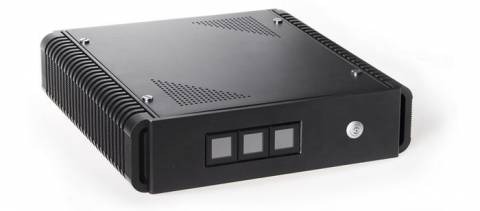 One of the initial boasts of Optimus was that their OLED key technology would not only be used in standalone keyboards but integrated into other company's technology.  So far, delays in the full-sized 'board and getting the second production run of the Mini-Three going has obviously been monopolising their time, but they've still had a chance to collaborate with Epiphan Systems.
Epiphan specialise in video signal processing, having products with capture, recording, broadcasting and printing functionality.  They've been reselling the Mini-Three for a while now, but this is the first time that the micro-keyboard has been integrated into one of their own units.  So far, the only detail missing is what exactly this black box does, beside display information on the Optimus screens.  I'm sure they'll eventually update their website and tell us.
Incidentally, Optimus are also reporting that they've placed a manufacturing order for the OLED keys to be used in the 103 keyboard, and that means it will definitely be released this year.  Excellent news!
OM3 Usage [Optimus Project Blog]